Adventurous Kate contains affiliate links. If you make a purchase through these links, I will earn a commission at no extra cost to you. Thanks!
As the southernmost town on Maine's seacoast, the town of Kittery Maine has a lot to offer! Kittery might be best known for its outlet shopping, but it also has a fascinating history dating back to 1647, making it Maine's oldest town. 
I've spent a lot of time in Kittery — yes, like many New Englanders, I went primarily for the outlets, though on some of my many Portsmouth visits I've walked across the bridge into Kittery to enjoy more of what this coastal town in Maine has to offer.
Kittery is home to the Portsmouth Naval Shipyard, which was established in 1800. With one of the best natural deepwater harbors in the world, it is the oldest continually operating shipyard in the United States, building and repairing submarines for the US Navy.
History and shopping aside, the town has a small-town vibe and has quietly been becoming one of the cooler offbeat towns in Maine, full of art galleries, local markets, and gourmet eateries serving locally-sourced food.
Notable restaurants to check out are Warren's Lobster House, which serves amazing seafood with views of the river, and Robert's Maine Grill, also serving great seafood along with steak and chicken.
Being the southernmost town in Maine, a part of the state that is often deemed "North Massachusetts" (though whether or not that's a compliment or an insult depends on who is saying it!), Kittery makes an excellent stop on a Maine road trip or an easy day trip from Boston.
Kittery winks at the world — it has so much more to offer than you think.
This post, published in November 2023, was co-written by Adventurous Kate and Susan Stephens.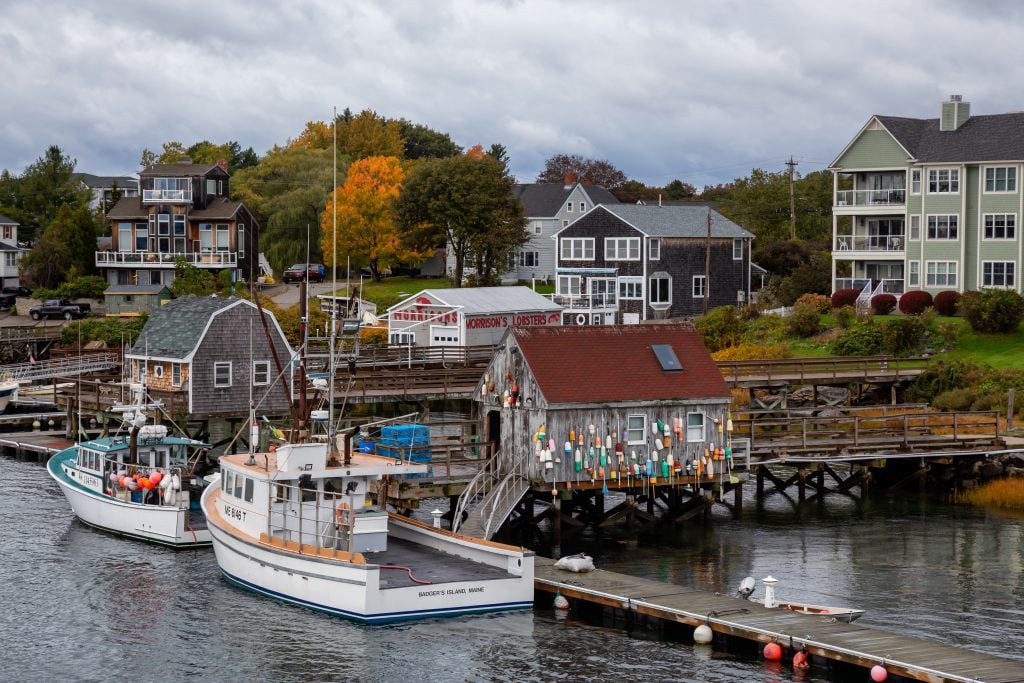 Best Things To Do in Kittery, Maine
Shop at the Kittery Premium Outlets
Many visitors start their day in Kittery with a trip to the Kittery Premium Outlets. This shopper's paradise features more than 100 stores, from Kate Spade to Banana Republic Factory Store, Michael Kors to Carter's, and from Coach to Adidas. The prices here are well worth the visit!
If you find yourself feeling hunger pangs during your shopping spree, you'll discover a range of restaurants available, including a few cheeky breweries.
One thing to keep in mind, though, is that Maine has 5.5% sales tax, unlike next-door neighbor New Hampshire, which has no sales tax. (Though if you really want to max up the tax savings, you might want to hit up the outlets in New Hampshire.)
Additionally, clothing is taxed in Maine, unlike Massachusetts, where most clothing under $175 is not taxed. Just keep this in mind before you shop so your expectations are kept in check.
The outlets couldn't be easier to get to, located just off I-95 on Route 1, and there's plenty of parking.
If you haven't had enough retail therapy at the outlets, Kittery Trading Post is another great shopping stop, perfect for snagging all of your outdoor clothing and gear.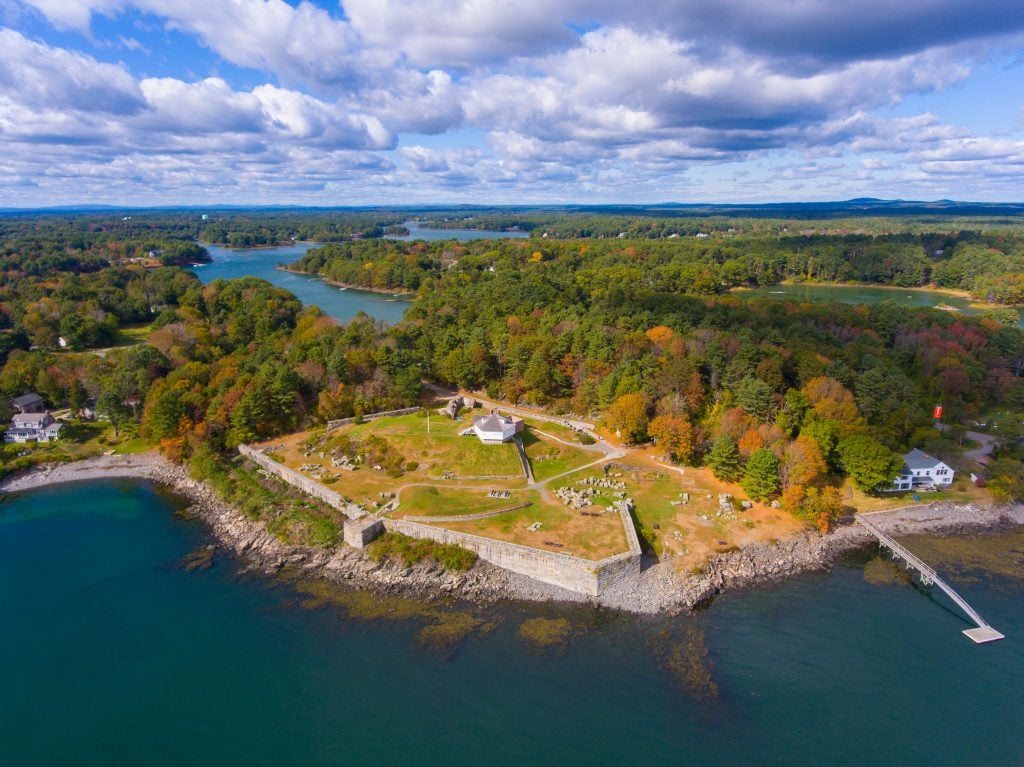 Fort McClary State Historic Site
Fort McClary is one of the best places to immerse yourself in the history of southern Maine. Built in 1844 and located at Kittery Point, the fort played a crucial role in the defense of the Portsmouth Naval Shipyard during the War of 1812 and the Civil War. Major McClary lost his life at Bunker Hill in the Revolutionary War, and this fort safeguarded the region for an impressive 275 years.  
The history of Kittery is reflected in the fort's architecture. Using local granite, the surrounding wall stands proud as a testament to the fort's durability. Over time, modifications have been made to keep its original grandeur. Today, visitors can explore the fort's grounds, visit the museum, and enjoy stunning views of the Piscataqua River. 
The fort is open for tours from Memorial Day to Columbus Day, from 10:00 AM until sunset, unless otherwise posted at the gate. Fees are $3 for Maine residents, $4 for non-residents, and $1 for all seniors, regardless of residency.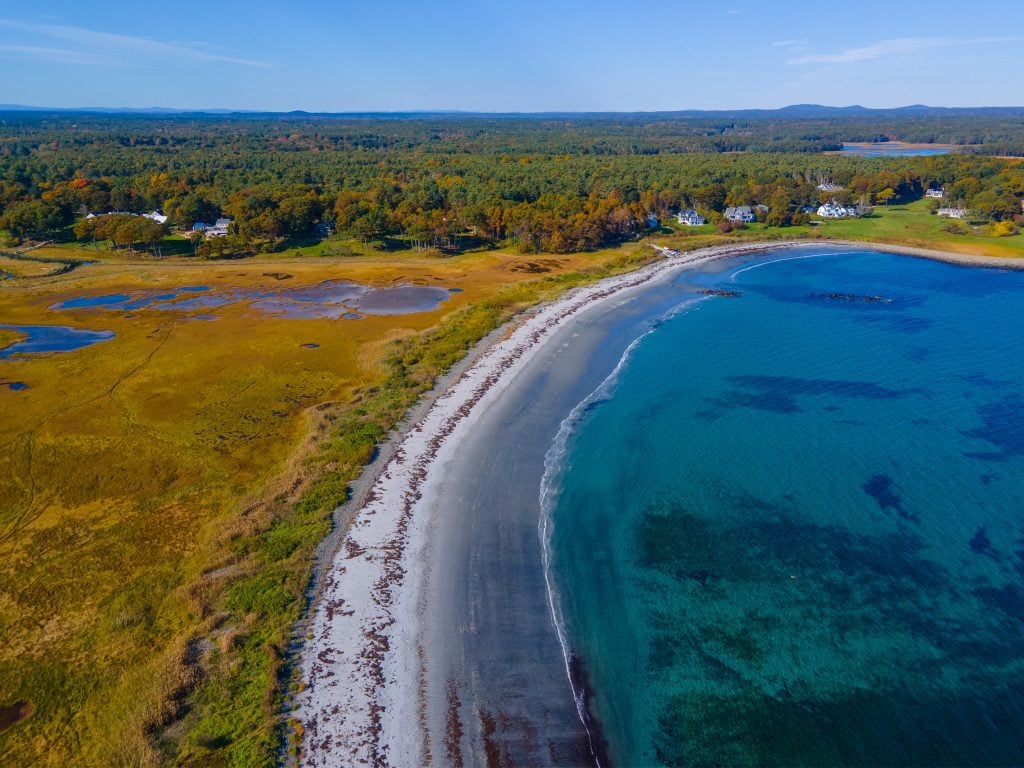 Enjoy Kittery's Beaches
Kittery is home to several beautiful beaches that offer stunning landscapes and ample opportunities for fun in the sun. You've got some of Maine's trademark rocky beaches, along with calmer sandy options.
Seapoint Beach is a smaller, more secluded beach located on the outskirts of Kittery. Don't be fooled by its rocky shores; the swimming is divine. Parking can be limited, especially during busy times, but dogs are welcome! 
Alternatively, Fort Foster Park is a beautiful 45-acre park located on Gerrish Island in Kittery Point. The park is just a short drive from downtown, also known as Kittery Foreside, offering stunning views of the Atlantic Ocean and a nice beach area.
The park is home to a Civil War-era fort and museum, a playground, picnic areas, and a boat launch. The park also offers swimming, fishing, and hiking trails. Know that dogs are not allowed on this beach. 
Crescent Beach is a popular spot in Kittery known for its calm waters and picturesque sandbar. It offers a variety of amenities, including restrooms, showers, and a snack bar. While there is a large parking lot, it does fill up during peak times, so come early if you're visiting during the summer.
Take Flight Aerial Adventure Park
If you're looking for a thrill, you won't want to miss Take Flight Aerial Adventure Park! With over 65 activities to choose from at this fun spot, you'll embark on an aerial journey, navigating swinging tires, suspended platforms, swings, catwalks, and even a thrilling zip line that will test your nerves!
With courses for all ages and skill levels, it's a great way to get your adrenaline pumping and experience the beauty of the Maine woods from a unique perspective. Don't worry if you're a first-timer; you'll receive instruction, safety guidelines, and the opportunity to practice before venturing out on your own. The expert staff always prioritizes safety so you can enjoy the experience with peace of mind.
The park is open weekends from 10:00 AM-4:00 PM, April to October. Several different packages are available ranging from $12-84, depending on your level of interest. Choose from an aerial challenge course, zip line tour, super swing, ski jump, and quick jump. Combo packages are available from $118 per person.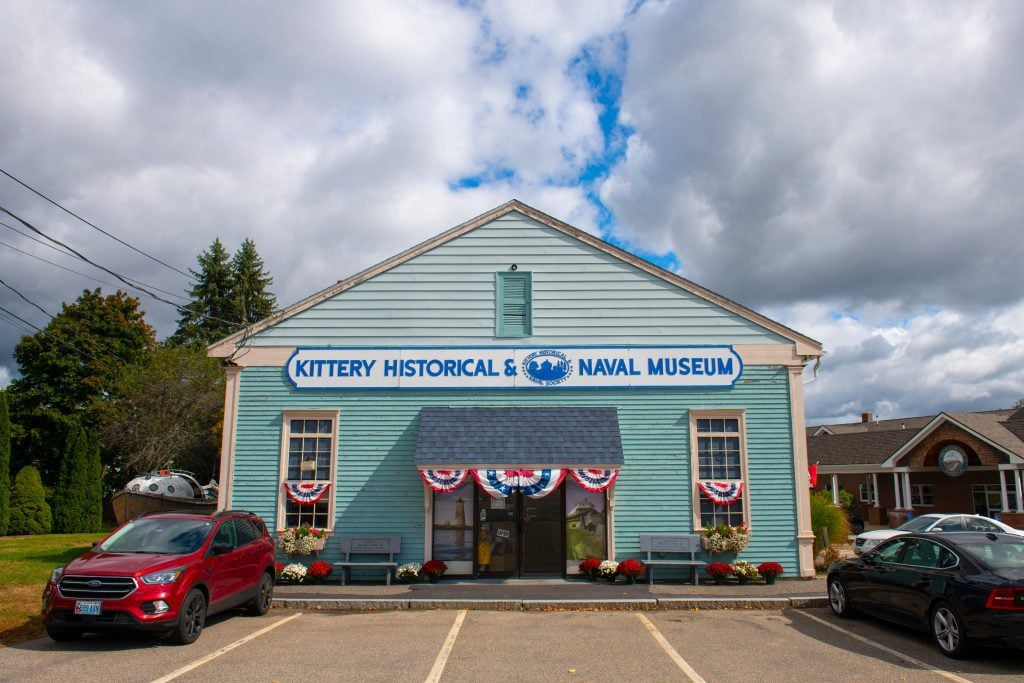 Kittery Historical and Naval Museum
The preservation of Kittery Maine's rich naval traditions is beautifully showcased at the iconic Kittery Historical & Naval Museum. It houses an impressive collection of artifacts and exhibits that highlight the town's role in shipbuilding, the Revolutionary War, and the U.S. Navy. 
Visitors can also explore the museum's historic buildings, including the 17th-century Sparhawk House. Thanks to the dedicated efforts of volunteers and generous donations from far and wide, this unique history is preserved for generations to come.
Tours at the museum are self-guided, and they're open Wednesdays and Saturdays from 10:00 AM-2:00 PM, from May through November. Admission is $7 for adults, $3 for children, and $15 for families. 
Catch a Performance at the Dance Hall
The Dance Hall is a wonderful community gathering space in Kittery, Maine, designed to inspire young and old with the joy of music and movement. With a great mix of live performances, patrons can't help but enjoy the atmosphere in the historic 1928 building. The vibe is vintage and the acoustics are spine-tinglingly good!
Need to brush up on your dance moves before you take to the floor? The Dance Hall offers a selection of dancing lessons in its landmark art space. The hall prides itself in promoting culturally diverse programming with its live events, artist residencies, and ongoing community projects. 
The ticket prices are very affordable and the space is managed by a dedicated non-profit organization. It's a great opportunity to immerse yourself in the local arts scene, putting money into the pockets of Mainers committed to the arts. Beer and wine are available during performances. Shows start at $17 per person. See their website for the dance lesson prices and scheduling. 
Drop Into Just Us Chickens
Discover the whimsical creations of Just Us Chickens art gallery. Since 2005, this artist cooperative of 18 local artisans has created a wonderful spot with which to showcase and sell their works. 
Whether you're in search of a unique gift, or a personal memento, the gallery is the perfect destination. Here, you'll find a wide range of exquisite items, including glassware, nature-inspired art, ceramics, and beautifully crafted baskets. 
What makes Just Us Chickens even better is that it is run by the artists themselves. This not only lends a personal touch but also ensures that their work is presented with the utmost care and passion. Once again — here's where you can put funds direct into Maine artists' pockets.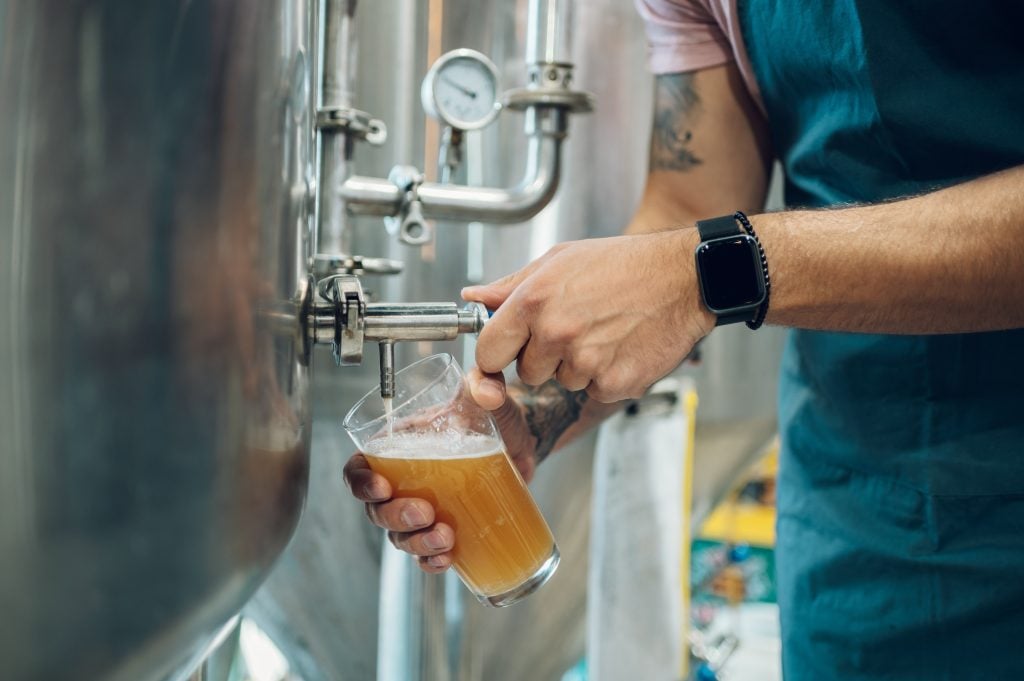 Visit Kittery's Breweries
Much like the rest of the U.S., the towns of Kittery, Maine and Portsmouth, New Hampshire are home to a flourishing craft beer scene. 
Tributary Brewing Company is one of the oldest and most popular breweries in Kittery. The brewery was founded in 2010 by two friends who are passionate about craft beer.
They are known for their wide variety of beers, which range from IPAs and stouts to more experimental offerings like sour beers and barrel-aged beers. The brewery also has a popular taproom where you can sample their beers and pair them with an enjoyable meal.
Another great option in Kittery is Woodland Farms Brewery. This brewery is a bit smaller than Tributary but they have a great selection of farmhouse ales and lagers. It is also Maine's first non-alcoholic brewery (yes, that's a thing!), with generous options for non-drinkers, even non-alcoholic IPAs! Woodland Farms Brewery is also known for its commitment to sustainability, and it uses eco-friendly practices whenever possible.
If you're willing to take a short drive, there are even more breweries to check out in nearby Portsmouth, NH, and the surrounding Seacoast region.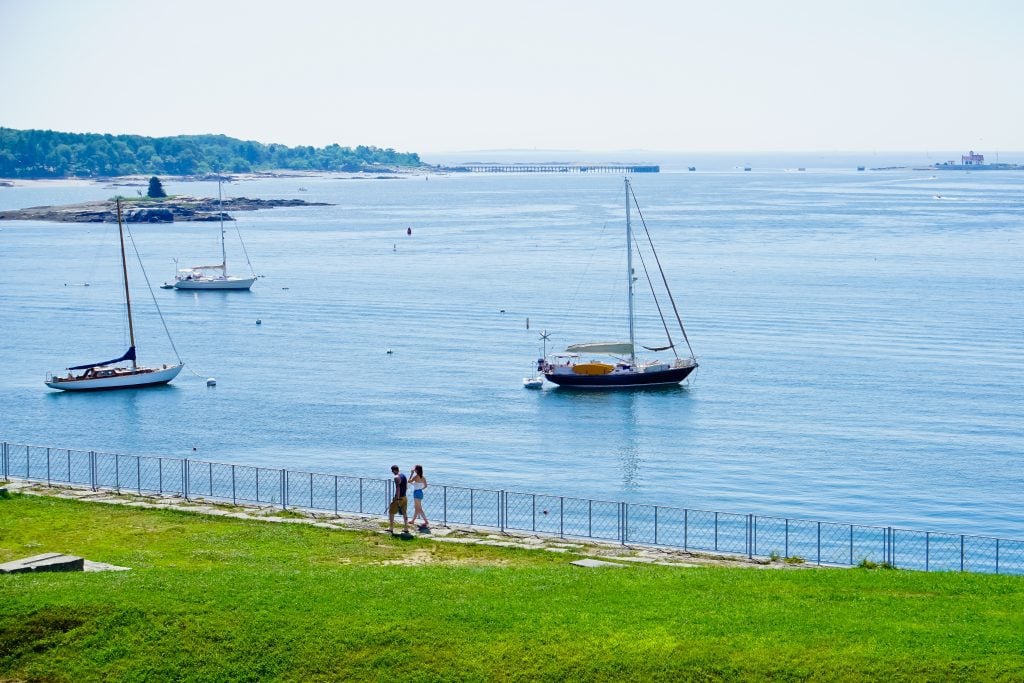 Get Out in the Water with Seafari Charters
I feel like all good trips to Maine require a boat ride at some point, and one company offers a variety of ways to experience the great outdoors of Southern Maine and the New Hampshire Seacoast. With an experienced team of Coast Guard-licensed captains, Seafari Charters provides tours, fishing trips, and scuba diving adventures that allow you to create lasting memories in the water.
Want to do some whale watching? Book a tour and get the chance to observe humpback, fin, and minke whales while cruising past the Isles of Shoals in New Hampshire and Nubble Lighthouse in York, Maine.
Deep sea trips with Seafari Charters cater to anglers of all skill levels, and their experienced captains can help you land a variety of species including cod, pollack, haddock, wolf fish, halibut, and more. 
Diving charters might seem nuts in Maine — the water up here is not exactly Caribbean warm — but scuba diving here is unique. Off the coast of Maine, you can explore the diverse marine life of the region's rocky ledges, kelp forests, and shipwrecks, offering a unique view into the underwater world.
Half-day and day trips are available, depending on the tour you choose. If you're looking to become a certified scuba diver, they have packages for beginners.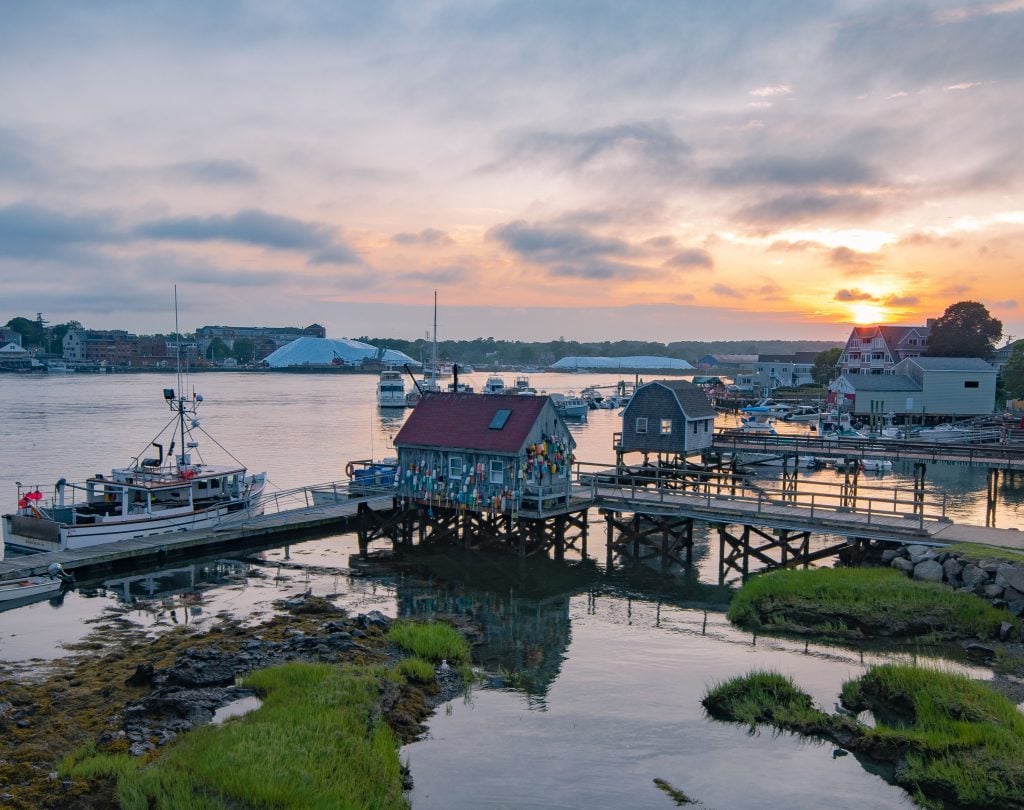 Visit Badger's Island
A cute little island located between Kittery and Portsmouth, NH, Badger's Island is the perfect place to escape the hustle and bustle of everyday life and enjoy the natural beauty of Maine. It's also a nice stop when walking into Portsmouth.
If you're feeling active, you can relax in one of several parks or take a boat ride from the marina. Like Kittery, it's also a historic location where several remarkable boats were built back in the 1700s. You'll also find three restaurants on Badger's Island: Ore Nell's BBQ, Badger's Island Pizza, and Buoy Shack. The latter offers seafood and breathtaking views of the harbor.
Getting to Badger Island is easy. Simply take the Portsmouth-Newmarket Bridge and follow the signs. It is an easy walk if you're coming from either Kittery or downtown Portsmouth.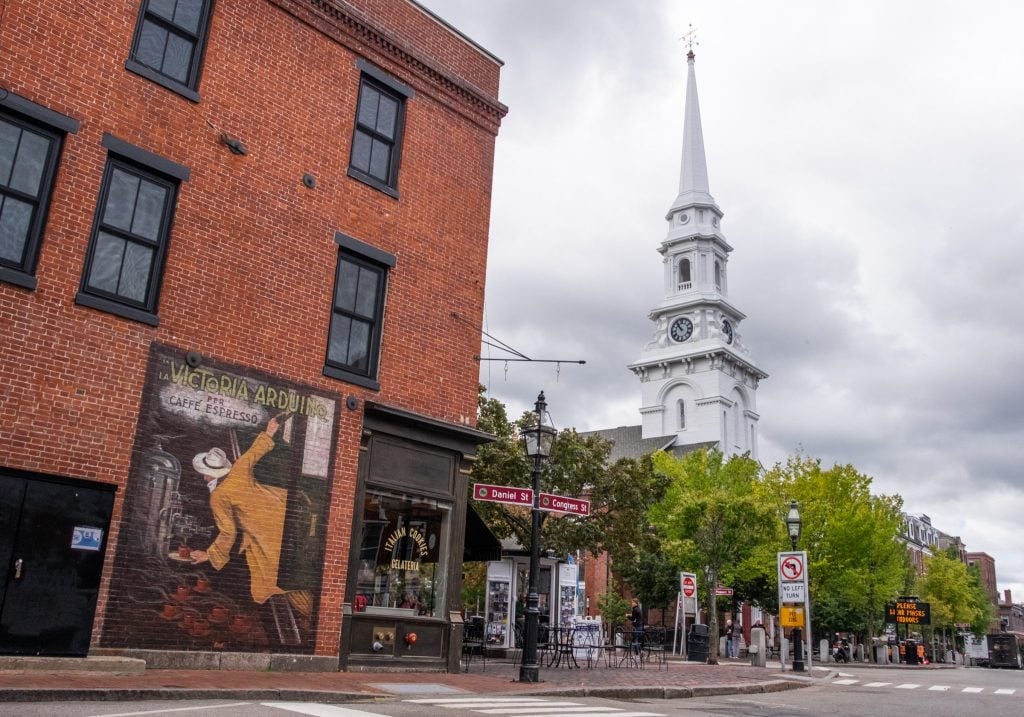 Visit Portsmouth, NH
Portsmouth, New Hampshire is one of my favorite places in New England — an inviting coastal town literally across the bridge to the south of Kittery. With its rich history, vibrant culture, and beautiful scenery, Portsmouth and Kittery are two sides of the same coin.
Also home to a number of historic sites, among them, you'll find the Strawbery Banke Museum, a living history museum that tells the story of the town's early settlers. Other notable sites include the John Paul Jones House, where the famous Revolutionary War naval hero once lived, and the downtown area here is one of the prettiest in New Hampshire.
You'll find a number of galleries, theaters, and music venues. During the summer, do not miss the Prescott Park Arts Festival. Some of the more well-known Portsmouth restaurants to check out are The Oar House, which serves fresh seafood with a view of the river, and The Portsmouth Brewery, which offers a variety of craft beers and pub fare.
Read More: Best Things to Do in Portsmouth, NH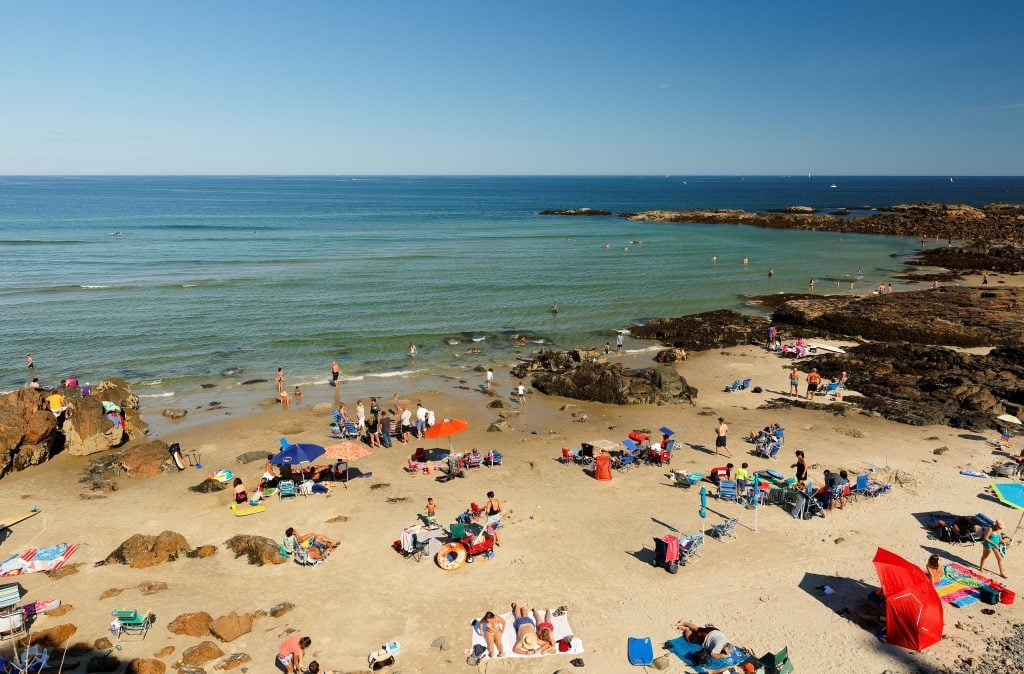 Visit Ogunquit, Maine
If you're looking for a fun and funky seaside town, just north of Kittery you'll find Ogunquit. This town has it all — awesome beaches, a vibrant queer community, beautiful walking trails, cute little shops and galleries, and a bar where you can sing out show tunes.
One of the highlights here is strolling Marginal Way. This scenic walking trail winds along the rocky coastline, offering fantastic views of the Atlantic Ocean, and it's also a great spot for whale watching. If you can tear yourself away from the beach, that is!
If you're craving a bit of performance art, the historic Ogunquit Playhouse has been presenting Broadway musicals and other live performances for over 80 years. This is where you'll want to be to catch a show and enjoy a night out on the town. Alternatively, hit up The Front Porch, a fun bar and restaurant, for dinner and show tunes!
But one of the nicest things about Ogunquit is just strolling around the downtown area and enjoying an ice cream, or heading over to Perkins Cove to take quintessentially colorful photos of coastal Maine.
Read More: 17 Fun Things to Do in Ogunquit, Maine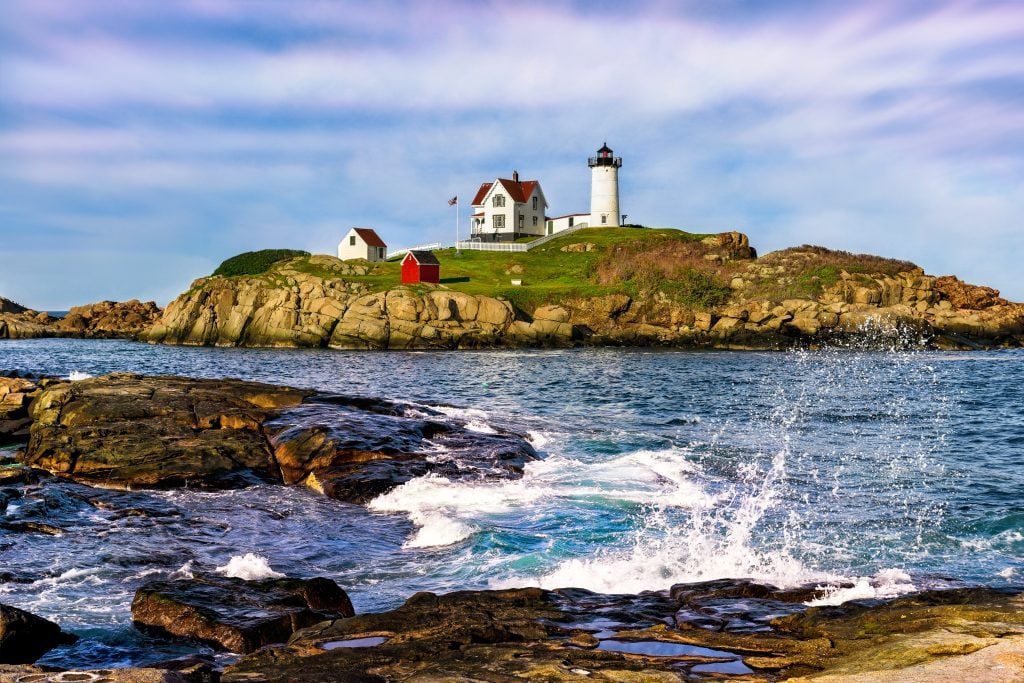 Visit York, Maine
Located between Ogunquit and Kittery, York, Maine is a beautiful town. It is known for its stunning beaches, historic landmarks, and classic New England atmosphere. York is a very family-friendly town, with tons of activities for kids, but even adults will have a blast here.
The beaches here are some of the nicest in the area, including Short Sands Beach and Long Sands Beach. You'll find arcades and candy stores that feel almost frozen in time.
The town is home to several locally-owned shops and cafes and boasts a vibrant arts scene. It also hosts several festivals and events throughout the year, such as the York Harvestfest.
And of course, you can't forget about the food! You'll find some of the best fine-dining seafood restaurants in Maine; everything from lobster rolls to fresh oysters. 
Read More: 15 Fun Things to Do in York, Maine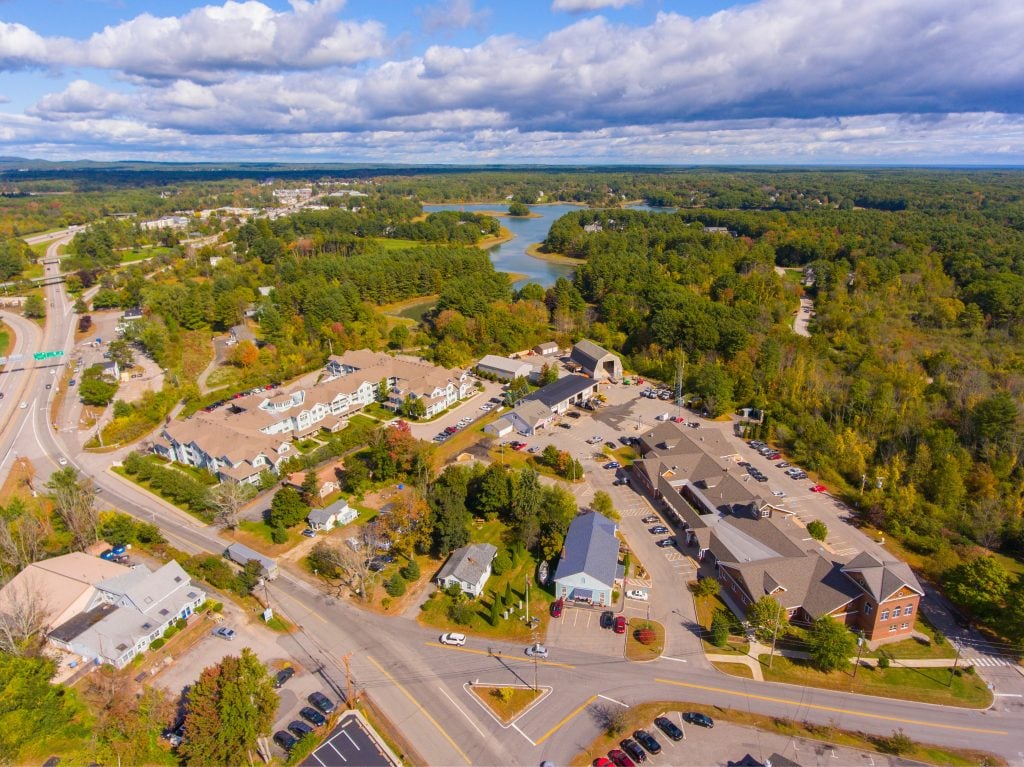 Where to Stay in Kittery Maine
It's not a bad idea to take a look accommodation at Portsmouth, NH first — it's just across the bridge from Kittery and the city is home to a nice selection of hotels. However, here are my top picks if you want to stay right in Kittery:
Luxury: Water Street Inn, nestled in the historic district, boasts stunning views of the Piscataqua River. The meticulously restored 1812 mansion offers 8 elegant rooms, each with its distinct character and luxury amenities. Guests can relax on a secluded riverside patio, gather for afternoon tea in the Great Room, or explore Kittery's boutique galleries, shops, and restaurants.
Mid-Range: Hampton Inn & Suites Kittery, situated in north Kittery near Interstate 95, offers a comfortable stay for travelers seeking convenience. The hotel's contemporary rooms provide modern amenities and ample space for families and business travelers. Guests can start the day with a complimentary breakfast, unwind with a swim in the indoor pool, or work out in the fitness center. 
Budget: Howard Johnson by Wyndham Portsmouth is a nice budget-friendly option for guests and is just across the river from Kittery. Their comfortable guest rooms are equipped with amenities such as a TV, coffee maker, and complimentary Wi-Fi. For added comfort, take advantage of their on-site breakfast and fitness center.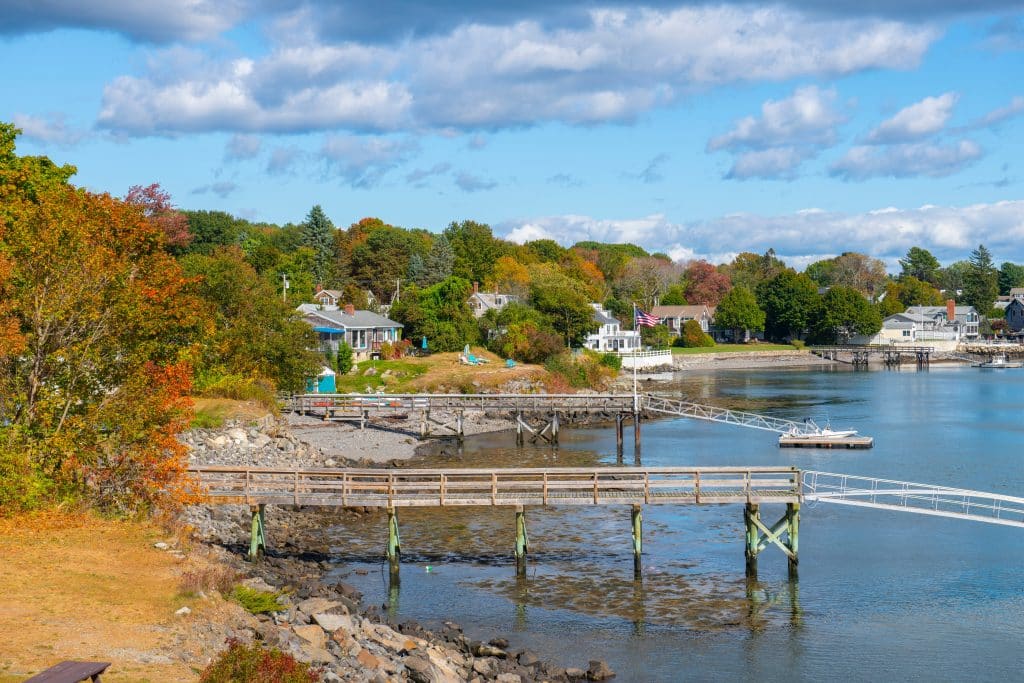 Best Time to Visit Kittery, Maine
No surprise, you'll experience the best weather in Kittery in the summer, but the popularity of the outlets keeps Kittery hopping year-round.
If you're looking for the best summer weather, your best bets are July, August, and even early September. June tends to be a bit riskier with rain in New England.
Shoulder season is a lovely time to visit with less crowds. Historically, you'll experience better weather in fall than in spring (though foliage season, which peaks in early to mid-October, can be both beautiful and very busy, especially on Columbus Day weekend).
The winter months are quiet along the Maine coast, with most attractions closed for the season. That said, a winter trip to Maine is a great way to get to know the locals live here year-round!
How to Get to Kittery Maine
By far, the best way to get here is by car. Much of small-town New England isn't accessible by public transportation, and with a car, you'll have plenty of freedom to explore the surrounding areas.
If you're flying into Kittery, the closest airport is in Portland, Maine, followed by Boston, Mass. Logan Airport in Boston is a more convenient option for international flights.
If coming by train, Amtrak's nearest stop is in Dover, NH on the Downeaster line from Boston to Portland. Local buses come from Portsmouth and stop in Kittery (just north across the river).
Uber does exist in Kittery and Portsmouth, which is a great way to get around if you don't have access to a car, or if you want to hit up the bars and don't have a designated driver.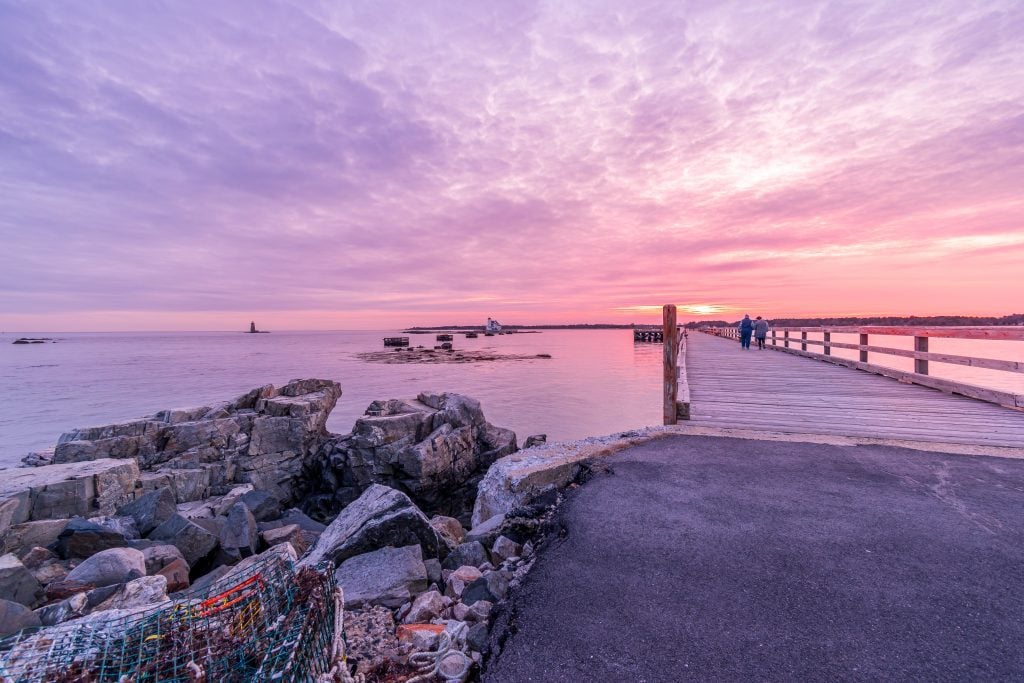 How Much Time to Spend in Kittery Maine
One day is enough for the main sights of Kittery. If you stay longer than that, you'll be able to see everything that the town has to offer. But if you're planning a combined trip to Kittery and Portsmouth, I think three days will give you time to see quite a lot in these two vibrant coastal towns.
Kittery also makes an excellent base for exploring Southern Maine and the surrounding region. You can absolutely use Kittery as a base as you drive up and down the coast, finding plenty of treasures (and eat ALL the lobster rolls!).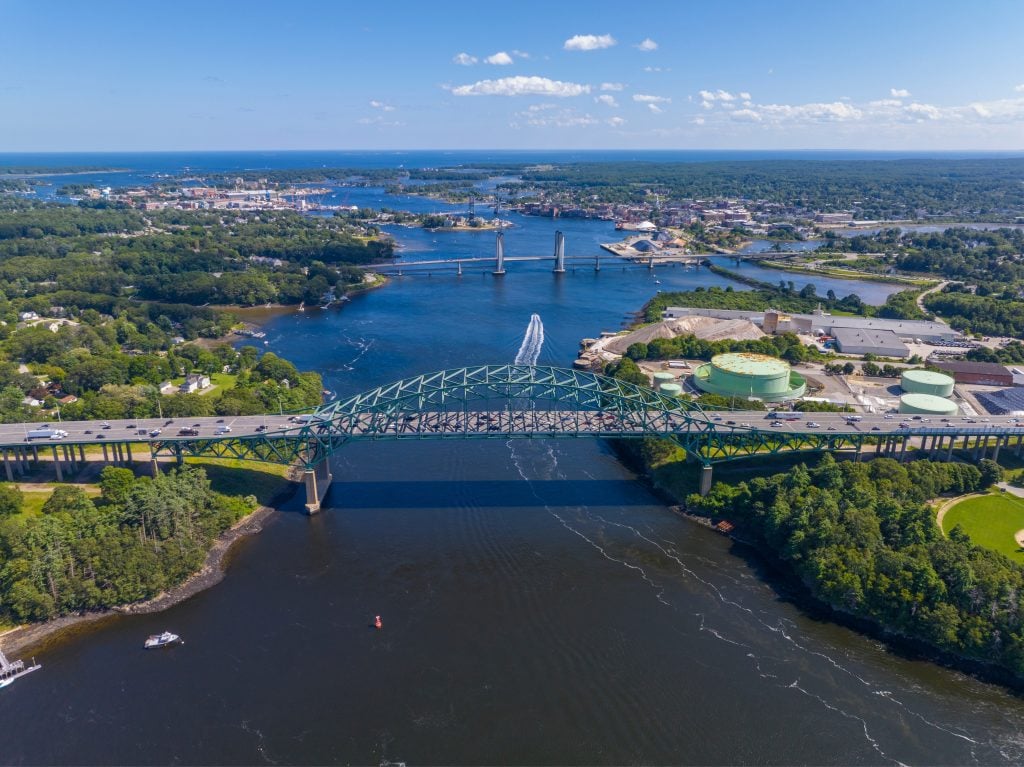 Is Kittery Worth It?
I absolutely love the southern coast of Maine — as well as its sibling, the New Hampshire Seacoast. Whether you're visiting on a day trip from Boston or spending a full two weeks exploring the region in depth, I think it's a fantastic place to explore.
Kittery is just one town among many in this region. And while I don't think it's one of the absolute best towns — for me, that would be Portsmouth or Ogunquit — Kittery is absolutely worth at least a half day visit. You won't regret spending a few hours here.
I hope you have the best time in Kittery, Maine!
More on Maine:
More on Coastal New England:
Have you been to Kittery Maine? What's your favorite thing to do? Share away!