The world is an incredible place to explore. But the reality is that climate change is here – and we know that travel is a major contributor to carbon emissions.
Does that mean we have to stop travelling? Not necessarily. But we can change the way we travel. All it takes are a few little adjustments to make a big difference. Here are five ways to reduce the impact of your travels. After all, if there's no world left to see, what's the point?
1. Change your flying habits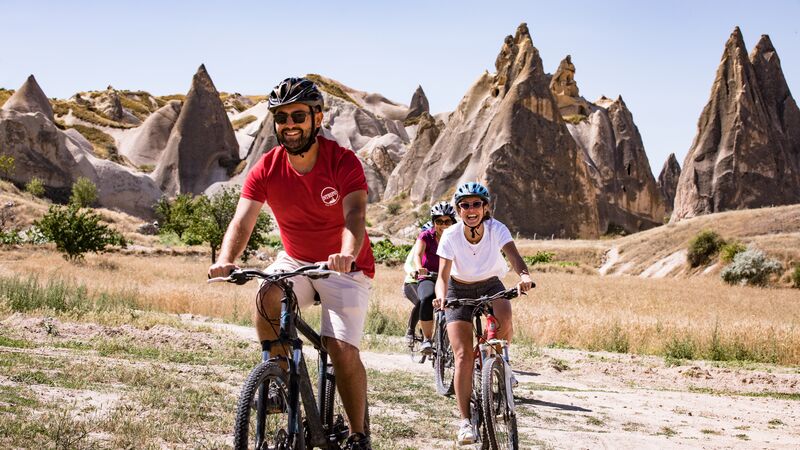 We know those giant jumbo jets (and even smaller planes, too) pump out tonnes of carbon, so before you travel, it's worth considering if a flight is even necessary. Maybe there's an overnight train or local bus you can take instead. By swapping your mode of transport from 30,000 feet for a land-based option, it all helps to reduce your carbon emissions.
If flying is the only way, you can make some important flight choices, like opting to stay longer to get more travel bang for the distance travelled, and try to make your route as direct as possible. Even the flight class you choose can make a difference – economy flights tend to have a lower footprint than business class.
Take the time to research which airlines or travel companies are taking climate action, including offering a carbon offsetting program. While offsets alone aren't a solution, by paying a couple of bucks to carbon offset your flight, funds will be allocated to emission-reduction schemes, like investing in projects that reduce or remove emissions like renewable energy (wind, solar) or protect trees.
2. Explore your backyard
We're all guilty of being lured by the excitement of faraway destinations. But here's the thing. There are a few million people that arrive each year to explore your backyard, so why not join 'em? Instead of packing your bag and jetting off to other corners of the world, consider seeing what your home country has to offer. And you never know, a domestic adventure might surprise you in more ways than one.
3. Choose a responsible travel company
Responsible travel should be an essential factor when you're planning your next trip. Whether you're travelling with family or friends, independently or in a group, choosing to explore with a responsible tour operator is worth your consideration. Read up on tour operators that include destinations a bit further afield, or even run trips that avoid visiting over touristed areas, and promote the concept of 'undertourism' instead.
While you're researching, be sure to take a look at each tour operator's stance on carbon offsetting. While most of us probably won't stop travelling altogether, a responsible travel company will prioritise ways to reduce and balance out their emissions. Also, find out whether they have an animal welfare policy and what their take on diversity and inclusion is.
4. Travel like a local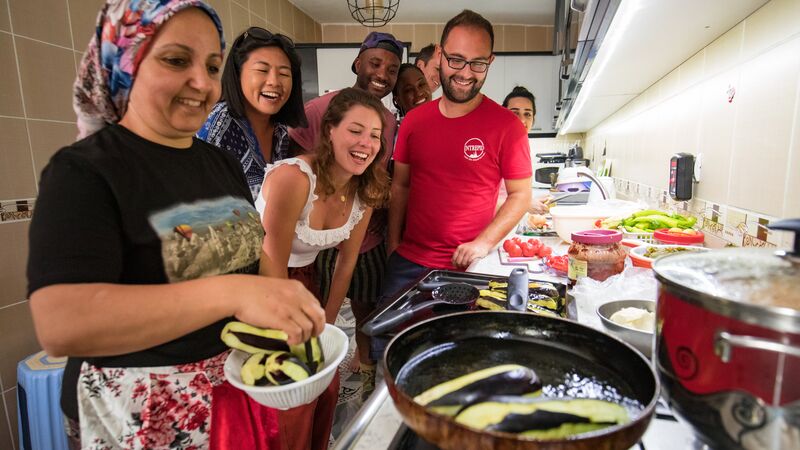 One of the best parts of travelling the world is seeing a destination through the eyes of a local: connecting with new people, learning from each other and sharing stories. Our top tip to make sure your travels are as authentic as possible is to travel like a local. Explore like a local. Sleep like a local. Hang with locals. Eat like a local. You get the picture.
Take public transport, for example. Like we mentioned earlier, not only does travelling on public transport cut pollution and carbon emissions, but it also allows you to make some new friends along the way. Plus it's way more fun than flying.
5. Ditch the single-use plastic
Single-use plastic is a big deal, as it's a fossil-fuel derivative, and won't be breaking down anytime soon. Hopefully, you're already mindful of this and in the habit of carrying a reusable cup or bottle with you, which means your travels should be no different.
To reduce your impact on the road, carry a reusable cup, metal or bamboo straw, a fabric tote bag, reusable cutlery, a water bottle or even a water purifier that filters out all the bad stuff. The best part is that you'll be starting conversations about reducing landfill too.
Remember: Small changes can have the biggest impact. Learn more about responsible travel at Intrepid.
Feature image by Damien Raggett.