Today I want to share my London Christmas itinerary with you. London is worth visiting during Christmas for its festive atmosphere, colorful lights, great shopping, and fun events and entertainment. There's a lot to experience in the UK capital during the Yuletide season, and in this post I want to highlight some of the best things to do in London at Christmas.
London Christmas Itinerary
Like all my themed London itineraries, my Christmas itinerary will show you the top places to go in the city in the run-up to December 25th.
This itinerary covers a 2-day period, but you can adjust it to fit your needs if you have more or less time in the UK capital. As always, be sure to check opening hours before you travel, and make advance bookings where relevant.
You can also take a Christmas walking tour, bus tour, or black cab tour in London if you want a guided experience. You can book one through GetYourGuide. They're fun ways to see the highlights of the festive season in the city.
When to Visit London at Christmas
But when exactly should you visit? A lot of people ask me when the Christmas lights, trees, markets, and decorations start to pop up around London (and when they come down).
While there's no exact date, most lights are switched on in early to mid-November. They usually stay up until the first few days of January. The same goes for the city's Christmas markets, ice skating rinks, and other festive fixtures.
That said, some lights and decorations go up earlier and/or come down later (I've seen Christmas trees in London in October), so it's a good idea to check online if you have something specific you want to see.
Keep in mind that winter in London means limited daylight hours and the potential for cold weather, too. You can take a look at my winter packing list and my guide to the weather in London for more information.
As always, a good umbrella is key. If you're in the UK, I recommend this umbrella. If you're in the US, this one is just the thing.
Day 1 – Morning
Start the first day of your London Christmas itinerary in Covent Garden. Not only is this one of the most exciting parts of the city center, but also one of the most Christmassy places in London. It's a must on any trip to the UK capital during the festive season.
The Piazza is decorated with lights and a giant Christmas tree, and the shops around it offer some of the best Christmas shopping in London.
Day 1 – Afternoon
After a busy morning taking in the Christmas fun in Covent Garden, continue your itinerary by making your way to Piccadilly via Leicester Square and Trafalgar Square.
There are Christmas markets in both squares, and you can pick up festive food, drinks, and gifts as you make your way around them. The market in Trafalgar Square is particularly stunning with the National Gallery in the background.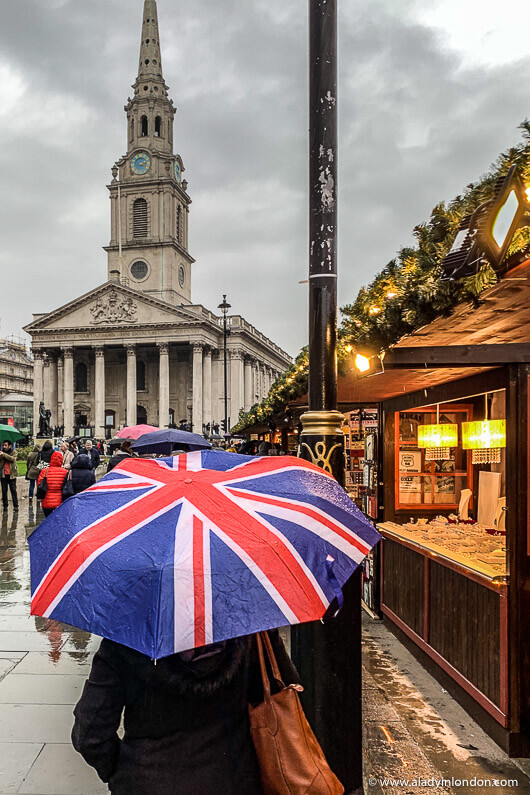 Once on Piccadilly, you'll be spoiled for choice when it comes to shopping. Fortnum & Mason has a famous Christmas shop. It's a great place to pick up ornaments for your tree and gifts for family and friends.
You can also browse the boutiques in the historic shopping arcades on and around Piccadilly. They're always decked out in lights and ribbons during the festive season. From Burlington Arcade to Piccadilly Arcade, they're a treat to see.
Afterwards you can walk over to Bond Street to browse the luxury goods shops and take in the eye-catching Christmas facades the area is known for.
Day 1 – Evening
When day turns to dusk (which will be around 4pm at this time of year), you can start taking in London's iconic Christmas lights. They're spectacular every year.
The ones on Piccadilly always sparkle, and the lights on Bond Street, Regent Street, Carnaby Street, and Oxford Street are a must.
They're all within walking distance of one another, so you can easily make an evening of seeing the lights.
If you have time afterwards, you can head to a performance or show in the West End. From carol concerts to traditional British pantos, there's a lot on offer during the Christmas season in London.
Alternatively, you can go ice skating at Somerset House. Its historic courtyard is home to one of the most beautiful rinks in the city. It's worth a special trip.
Day 2 – Morning
Start the second day of your London Christmas itinerary at Winter Wonderland. This annual extravaganza in Hyde Park is part amusement park, part Christmas market, and part carnival.
There's everything from rides to chalets selling food and gifts here. Add to that ice skating and circus performances, and this place has it all.
I like going in the morning since Winter Wonderland can get crowded in the afternoon and throughout the evening. You can always go back later for a drink and some festive fun if you want to, though.
Day 2 – Afternoon
After exploring Winter Wonderland, walk over to Knightsbridge for some more Christmas cheer. You can check out the famous window displays at Harrods and Harvey Nichols, do some shopping, and get lunch.
When you're done, you can walk down Sloane Street to reach Chelsea. Sloane Square always has fun decorations and lights, and the King's Road is a great place to pick up fashionable festive gifts.
Day 2 – Evening
When evening comes, make your way to the South Bank. The annual Winter Festival has a Christmas market with chalets selling Christmas food and festive drinks.
There are twinkling lights, pop-ups, and outdoor exhibitions, too. Add to that live entertainment, and there's no shortage of fun to be found here.
Itinerary for Christmas in London
I hope you've enjoyed this London Christmas itinerary. The Yuletide season is a great time to visit the city, and I'm sure you'll have a good time if you visit in winter.
If you want to explore additional places and topics, you can use my blog posts about Christmas walks in London, the best things to do in London at Christmas, and Christmas highlights in London as guides.
Happy Christmas!
Find this post helpful? Buy me a coffee!
New here? Join thousands of others and subscribe to the A Lady in London blog via email.
Some of the links in this blog post are affiliate links. At no cost to you, I earn a small commission when you click on them and make a purchase. It doesn't affect the way you shop, and it's a great way to support the A Lady in London blog.
Pin it!