Camping is one of those holidays where everyone is furtively checking out each other's pitch to see what they have done right and where they have messed up. Your gear, how you arrange it and, dare I say it, your erection will all be under scrutiny. So, if you are planning a trip away as a complete camping beginner or an old hand looking for some fresh ideas, arm yourself with these super simple camping tips.
*This post contains affiliate links*
Want more ideas for family holidays and days out? Read my tips for smashing family travel and sign up for my newsletter.
1. Fabsil everything 
The path to looking like a camping pro starts at home. This is the time to make sure all your equipment is in order, in particular your tent or awning.
It doesn't matter how good it was last season, treat all the seams with Fabsil* to make sure they are waterproof. No one likes being dripped on in the night.
2. Practice pitch your tent at home
Continuing with your pre-camping preparations, if you are able, put your tent up at home first. If you've just bought it you can make sure that you have all the poles and pegs you need.
Here are some of the best value family camping tents.
And if you are old hands at camping you can make sure everything was packed away correctly and check for any damage.
A trial run will also mean you can pitch your tent faster when you get to your site, which is handy if it's raining. You'll also look like a pro to your fellow campers.
3. Have a packing list 
Turning up at your campsite without that all important bottle opener is a right pain. Prepare a camping packing list before you go.
Here's some check lists for different types of camping holiday:
Check out my ultimate guide to packing for family holidays.
4. Pack your tent last
While it might be tempting to put your largest camping items in the car boot first, think carefully about what you will need as soon as you get to your campsite. One of our very best camping tips is to pack your tent last.
Read about some more common camping mistakes you can easily avoid.
5. Pull pegs like a pro camper
We know from experience that the peg pullers you can buy from camping shops rarely do the trick, especially when you have pitched on hard ground. Buy a pair of mole grips* instead.
6. Camping boxes serve many purposes
We store all of our camping gear in a large box*. This means we're not scrambling around for our gas kettle and plastic bowls before each trip.
A sturdy camping box can also be a bench to sit on during your holiday. Empty it out and you also have a baby, toddler or dog bath!
7. Add some home comforts to your tent
A camping carpet* can really warm up and personalise your tent. This is a camping tip Tin Box Dog appreciates!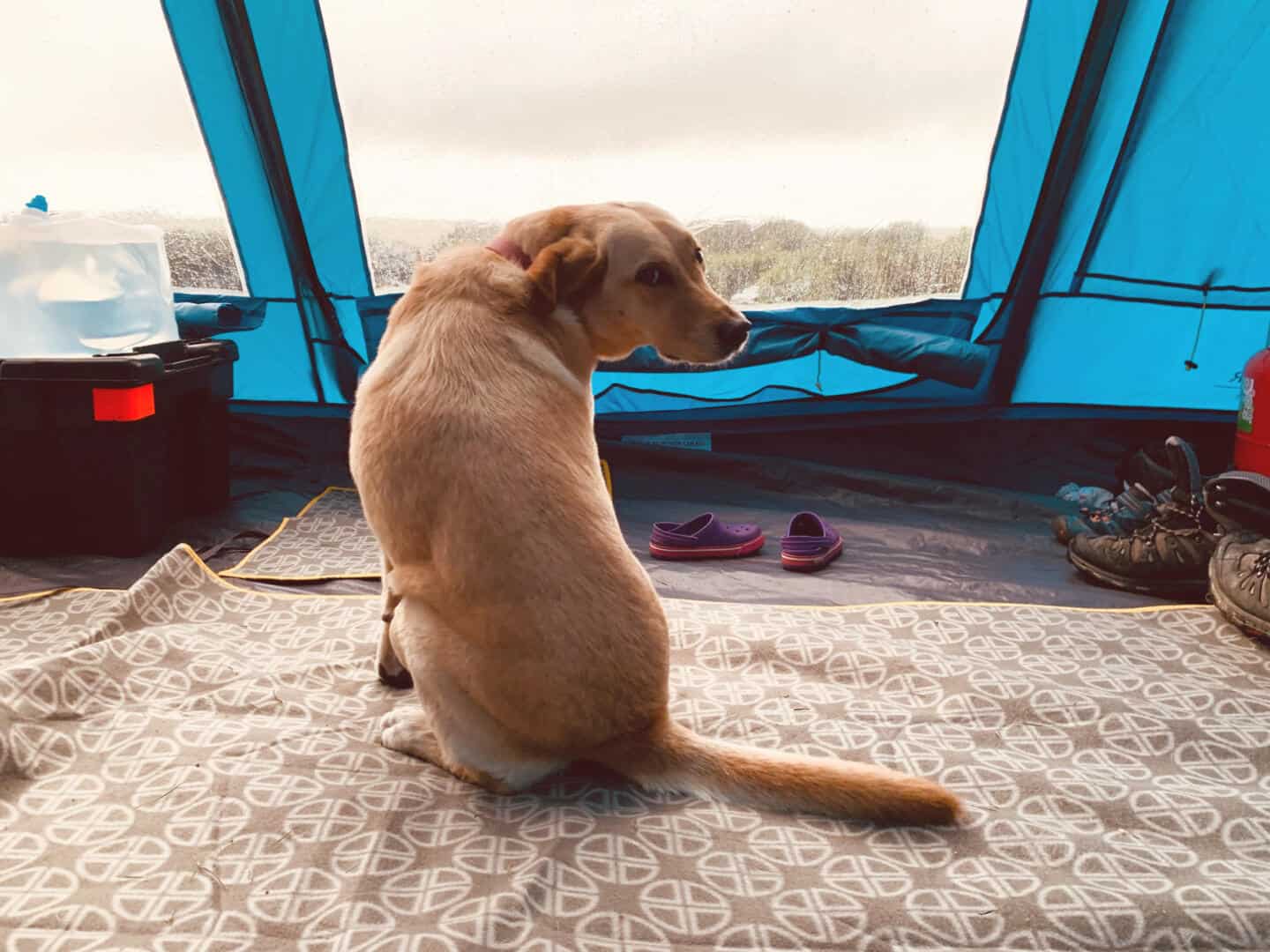 8. You can never have enough torches 
We have lots of torches: Maglites, head torches, little flash lights for the kids, as well as lanterns to use inside the tent. They serve and important purpose when you need to take a trip to the loo in the night and they give hours of entertainment to kids.
Extra camping tip: don't forget spare batteries*!
9. Bring a potty
Speaking of trips to the toilet block at night, these can be minimised if you bring a potty for your kids to use as a night loo.
Even better buy a portable toilet*.
10. Bring games 
Keep your kids and yourselves entertained on site whatever the weather by packing some camping games. Here are some of our favourites.
I hope you've found these camping tips handy and now have plenty of ideas for how to rock up to your next campsite looking like a pro.
If you have anymore camping hacks to share then I'd love to hear them. Comment below or email me.
Want more ideas for family holidays and days out? Read my tips for smashing family travel and sign up for my newsletter.
Planning your next family camping trip? Why not save this post about camping tips on Pinterest.