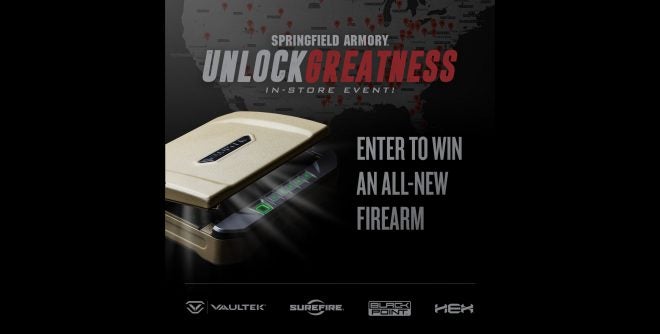 Springfield Armory is one of the longest, most-trusted names in the firearm industry – and as of late – they have been bringing to market some true knockouts! From the eternally popular Hellcat for concealed carry to the more recent revitalized, rebirth of the Hi-Power in the modern SA-35. Now, Springfield Armory is announcing an Unlock Greatness event this September 3rd as an in-store giveaway.
Springfield Armory Coverage on AllOutdoor
The Unlock Greatness in-store event is both an unannounced product unveiling, game, and giveaway all-in-one! Vaultek VS20i Biometric Smart Safes containing an unannounced firearm and accessories from Springfield Armory partners will be arriving at retailers by September 3rd. Each safe is packed with an unannounced new firearm from Springfield, along with top-tier accessories from SureFire, HEX, and BlackPoint Tactical.
Springfield Amory is proud to partner with Vaultek, SureFire, HEX and BlackPoint Tactical to host this giveaway. "The collaboration of these brands makes this a great event with a lucky winner taking home a grand prize at every participating store," said Steve Kramer, Vice President of Marketing for Springfield Armory. "We're really looking forward to this event that highlights the great relationship with have with our retailers," noted Phil Rawlings, Vice President of Sales and LE for Springfield Armory.
If you wish to enter in this in-store giveaway event, you can sign up now at unlock-greatness.com to find a nearby participating retailer and be set up to receive their unique code on the day of the event. On September 3rd, simply visit your chosen retailer and enter the code you have received on the digital keypad. If your code opens the safe, you win the safe, the firearm, and all the accessories inside. Good luck!