As a glamping business owner, there are many things to think about when it comes to the success of your site—from location and experiences to the drawcards such as a luxurious glamping bell tent.  Our team has put together a short guide on everything you need to know before buying a bell tent for your glamping business.
Everyone has a different idea of what a camping vacation ought to entail. Some people think of camping as road-tripping in a converted camper van with all of the conveniences of home, while others see it as a far more rustic activity that includes carrying everything they need on their backs. Glamping, however, is somewhere between luxury and simplicity—and, of course, in the heart of the great outdoors.
According to Grand View Research, the glamping market was valued at 2.35 billion USD in 2021, and from 2022 to 2030, a 10.9 percent annual growth is predicted. An increasing appreciation for such experiences in the wake of the COVID pandemic is a major factor that has contributed to its increased appeal. Traditional luxury vacations are pricey and, to put it simply, a little dull—especially for Gen Z and Millennial travelers who tend to work remotely and want to spend money on unique, memorable experiences.
So, whether you already own a glamping business or you're hoping to host your own glamping site one day, we've got everything you need to know before choosing a glamping bell tent as your glamping accommodation option.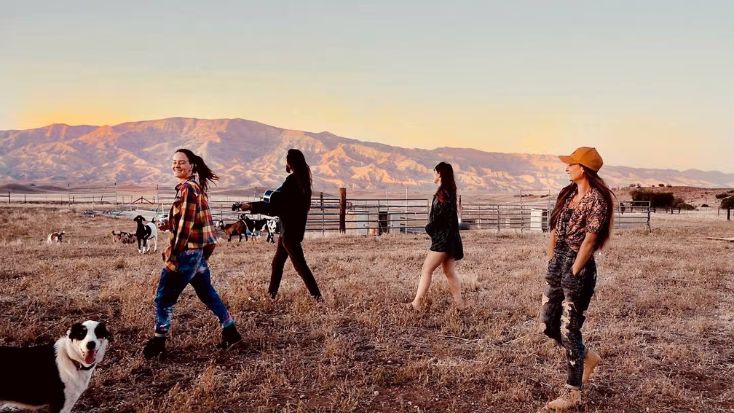 What is a glamping bell tent?
A glamping bell tent, as the name suggests, is a tent formed like an antique bell. It is a simple but brilliant design that allows for the most comfortable of accommodations, making your guests feel right at home in the heart of nature. A single-center pole supports the doorway, and guy lines extend the canvas walls outward, resulting in a stable structure with an open, roomy interior and windows that cast an inviting glow on an idyllic interior.
Types of bell tents
Canvas bell tents are made of 100% cotton. They offer a classic glamping look while being tough, breathable, and robust—making them an excellent choice for your glamping site. Cheaper and more portable, lightweight canvas tents let in a lot of light and are prone to tearing, while heavier canvas tents are more expensive and perform better in adverse weather. Before use, your canvas tent must be "weathered," especially if there is a good probability of precipitation.
Since polyester bell tents are made entirely of synthetic materials, they can come in a variety of designs and colors and are very easy to maintain. They are also some of the lightest bell tents on the market, are super easy to put up and take down, as well as durable and weather-resistant. Although the location of your glamping site will determine how much this matters to you, these tents are far less breathable than canvas or polycotton tents and can often create condensation.
Polycotton bell tents are made from cotton fabric with polyester woven into it. They resemble traditional bell tents but they are easier to care for and durable. Those who opt for these bell tents will enjoy all the advantages of cotton canvas as well as the enhanced toughness and convenience of polycotton. The polycotton bell tent is easier to maintain and mildew-resistant. However, most users discover that they are less breathable, which could occasionally make them feel stuffy.
Bell tent sizes
Given the large range of sizes available for bell tents, choosing the right one can be challenging. The size you need for a tent is determined by its intended use and the number of glampers it must accommodate, just as with any other tent. The good news is that glamping bell tents can accommodate virtually any group size. From cozy nine to 10-foot bell tents that are perfect for couples to 20-foot bell tents that accommodate big families or groups of up to six, there is a glamping bell tent for every occasion.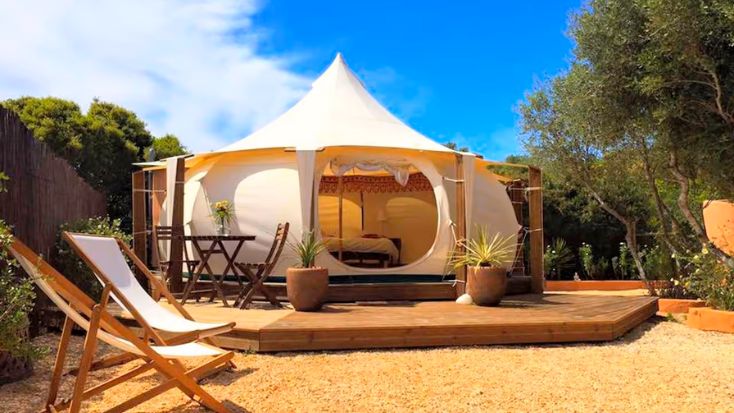 The best materials for your glamping bell tent
Traditionally, bell tents are made from robust tent canvas. Although there are lighter-weight options, some people believe that the ideal choice is the premium, unbleached cotton canvas. The materials must be water, flame, mold, and UV resistant. As a glamping business owner opting for a bell tent, you should also invest in a top-notch groundsheet, one that zips in for ultimate comfort while glamping. A zipped-in groundsheet is a must, if you choose a family-friendly glamping site, to ensure safety. Furthermore, a groundsheet protector is a smart investment given that it will protect against dirt, tears, water, and mold.
What are some of the benefits of glamping bell tents?
If you're still wondering whether or not to buy a glamping bell tent, especially because there are so many other glamping accommodation options available, here are a few major benefits of bell tents.
The canvas is waterproof
A leaking tent is the fastest way to spoil a glamping holiday. Fortunately, rain won't ruin your guests' glamping experience as long as you opt for a high-quality waterproof canvas tent. Canvas bell tents function so well because they are both extremely absorbent and well made. But first, water must be used to weather the canvas.
Bell tents are durable
Bell tents have been used for centuries because of their durability. They are actually made to last because of how tightly they are woven. However, the use, the length of time it is pitched, the environment and weather, and sun exposure all affect how long your tent will last. Having said that, you may anticipate your bell tent canvas to last for a decade or longer with correct maintenance and storage.
Glamping bell tents are spacious
Bell tents offer a higher ceiling than traditional camping tents, which tall people will appreciate. In addition to increasing headroom, the additional height makes the bell tent appear larger. Bell tents use almost all of the available floor space due to their low walls, which gives everyone a little more elbow room. If your glamping site is geared towards families, this is great for kids.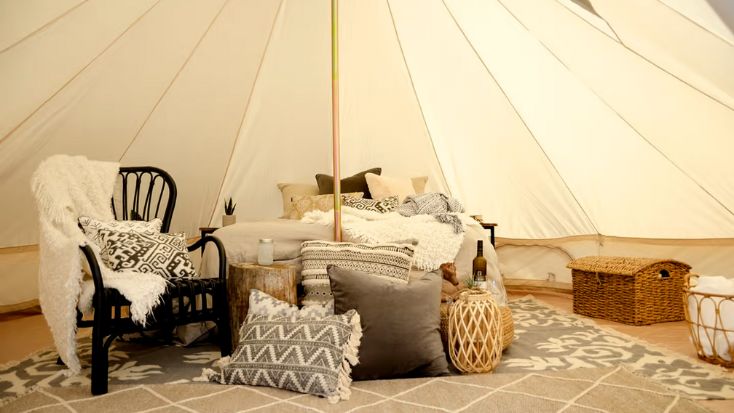 The bell tent for your glamping business
Glamping in a bell tent is the glamping accommodation option with the closest similarities to traditional camping. If you want your guests to reconnect with nature and experience sleeping under the stars without sacrificing the creature comforts of home, then buying a bell tent for your glamping business is the best choice for you. Glamping in a bell tent suits everyone—from couples seeking a romantic escape to families wanting to spend quality time together, or friends looking for a fun glamping weekend in nature.
Glamping Hub is actively exploring and developing solutions for new glamping projects and businesses, using our knowledge to give you, as a glamping business owner, access to up-to-date, relevant, and industry-specific information.
Start a glamping business and grow with confidence today.