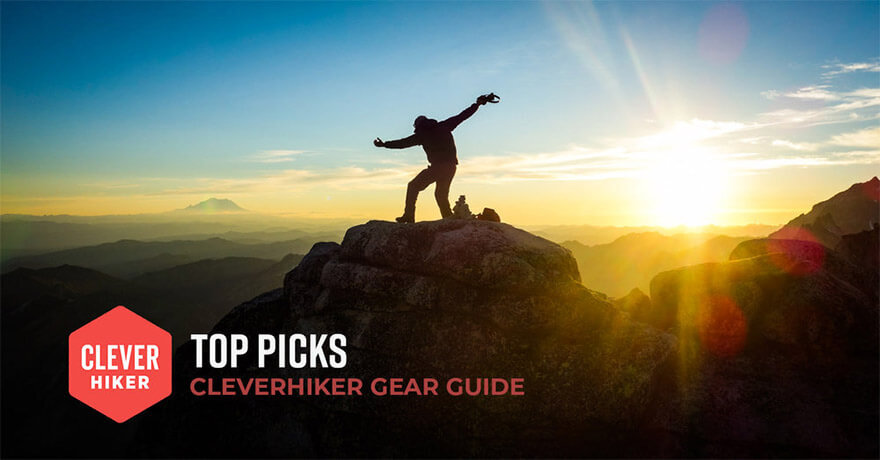 Top Gear Picks of 2023
When we hit the trail, this is the equipment we carry in our packs. Unlike the CleverHiker Gear Guide, where we highlight a wide range of exceptional choices, this page is where we talk about our personal favorites. For more of our favorite gear recommendations, have a look through these popular CleverHiker Gear Guide links:
Why Trust CleverHiker?
We fully understand how tough it is to find trustworthy gear advice, and that's one of the main reasons we built CleverHiker. We live for outdoor adventure, and we take these guides very seriously. Here are some of the reasons you can trust us:
Our choices are completely independent and based on personal experience.
We've logged over 10,000 trail miles and test outdoor gear for a living.
We own and field test every product we recommend, which is sadly not the norm.
We travel to industry trade shows to learn about upcoming product innovations.
We constantly update our guides when new products launch.
We treat our recommendations as if they were for our family and friends.
We're lifelong learners and we're always open to constructive criticism. If you think we've missed a product or got something wrong, we'd love to hear your feedback.
---
Top Gear Picks of 2023
---
FOOTWEAR
TENTS
Best Backpacking Tent: Big Agnes Copper Spur HV UL2 & UL3

This is our top choice for all-around value and ease of use. It's a very well balanced combination of weather protection, weight, comfort, and convenience. We like the UL3 size for a bit more room when backpacking in pairs, but the UL2 size is also excellent for solo adventures or if you don't mind tighter quarters.

Best Ultralight Tent: ZPacks Duplex & Triplex

Our top choice for thru-hiking and long/difficult treks. Non-freestanding, single wall shelters like these always take a bit more time and practice to pitch, but the weight savings tends to be well worth it. We like the Duplex for solo trips and the Triplex for backpacking in pairs.

Best Budget Tent: REI Half Dome SL 2+

This is a tent that maximizes interior space and durability while minimizing cost. The generous dimensions and overhead crossbar create a ton of interior space and the materials are much more durable than the average backpacking tent.

Best Car Camping Tent: REI Skyward 4

We like this tent for its sweet balance of simplicity, spaciousness, and relatively compact packed size. It has high-quality tent poles and fabrics, a spacious interior, and it's easy to set up. It also has near-vertical walls and a six-and-a-half-foot peak height, so you can stand, dress, and move around freely.

Best Winter Tent: NEMO Kunai 2

We like this tent because it's budget-friendly, lightweight, and it offers generous headroom. The body of this double-wall tent is constructed with large mesh panels which provide excellent breathability, condensation control, and make it more practical than some others for year-round use.

More: Check out our full lists to see all of our favorite gear.
BACKPACKING PACKS & DAYPACKS
Best All-Around Backpack: Hyperlite Mountain Gear Unbound 40 / 55

The Hyperlite Mountain Gear Unbound 40 and 55 packs were purpose-built for hikers covering long distances and those wanting to keep their pack weight as low as possible without sacrificing convenience. With its plethora of useful pockets, perfect balance of weight/durability, and practically waterproof design, the Unbound has quickly become one of our all-time favorite backpacks.

Best Comfortable Backpack: Gossamer Gear Gorilla 50 & Mariposa 60

The hip belt of the Gorilla carries weight exceptionally well, and the cushioned back panel doubles as a removable sit pad that you can use around camp. If all of your gear is ultralight and compact, the Gorilla (50L) is our top pick. If you need more room, or you want the ability to carry slightly heavier loads, the Mariposa (60L) is a better choice.

Best Backpack for Carrying 35+ lbs.: Osprey Atmos AG 65 (men's) & Aura 65 AG (women's)

For those who prefer to hike with traditional gear or those who really love packing out luxury items, the comfort of the Atmos (men's sizes) and Aura (women's sizes) are tough to beat. The suspension system in these packs allows you to carry up to about 50 lbs. comfortably.

Best Hiking Daypack: Osprey Talon 22 (men's) & Tempest 20 (women's)

With cushy hip belts, padded shoulder straps, and ventilated back panels, the Talon and Tempest ride very comfortably on the trail. These packs have plenty of room for a full day adventure and convenient storage compartments to keep our gear organized nicely.

Best Hydration Pack: Gregory Citro 24 H2O & Juno 24 H2O

These packs have a great balance of weight, capacity, and price. The frame is supportive enough to carry heavier loads comfortably (up to 20 lbs.), but they still feel lightweight and streamlined on your back. They have all the pockets we find the most useful on the trail with a refreshingly uncomplicated layout. They also come with the best Hydration Bladder on the market.

Best Travel Backpack: Cotopaxi Allpa

This pack has everything we look for in a travel bag – streamlined organization, easy-access pockets, a comfortable carry, and unique style. There are four zipper compartments of different sizes for keeping things tidy, and they're all made of mesh which makes it easy to see what's inside.

Best Fanny Pack: Cotopaxi Bataan
This fanny pack has an impressive weight-to-capacity ratio. We love sporting it on the trail, and we're constantly blown away by how many snacks and small items we're able to fit in it.
More: Check out our full list to see all of our favorite gear.
SLEEPING BAGS
Best Backpacking Bag: REI Magma 15° (men's & women's)/Magma 30° (men's & women's)

When it comes to quality for the money, it's pretty tough to beat REI's Magma sleeping bags. They're ultralight, compressible, and warm. We own and use both models, rotating them out between winter and summer backpacking season. If you can only get one, we recommend the Magma 30 if most of your trips are in summer and the Magma 15 if you want the flexibility for shoulder season and mild winter camping.

Best Ultralight Quilt: Enlightened Equipment Revelation

The Revelation quilt is incredibly light and packs down super small. Those who don't like the feeling of being cooped up in a mummy bag will enjoy the roomy comfort and this quilt is super versatile. It can be opened up like a blanket on warm nights and cinched up tight when the temperatures drop.

Best Double Quilt: Enlightened Equipment Accomplice

This is our favorite shared sleep system for couples who like keeping weight to a minimum and snuggles to a maximum. It's one of very few double quilts on the market, and it's a great value compared to heavier double sleeping bags, especially considering its top-notch materials. It's customizable too, so you can choose the exact temperature rating, size, and colors you want.

Best Car Camping Sleeping Bags: REI Siesta Hooded 25 & Double Siesta

This is one of our favorite sleeping bags overall for frontcountry camping because it's comfortable, durable, and comes in at a great value price. The unique, rectangular hood adds extra warmth on chilly nights, and it holds a full-size bed pillow securely in place.

More: Check out our full list to see all of our favorite gear.
SLEEPING PADS
Best Backpacking Sleeping Pad Overall: Therm-a-Rest NeoAir XLite NXT

The XLite NXT is the best all-around 3-season sleeping pad on the market, hands down. It has a rare combination of comfort, warmth, and weight that make it very tough to beat for backpacking. The main knock on previous XLite models has been the crinkly sound they make when shifting around. We're happy to report the new NXT version is much quieter.

Best Pad for Cold Sleepers & Chilly Conditions: Therm-a-Rest NeoAir XTherm NXT

Insulation (R-value) is a highly underrated characteristic in sleeping pads. If you're a cold sleeper or you backpack in sub-freezing temps, we recommend bumping up to the XTherm. The latest NXT model is warmer, thicker, and even a touch lighter than before. With such a preposterous warmth-to-weight ratio, the XTherm is undoubtedly one of the best backpacking sleeping pads out there.

Best Ultralight Summer Sleeping Pad: Therm-a-Rest NeoAir UberLite

The UberLite is often the sleeping pad you'll find in our packs on summer backpacking trips. It's very comfortable, ridiculously lightweight, and has a tiny packed size. Our favorite thing about the UberLite is just how insanely lightweight it is. This helps us keep our pack weight to an absolute minimum on burly, high-mileage adventures.

Cushy, Rectangular Sleeping Pad w/ Quick Deflation: NEMO Tensor Insulated

The Tensor sleeping pad is thick, comfortable, and quieter than almost any air pad we've tested. It comes in several shape and size options, including mummy, rectangular, and the elusive regular/wide model which allows your feet to rest wider apart when back sleeping. The Tensor also has a great zero-profile valve that allows for quick inflation/deflation and simple micro-adjustments.

Best Foam Sleeping Pad: NEMO Switchback

For the ultralight, budget-conscious backpacker who's hard on gear and doesn't want the possibility of a ruptured air pad, closed cell foam pads are a great option. We like using the Switchback to add warmth to our sleep system on particularly chilly trips, and it's also a great choice for thru-hiking because it's so durable.

Best Budget Backpacking Air Pad: Klymit Static V

The Static V is built with thicker fabric than most lightweight pads and it's also slightly wider than the standard pad size. Because it has a low R-value (1.3), this pad is best suited to summer backpacking and camping.

Best Car Camping Mattresses: Exped MegaMat & MegaMat Duo

If you're looking for a super comfortable, cushy camping mattress that's durable and easy to use, you can't beat the MegaMat. It's a generous four inches thick, so you won't feel pressure points or bottom out if you toss and turn throughout the night. This mattress self-inflates most of the way, and the mini foot pump makes finishing the job easy.

More: Check out our full list to see all of our favorite gear.
PILLOWS
Best Ultralight Pillow: Zpacks Medium-Plus Dry Bag Pillow

When filled with a puffy jacket, this dry bag pillow is very comfortable and warm, and it doubles as a stuff sack for your clothing during the day.

Most Comfortable Pillow: Therm-a-Rest Compressible

The Therm-a-Rest Compressible Pillow is the most comfy of all the pillows we tested. It feels almost like the pillows we use at home, but it's more compact and it doesn't matter if drop it in the dirt.

Most Luxurious Camping Pillow: HEST Pillow

This pillow brings the comfort of home in a compact package that's easy to transport and keep clean. It's nearly full-size and the shredded memory foam fill provides excellent support that doesn't flatten out.

More: Check out our full list to see all of our favorite gear.
CAMP KITCHEN
Most Convenient Backpacking Stove: JetBoil MiniMo & JetBoil Flash

If you want simmer control for backcountry cooking and better performance in sub-freezing temps, get the MiniMo. If you just want your water to boil quickly, the Flash is likely all you need.

Best Ultralight Backpacking Stove: BRS Stove, MSR Pocket Rocket 2, and Pocket Rocket Deluxe

The BRS is a tiny, ultralight stove for 1-2 people max. The Pocket Rocket 2 and Deluxe will be much more durable and dependable in the long run, though they're slightly heavier and bulkier. The Pocket Rocket Deluxe has the best features of the bunch.

Best Backpacking Cookpot: TOAKS Titanium 750ml

This TOAKS Pot comes in at about half the cost of many other titanium pots. It isn't all-inclusive (with a cup and stove) like some kits, but it's a great building block for an efficient, ultralight cook system.

Best Spoon: TOAKS Long Spoon with Polished Bowl

It's a spoon, it delivers food to your mouth efficiently. The long handle helps to avoid the dreaded hiker condition known as "saucy knuckles".

Best Cup: GSI Outdoors Infinity Mug

We love bringing an ultralight cup along when we go backpacking so we can enjoy some evening tea while we cook dinner.

Best Bear Canisters: Ursack & Bear Vault BV 500

When bear canisters are required, we use the BV 500 because it's spacious and it's easy (for humans) to open. On most other trips we bring our Ursack, which is lighter, easier to pack, and great for keeping critters out of our grub.

Best Camping Stove: Camp Chef Everest 2x

We like this stove because it has plenty of space to use two pots side-by-side, and each of the large burners puts out twice the BTUs of the average tabletop camp stove. It has excellent simmer control, high heat output, and it's highly portable.

Best Camping Cookset: Stanley Adventure Base Camp 4

This is out go-to camping cookset because it's high quality, affordable, and includes everything you need for great camp cooking. The heavy stainless steel cookware is super durable, and the BPA-free dishes and utensils are lightweight and convenient.

Best Cooler: Coleman 316 Series 70 qt

Of all the coolers we have in our garage, this is the one we tend to use the most because it's lightweight, easy to maneuver, and has plenty of interior space. It may not be as rugged as some of the fancy rotomolded coolers out there, but it covers our needs for most trips without being overkill, and it's a fantastic value.

More: Check out our full list to see all of our favorite gear.
WATER FILTRATION
Best Backpacking Water Filter: Sawyer Squeeze

The Sawyer Squeeze has been a long-time favorite for backpackers, including us, for years. It's incredibly lightweight (3 oz.), compact, and is quite affordable.

Best Water Filter for Groups or Car Camping: Platypus GravityWorks

The convenience of the GravityWorks is tough to beat, especially for pairs or groups. To use the GravityWorks, simply fill up the "dirty" water bag, hang it above the "clean" bag, and let gravity do its thing. The main benefit? No tedious pumping or squeezing required.

Best Chemical Treatment: Aquamira Drops & Katadyn Pills

We almost always backpack with chlorine dioxide water treatment. At very least, we carry it in pill form as a backup if our main filtration system malfunctions, clogs, breaks, or loses battery.

Best Water Bottles for Ultralight Backpacking: 1L Smartwater Bottles

Smartwater Bottles are perfect for ultralight backpacking because they weigh next to nothing, they come in full liter capacity, they're surprisingly durable, and the slender shape fits well in the side pockets of backpacking packs. It's also super convenient that the Sawyer Squeeze screws directly onto the mouth.

Best Hydration Bladder: Gregory 3D Hydro

This reservoir is our fave because it's lightweight, durable, and has a ton of handy features. What really sets it apart is that it's soft-molded with a water bottle-like material. That means it holds its shape and stays open to dry completely between uses – greatly reducing the chances of grime accumulation.

More: Check out our full list to see all of our favorite gear.
CLOTHING
Best Rain Jacket: Patagonia Torrentshell 3L (men's & women's)

This is one of our all-time favorite rain jackets for all-around use because it's affordable, durable, and has a great fit. While it's not as lightweight and compressible as some, we've used it extensively on backpacking trips when we expected stormy conditions. Its laminated triple-layer construction is highly protective in sustained rain and the jacket still feels lightweight on your body.

Best Rain Pants: Mountain Hardwear Stretch Ozonic (men's & women's)

The soft stretch fabric makes these pants quiet and gives them an unrestricted feel that's relaxed and easy to move in. They also have full-length zippers for ventilation. This also means that you can easily put them on or them take off on the fly.

Best Down Jacket: Mountain Hardwear Ghost Whisperer/2 hoody (men's & women's)

If you're looking for a streamlined ultralight jacket to keep you warm on summer adventures, the Mountain Hardwear Ghost Whisperer/2 is tough to beat. It's everything you need for fast and light trips, and nothing you don't.

Best Hiking Pants for Men: Outdoor Research Ferrosi Pants

The Ferrosi Pants are super light, stretchy, and easy to move in. We love the cinch cords at the ankles that allow you to adapt the height of the pants to your style, the weather, and varying trail conditions.

Best Hiking Pants for Women: North Face Aphrodite 2.0 Pants

The North Face Aphrodite 2.0 Pants are comfy and easy to move in, making them a great choice for hiking or travel. Our favorite thing about them is the draw cord at the ankle that allows you to wear the pants at any length.

Best Fleece Jacket: Patagonia Better Sweater (men's & women's)

The Better Sweater is hands-down our favorite fleece jacket for casual use, and it's a phenomenal value for the money too since it'll no-doubt become one of the most-worn pieces of clothing in your closet.

Best Base Layer Top: Smartwool Classic Thermal Merino Quarter-Zip (men's & women's) / Classic All-Season Merino Long-Sleeve (men's & women's)

For cold weather, the Classic Thermals are some of the coziest layers we've used. We recommend going with the ¼ zip version because the zip makes it much easier to thermoregulate during high-output activities. The Classic All-Season layers are lighter and a little less warm, making them perfect for shoulder seasons.

Best Base Layer Bottoms: Patagonia Capilene Midweight (men's & women's)

Patagonia's Capilene Midweights are our most-used base layer bottoms. We've had the same pair for years, and they're showing very little sign of wear. We find the level of warmth they provide to be appropriate for most of the year, and their cozy fit makes them easy to layer.

Best Hiking Shorts: Patagonia Quandary (men's) & Outdoor Research Ferrosi (women's)

We almost always hike in shorts on spring and summer trips. These shorts are stretchy, breathable, and dry quickly.

Best Hiking T-shirt: Nike Dri Fit T-Shirt (men's & women's)

These synthetic shirts help wick away sweat and keep us stink-free, so we can save weight and leave the deodorant at home.

Best Hiking Long-sleeve: Nike Dri Fit Victory 1/2 Zip (men's & women's)

Same as the shirt above, but with longer sleeves.

Best Underwear for Hiking: ExOfficio Give-N-Go (men's & women's)

CleverHiker's got your back, ExOfficio's got your butt.

Best Sports Bra for Hiking: Patagonia Barely Sport Bra

All-day comfort where it counts.

Best Hiking Socks: Darn Tough Micro Crew Cushion (men's & women's)

Your little piggies work hard on the trail, treat them with kindness.

More: Check out our full lists to see all of our favorite gear.
---
ACCESSORIES
Best Headlamp: Black Diamond Spot 400-R

The Spot 400-R is an incredible value – it costs less, weighs less, and has a longer runtime than a lot of the leading rechargeable headlamp competition. It's also fully waterproof.

Best Hammock: Warbonnet Blackbird XLC

This is one of the most comfortable backpacking hammocks on the market, and it's particularly popular with thru-hikers because of its ultralight design. Some of the details that make the Blackbird our go-to include the asymmetrical cut, the large shelf panel for gear storage, and the ability to zip in a top cover for cold weather.

Best Waterproof Stuff Sacks for Backpacking: HMG Waterproof Stuff Sacks & Stuff Pods

It's not an exaggeration to say that these are literally some of our favorite gear items in our packs.

Best Backpacking Seat: Therm-a-Rest Z-Seat

Though it's super basic, the Z-Seat is one of our all-time favorite chairs. It's great for adding a layer of softness and insulation between you and the ground. You'll also vastly improve the appearance of and extend the life of your pants or shorts by sitting on a pad instead of the ground.

Best Portable Camp Chair: Helinox Chair Zero

If you plan to spend a significant amount of time resting, relaxing, and taking in the sights and sounds of camp, a full chair, like the Chair Zero, may be well-worth the extra weight for the comfort it provides. It's also excellently portable for concerts, festivals, the beach, and other day trips.

Best Affordable Car Camping Chair: Kijaro Dual Lock

For the price, the Kijaro Dual Lock Chair is one of our favorites for use around a campsite. There's nothing fancy about it, but it's well-made and locks into a taut position that's firm and comfortable to sit in, far superior to cheap camp chairs that sag and bow.

Best Gear Repair: Tenacious Tape

When you're ready to graduate from duct tape and take your field repair to the next level, Tenacious Tape is what you should reach for.

Best Compass: Suunto M-3 D Leader

Our favorite wireless navigation tool.

Best GPS Phone Apps: Gaia GPS, Topo Maps+, and Maps.me (offline driving directions)

Yep, there's an app for that.

Best Trekking Poles: Gossamer Gear LT5

These ultralight cork-handle trekking poles are built tough and super easy to adjust.

Best Ice Axe: C.A.M.P. USA Corsa

An essential piece of gear for the early season backpacker, the peakbagger, or the ski mountaineer, CAMP's Corsa ice axe is a top choice among weight-conscious adventurers.

Best Sunglasses: Ray Ban Polarized New Wayfarer

It doesn't hurt to look great while you look at mountains.

Best Multi-tool: Swiss Army Classic

A simple multi-tool knife, like the Swiss Army Classic, will come in handy in a variety of situations. We use ours all the time on the trail for cutting rope… and cheese.

Best First Aid Kit: Ultralight .7 Kit

Comes in a nifty waterproof pouch and has everything you could possibly need for minor booboos and bites.

Best Camp Towel: PackTowl

We're not sure what kind of magic is behind this thing's ability to soak up a seemingly endless volume of moisture, but we're huge fans.

Best Bug Repellant: Permethrin & Picardin Lotion

We probably don't need to say this, but ticks and mosquitoes are seriously the worst.

Best Cathole Trowel: REI Snow Stake

Ultralight, and it can double as a backup tent stake in case one breaks or goes missing on the trail.

Best Tent Stakes: All One Tech Aluminum Stakes

An easy way to cut weight from any tent setup on the cheap, is to switch the stock stakes to something a little lighter.

Best Camera: Sony RX100

We like using our phone for trip photos, but the RX100 is our go-to camera for extra special occasions.

Best Power Bank: Iniu 20000 PD

We love taking photos on our backpacking trips, so we always carry a power bank to charge our phones.

Best Book: Kindle Paperwhite

Turns 1000's of pounds of books into 5.56 ounces.

Best Bear Spray (used in grizzly country): Frontiersman Bear Spray

Hopefully just for peace of mind, but invaluable when you really need it.

More: Check out our full lists to see all of our favorite gear.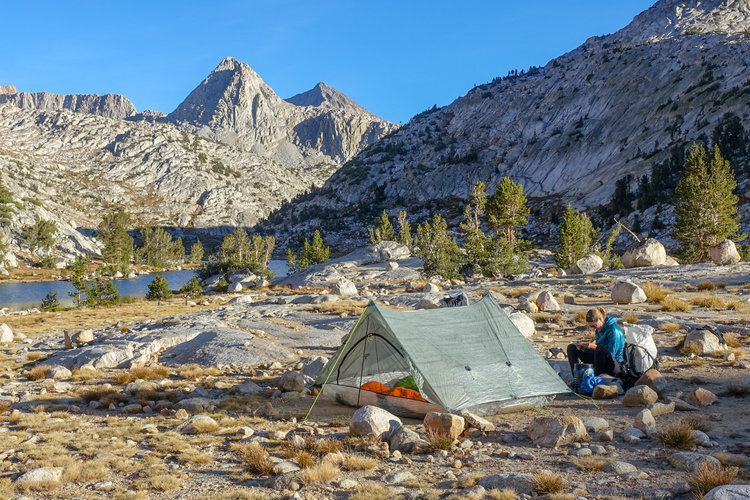 MORE INFORMATION
We hope this guide helps you find the perfect gear for your needs. If you have more questions or a suggestion, we'd love to hear from you! Sign up for our newsletter to stay updated on our latest posts then visit our Facebook page and Instagram to join the community conversation. If you found this guide helpful, please give it a share on social media! Also, be sure to check out our CleverHiker Gear Guide to see all of our top gear picks. Thanks for reading and happy trails!
---
Some of the links on this page are affiliate links, which means we may receive a modest commission if purchases are made through those links. This adds no cost to our readers and helps us keep our site up and running. Our reputation is our most important asset, which is why we only provide completely honest and unbiased recommendations.