Explora Journeys, MSC's new luxury brand, has announced additional information about five of the six onboard restaurants on the company's first ship, Explora I, in a press release.
The ship is set to sail on July 17th, 2023 from Southampton, UK and will feature 18 food and beverage venues, including the five restaurants highlighted in the press release.
According to Franck Garanger, the leader of the culinary team at Explora Journeys, the restaurants aim to provide guests with a unique, all-inclusive dining experience that includes signature dishes influenced by various international cuisines. Garanger and his team strive to maintain a balance of creativity and restraint in their cooking, allowing the use of fresh, sustainable and locally-sourced ingredients to shine.
The company's sommeliers have also made an effort to source boutique labels of wine, as well as a specially curated mixology program that includes a signature cocktail and beverages designed to accompany specific regional menus. Additionally, there is a focus on interesting, alcohol-free beverages.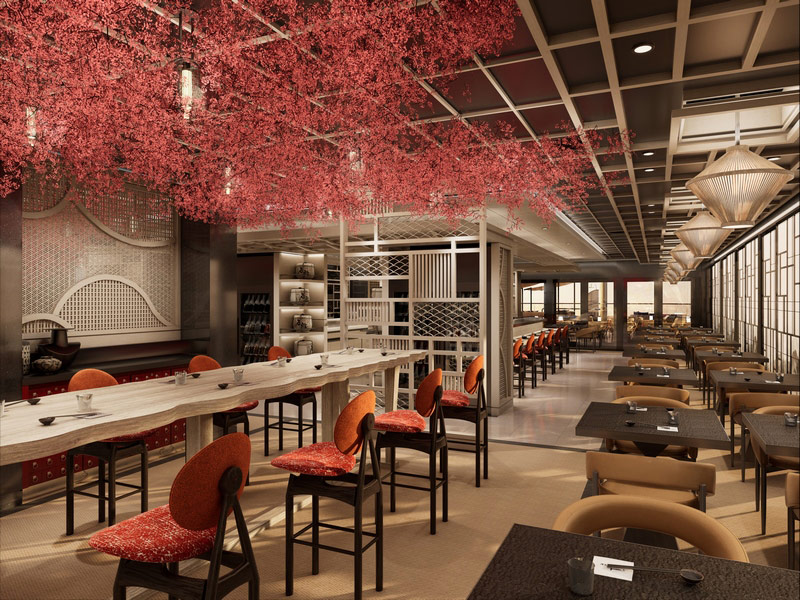 One of the five restaurants highlighted in the press release is Sakura (pictured above), which is inspired by the ancient tea rooms of Kyoto and features traditional Japanese techniques using meticulously sourced ingredients to create an authentic pan-Asian experience. The menu includes dishes from not just Japan, but also Thai, Vietnamese and Malaysian cuisines, and there is a specialist sommelier on hand to advise on sake, shōchūs and other Asian-influenced drinks.
Some of the signature dishes at Sakura include the Wakame salad, smoked Madagascan pepper, and Wagyu beef tataki. Japan's famously luxurious Grade 5 Wagyu beef is never cooked or grilled, but instead delicately torched, preserving its succulence. The Madagascan pepper is an exceptional variety that imparts sweet and fragrant rustic hints to the dish. The Wakame salad is a highly nutritious seaweed that gives the salad an irresistible umami flavor with a hint of sweetness.
Another dish highlighted is the Kale salad, which is ingeniously transformed into culinary art by Explora Journeys' chefs. The salad is not simply dressed, but cured with top-class sesame dressing, producing a mellow and rounded flavor. The Kaffir lime pavlova, mango, passion fruit brunoise, mango sorbet is also mentioned as an example of the culinary team's creative skill and multicultural diversity, the company said.
Marble & Co. Grill is described as cool and contemporary with a European steakhouse concept. The restaurant aims to provide exceptional cuts of sumptuous, sustainable meats, rigorously sourced for their intense flavor and provenance. The restaurant also features an in-house Dry Ager and a cellar stocked with fine wines.
One of the signature dishes of Marble & Co. Grill is the Grilled prime rib, aged for 30 days, cherry tomatoes, Hollandaise Sauce. The prime rib is sourced from a top-quality producer found only in the Deux-Sévres region of the lush Loire Valley, the Jersiaise breed is world-famous for its sensational flavor and intense marbling.
Med Yacht Club, on the other hand, is a Mediterranean beachside restaurant that offers regional ocean-inspired dishes. The menu includes tastes and textures of Italy, Spain, Greece, France and North Africa captured in sharing plates that include plant-based ingredients, accompanied cocktails and wines from the vineyards of the Mediterranean. One of the signature dishes of Med Yacht Club is the Grilled octopus, San Marzano tomato sauce, Taggiasca olives, green beans, parsley
Emporium Marketplace is a minimalistic restaurant where the food is king. Cooking stations serve destination-inspired dishes, with sushi, seafood and exquisite meats presented alongside pasta cooked to order and freshly baked pizza. The restaurant also offers charcuterie and fromagerie, and bread and pastries delivered straight from oven to table. Fresh juices, smoothies and acai bowls are served at breakfast. One of the signature dishes of Emporium Marketplace is the Handmade tortelloni, ricotta cheese, spinach, tomato-sage butter
Alongside Franck Garanger, Alban Gjoka, Senior Lead Culinary Operations helps to conceptualize exciting menus and source top-quality ingredients.  Jérôme Toumelin, Corporate Executive Chef's earned his expertise worldwide, including six years as Executive Chef at Market by Jean-Georges in Paris. Christophe Sapy, Corporate Executive Pastry Chef, has a formidable reputation for turning desserts into works of art and Frederic Godineau, Senior Executive Chef, comes to EXPLORA I with 19 years of experience in hospitality.