Camping vs glamping: which one is really for you? Today, we have a penchant to modernize a variety of classic words and activities to make them more stylish and desirable. This is no exception when it comes to camping. Recreational camping did not take hold until the 1920s, even though organized camping dates back to the 1860s. With the introduction of vehicles, Americans gained access to a world outside their immediate surroundings. Of course, it has changed since then, but the basics remain the same, and it continues to be extremely popular among people of all ages.
Enter glamping—the new kid on the block, and it is here to stay. For the uninformed, glamping stands for glamorous camping, which is a more luxurious form of camping that still allows you to reconnect with the great outdoors without sacrificing the creature comforts of home.
You can go glamping in almost anything—from tipis and yurts to shipping containers and even converted helicopters, all of which come with luxurious amenities that you don't usually find when camping. However, just as camping isn't for everyone, the same goes for glamping, and some people like the more traditional way of doing things.
So, we've got the lowdown on camping vs glamping, and which one is really for you.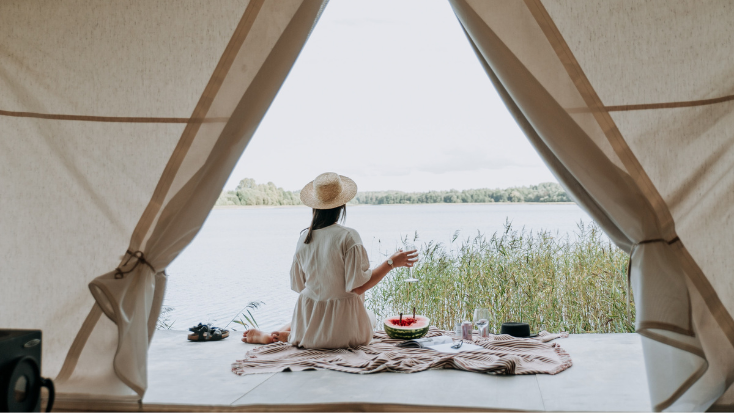 What is glamping and how is it different to camping?
Camping is a term we're all acquainted with, but glamping is a newer word. Glamping is essentially a more luxurious version of camping. Glamping gives you the same access to nature as traditional camping. However, the glamping amenities and facilities are far superior to anything most traditional campers encounter. From treehouses and floating homes to eco-friendly pods and converted luxurious Airstreams, glamping has become a way to explore the great outdoors while enjoying every comfort a hotel stay offers.
Glampers still like being in nature and outdoor settings, but they do it with a set-up that incorporates some of the conveniences and comforts that you would find at home. Glamping differs from camping mostly in terms of comfort. Many glamping sites have amenities like spas, private bathrooms, and a plush bed with linen and even bath towels. The camping aspect is present, but the addition of elegance and comfort distinguishes the glamping experience.
According to a study, the primary investigation's themes found that there are significant distinctions between camping and glamping, including cost, privacy, convenience, duration, and ease of set-up. Glamping offers more privacy and duration, as well as simplicity of setup and convenience, although it is more expensive than camping. Furthermore, glamping offers much more pleasure and excitement than camping. Some participants even compared glamping to hotel stays.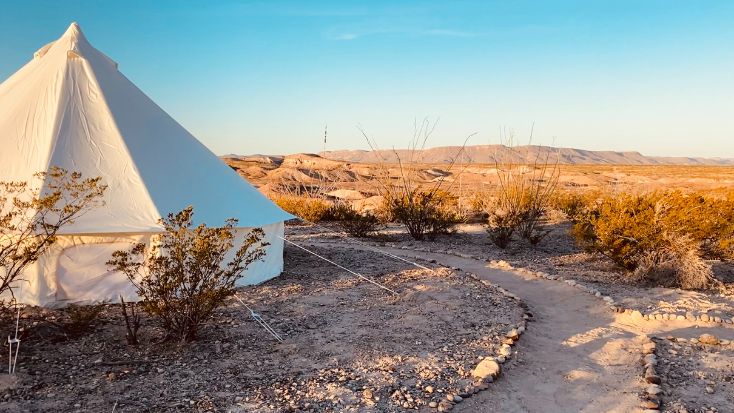 Cost and convenience: camping vs glamping
Cost is one of the most important considerations. What are you willing to pay for and how much money are you willing to spend? Camping is notoriously inexpensive; all you need to do is pick a decent tent and then find a spot to set it up. With that, it's uncommon to find many of the conveniences of home at a traditional campsite while being able to sit and enjoy nature—and it's not often that we can have the best of both worlds, but that's exactly what glamping offers. Because of the diverse nature of accommodations and the emphasis on unique experiences, it is tough to tell how much a glamping trip will cost. However, families may find that glamping is less expensive than purchasing all of the necessary camping gear.
The glamping price generally covers two things—luxury and convenience. Glamping is meant to be a more lavish experience than camping, with plush mattresses and linens, access to private bathrooms, electricity, Wi-Fi, a fully equipped kitchen, and practically any other modern convenience you can think of. The glamping experience means that you can simply pack a vacation bag and arrive at your glamping accommodation without having to set up anything. Glamping sites are often more secluded and peaceful than traditional camping sites and are ideal for longer stays with more conveniences. And with remote working taking a front seat since the pandemic, glamping appeals to those looking to escape the daily hustle of living in crowded cities.
Glamping accommodations come in a variety of forms—from bell tents and log cabins to tree houses and yurts surrounded by nature. It is a terrific alternative for you if luxury is a priority. In exchange for the greater price, glamping provides convenience. For example, you won't have to pitch the tent yourself or do many other things that come with camping. A glamping experience takes some of the pressure off your shoulders and gives you more time to get back in touch with nature.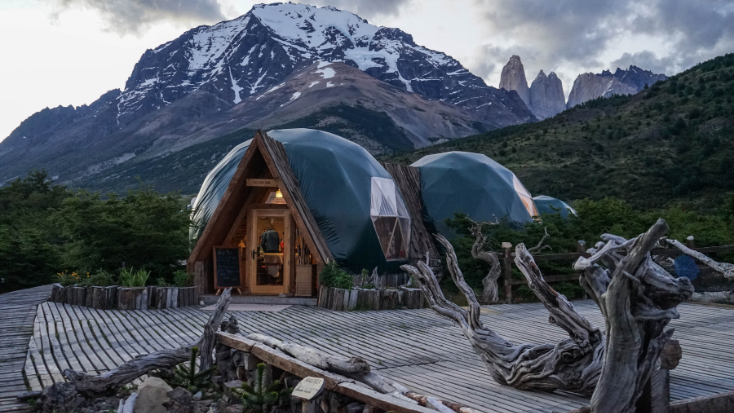 The experience: the difference between camping and glamping
What's the one thing you can't do without on a vacation? Of course, you want to go to a scenic destination and be in the company of your favorite people. You might also want to do new things and create a lot of lasting memories. So, with that, a must for a relaxed and enjoyable vacation, for most people at least, is comfort.
While there is no such thing as a right or wrong way to travel, certain getaways are more comfortable than others. A camping trip, for example, is a wonderful way to relax in the lap of nature. However, it is frequently accompanied by the unwelcome stress of packing the proper gear and getting your tent up, sometimes in the dark. Not to mention, you'll have to make do without some of the basics like a comfortable bed, toilets, and working electrical outlets.
On the plus side of camping, you get to enjoy the seclusion of unusual places while unwinding in the heart of nature and sleeping under velvet skies. But would it not be great if there was a way to enjoy all the benefits of camping without forgoing the comforts of modern luxury? Glamping promises just that.
Glamping is a kind of camping that marries the beauty of nature with the comforts of modern living. It allows you to connect with nature genuinely while enjoying the conveniences of a hotel or your own home. The experience as a whole is about getting off the beaten path, avoiding the superficial tourist traps, and immersing yourself in a cultural milieu. This type of transformational travel tends to enrich your life and, in the end, leaves an imprint that will outlast the trip itself. The camping vs glamping argument resolves itself through what you, yourself, prefer.
Find your next glamping getaway
Glamping Hub is dedicated to inspiring and guiding those who seek a different kind of trip, the kind that encourages cultural immersion, a broadening of horizons, and a deeper engagement with one's surroundings. Each property in our collection is hand-selected and offers a truly authentic experience in the great outdoors. As a result, visitors can trust that every destination they uncover will provide an unforgettable glamping experience.