This fall, Southern New England invites families to partake in the wonders of the season by embarking on family-friendly hikes. There is so much beauty to witness in this small area of the nation and as the leaves change color and the air turns crisp, the region's trails come alive with vibrant autumn scenery.
From the tranquil pathways of Rhode Island to the captivating mountains in Massachusetts, there's a hike suitable for every family. These outings offer the perfect opportunity for families to bond, create cherished memories, and immerse themselves in the breathtaking beauty of fall in Southern New England. So, lace up your hiking boots, gather your little ones, and set off on an adventure that promises to be both colorful and memorable this season.
Best Time to Visit
The best time to see fall foliage in southern New England is typically from late September to mid-November. However, the exact timing can vary depending on factors like weather conditions and elevation. Higher elevations tend to experience color changes earlier, while lower elevations may peak a bit later. Keep an eye on foliage reports closer to the time of your visit for the most accurate information on peak foliage dates.
There are many spots throughout the area during this timeframe that offer views of the awe-inspiring red, orange, and yellow color changing of the trees but here are five of the best family-friendly fall hikes we love in southern New England:
Wachusett Mountain State Reservation, Massachusetts
Purgatory Chasm State Reservation, Massachusetts
Lincoln Woods State Park, Rhode Island
Old Furnace State Park, Connecticut
Sleeping Giant State Park, Connecticut
These few recommendations above provide great options for hikes and offer beautiful fall foliage, manageable trails for families, and enjoyable experiences for all looking to explore the outdoors during the autumn season.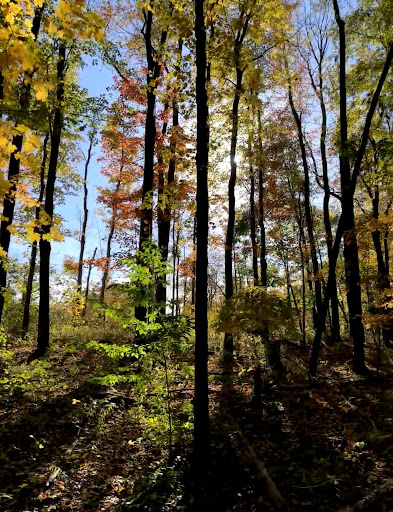 Wachusett Mountain State Reservation, Massachusetts
While Wachusett Mountain may be best known for its winter skiing, there is plenty of hiking fun and beauty to be found in the other seasons, especially autumn! Wachusett Mountain State Reservation in Massachusetts is not only a haven for hikers but also a diverse natural playground. Its highest peak stands at 2,006 feet and beyond its family-friendly hiking trails, the park offers an array of activities, such as birdwatching, mountain biking, and skiing during the winter months.
Families can enjoy the Visitor Center's educational exhibits and learn about the park's ecology and history. The area is also rich in diverse wildlife, providing an excellent opportunity for nature enthusiasts to spot various species. During the fall, the park transforms into a canvas of vibrant colors, attracting visitors to witness the stunning foliage while taking advantage of the range of outdoor activities, making it an ideal destination for families seeking both adventure and natural beauty.
Trails in the Park
At this 3,000-acre state reservation families can explore the Mountain House Trail, offering a moderate climb suitable for older children, providing panoramic views of the vibrant fall foliage. For those seeking a more leisurely stroll, the Bicentennial Trail presents a gentler path, perfect for families with younger little ones in tow. As visitors ascend these trails, they're greeted by colorful landscapes, making for a perfect fall backdrop during the beautiful autumn season at Wachusett Mountain State Reservation. 
Purgatory Chasm State Reservation, Massachusetts
Purgatory Chasm State Reservation, situated in Sutton, Massachusetts, is not only renowned for its hiking trails but also for its rich geological history. The chasm, formed by retreating glaciers thousands of years ago, offers a unique landscape with towering granite walls and narrow passageways. Beyond hiking, the park facilitates rock climbing, attracting enthusiasts seeking a vertical challenge throughout the chasm's rugged beauty. Families visiting the park can explore the informative displays at the visitor center, learning about the chasm's formation and the diverse plant and animal life that call this area home.
Trails in the park
During the fall, the park becomes a vibrant canvas, showcasing the seasonal transformation of foliage against the chasm's dramatic rock formations, creating an unforgettable experience for families exploring this unique park. The Chasm Loop Trail leads adventurous families through captivating rock formations, caves, and narrow passageways, offering a moderately challenging yet intriguing hike. Families with younger members or anyone who wants to enjoy a more leisurely hike can try Charley's Loop Trail, which wanders through the park's striking landscapes. Regardless of which trail you choose, they all offer pretty fall foliage that enhances the chasm's natural beauty. With its distinctive geological formations and colorful autumn scenery, Purgatory Chasm State Reservation remains a captivating destination for families to explore, providing a mix of natural wonder and engaging trails for all ages to enjoy.
Lincoln Woods State Park, Rhode Island
The smallest state has many beautiful spots throughout to admire the breathtaking glimpse of the fall foliage. Lincoln Woods State Park in Rhode Island is a wonderful destination for families looking to enjoy the outdoors this Autumn season. The park offers a variety of trails suitable for all ages and hiking abilities. This park is not only about hiking but also boasts various activities like biking, rock climbing, kayaking, and in the summer months swimming.
Hikes in the park
The Around-the-Pond Trail is a particularly family-friendly choice, circling Olney Pond and providing a picturesque walk for kids and adults alike. With its scenic views, serene surroundings, and vibrant fall foliage, Lincoln Woods State Park is a perfect setting for a family outing in nature. The Paine Trail is a moderate option leading to the beautiful Paine Falls, which is an exciting adventure for older kids or more adventurous little ones. Additionally, the Ridge Trail offers a bit more challenge but rewards hikers with stunning views of the surrounding landscapes. These diverse trails at Lincoln Woods State Park ensure there's something for everyone, catering to different ages and preferences while offering a chance to relish the beauty of the fall season in Rhode Island.
Old Furnace State Park, Connecticut
Old Furnace State Park in Killingly, Connecticut, offers a unique blend of historical exploration and family-friendly recreational activities. Visitors can delve into the remnants of a 19th-century iron-making operation along the Blast Furnace Trail. The park provides ideal settings for picnics, fishing, and a fall hike, inviting families to explore history amidst the vibrant autumn colors. This educational and serene woodland experience merges nature's beauty with the area's industrial past, making it a perfect destination for families seeking an enriching and scenic outdoor adventure during the fall season.
Hikes in the park
The loop trail around the Furnace Pond presents stunning views of the changing leaves against the water's edge, making it an ideal spot for a leisurely stroll suitable for all ages. For those seeking a bit more adventure, the Summit Trail leads to stunning overlooks, providing breathtaking views of the changing leaves and the surrounding landscape. This moderate trail offers a perfect balance of challenge and natural beauty, making it an excellent choice for families looking to explore the wonders of fall in a scenic setting.
Sleeping Giant State Park, Connecticut
Nestled in Connecticut, Sleeping Giant State Park becomes a mesmerizing canvas of fall foliage, making it a delightful spot for families seeking a beautiful fall hike. The park's trails, spanning over 30 miles with varying difficulty levels, cater to all family members, ensuring a hike suitable for everyone.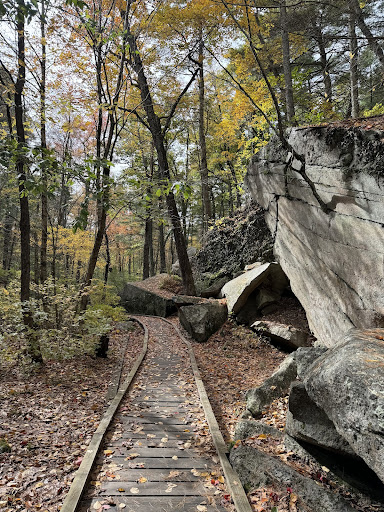 Hikes in the park
The Tower Trail, a family favorite, winds through the vibrant forest, offering a gentle ascent that leads to the stone observation tower atop the Sleeping Giant. From this vantage point, families can take in the panoramic views of the colorful fall landscape, showcasing the magnificent hues of the changing leaves, overlooking not just the park but also Long Island Sound and the New Haven area. At this awesome park, there are picnic areas as well as an informative visitor center! Sleeping Giant State Park is the perfect place to revel in the beauty of autumn in Connecticut. 
Before you go
Southern New England gives families many options for embracing the sights of autumn while enjoying the great outdoors. Throughout Massachusetts, Rhode Island, and Connecticut there is an array of family-friendly hikes with so many unique trails that can be enjoyed by all different skill levels.  The parks listed above provide an opportunity for families to explore the vibrant fall foliage and stunning beauty of fall in Southern New England.
Book your RV rental to explore Southern New- England!
Read more from Happy Trails Family:
The Great North American Eclipse 2024: Plan Your RV Adventure with Happy Trails Family
Maximizing Space: Efficient Traveling in an RV with Happy Trails Family