From summer beach parties in Croatia to epic raves in Serbia, there's a lot of choice when it comes to European music festivals. So many in fact, it can almost be too overwhelming to decide. So I've picked the best music festivals in Europe for you right here…
Do you know how many music festivals in Europe there are?
Me neither.
I tried to Google it and the numbers ranged from 170 to 600. Either way, there's loads and given we're just a hop, skip and a jump away from our European neighbours I'd say we're pretty lucky to be able to easily access them. But that means that each year requires some serious decision making: do you want go to Belgium for Tomorrowland or Barcelona for Sonar?
Tough choice.
To make it a tad easier for you, this is my take on 15 of the top music festivals in Europe to help you whittle it down. While it comprises different kinds of music genres, all the festivals promise an epic party. Some are in more popular tourist hotspots, which might make travelling there a little easier. Others are in less frequented European cities. Either way, all these European music festivals are in great locations if you decide to extend your trip into a full holiday.
15 Coolest European Music Festivals
Find some of the most popular music festivals in Europe as well as ones you might not have expected in my list of the best ones to visit.
1. Untold Festival Festival, Romania
If dance music is your jam and EDM feeds your soul then get yourself to Untold Festival. This one is located in Cluj-Napoca, not too far from Transylvania in Romania – see, it already sounds cool. Taking place over four days at the start of August, it's the country's biggest electronic music festival and although it's still fairly new, the fest is already cleaning up when it comes to awards.
It has nine different stages hosting dubstep, house and trance as well as those lesser known genres of melodic techno, psy and euphoric hardstyle. There's also light installations and huge firework displays which really lend to the overall dancing-outside-under-the-stars-magic.
Day tickets start from around €110. This is a totally different kind of 24 hour-ticket to what you see generally, where your day ticket grants you access from 4pm til 5am.
2. Super Bock Super Rock Festival, Portugal
Cementing its spot as one of the best music festivals in Europe, is Super Bock Super Rock Festival. Its Portuguese location in Praia do Meco just south of Lisbon makes it quite easy to get to if you're travelling from the UK. With its sandy bay, dunes and cliffside stages, it's the ideal spot to merge a festival with a city break.
Then there's the stellar line up of both local and international rock and metal acts it's been providing since 1994. However, I actually think the lineup extends outside these genres slightly, but in a way that draws in huge headliners you'll likely of heard of. For example, acts have included everyone from Bowie to The 1975, Ben Harper, A$AP Rocky, Franz Ferdinand and Wu-Tang Clan.
Tickets cost €60 for a day pass and upwards of €110 for the whole weekend, which seems pretty reasonable.
3. Roskilde Festival, Denmark
Small but mighty, this town west of Copenhagen has been holding down the fort when it comes to hosting the largest festival of culture and music in northern Europe. Launched by two high school buds back in 1971, Roskilde has since evolved from its hippie origins to a more mainstream event. It's one of the best festivals in June.
Expect over 180 acts like Cardi B, Travis Scott and Vampire Weekend. There's also usually surprising acts that make it one of the more unique music festivals in Europe, such as performances by classical musicians and opera singers or of film soundtracks.
It works hard to keep the original community spirit strong though by only partnering with organisations that support equality and even donates profits to charity.
4. Hideout Festival, Croatia
Another one for the electronic music fans, Hideout ticks major location boxes. Situated in Croatia's Zrce Beach on the Adriatic Sea you've got sunshine, sea and stages packing in over 150 musical acts. The four major beach clubs are taken over, the boats are commandeered and the beachside transforms into a party utopia for five days at the start of July.
Tickets start at £139 and if you're not a fan of the whole tent situation then another thumbs up because it's all about staying in apartments. Plus, if you can afford to go VIP, you'll get lots of benefits like separate toilets, queue jumping and much more.
This one is definitely one of the best music festivals in Europe, as well as one of the best festivals in Croatia. If you like the idea of partying on an island to dance music (who doesn't?), this is a good European music festival to put on your list of July festivals to do.
5. Sziget Festival, Hungary
One of the biggest music festivals in Europe, Sziget hosts over 1000 performances and between 450,000-500,000 festivalgoers. Yes, it's huge. But there's also so much to do at Sziget Festival that it's just an overall fun and fulfilling experience. It's also the biggest festival in Budapest, by far.
The festival has achieved the prestigious title of Best Major European Festival not once, but twice, winning the European Festivals Awards in 2011 and 2014. It's most likely due to its varied performances from the biggest acts around, or it's great location on an island surrounded by the Danube River.
Although it's marketed as rock festival, in the past it's had different tents and stages for different musical genres, such as a jazz tent, a blues stage and a world music stage. But the main stage is where it's at if you want to see performers like Fatboy Slim, The Offspring, Lewis Capaldi, Justin Bieber, Dua Lipa, Kings of Leon, Ed Sheeran…the list goes on.
If you want to know what it's like to go, make sure you check out my review of Sziget for all the highlights. I've also written about where to stay for Sziget, the best things to do at Sziget and a few tips for your first time at Sziget too.
6. Sun and Bass Festival, Italy
Come the end of August when your European festival calendar is dwindling, keep the festival spirit alive by holding out for Sardinia's Sun and Bass fest in September.
In the town of San Teodoro puts on a week of drum 'n' bass acts across numerous clubs, bars and beaches as well as sneaking in a secret location. Originally a small beach party, it's since become known among the best music festivals in Europe and is known for its family vibes and amazing Italian food.
7. EXIT Festival, Serbia
Founded in 2000 as a student movement striving for peace and democracy in the Balkans, EXIT Festival has since evolved into one of the best music festivals in Europe, attracting music lovers and artists from all over the world. EXIT Festival is another huge crowdpleaser that gets the big names. Artists such as Calvin Harris, Lauryn Hill, Snoop Dog, Arctic Monkeys, The Chemical Brothers and so many more have been headliners in the past.
The festival takes place in the Petrovaradin Fortress, which is definitely one of the quirks of EXIT. It's kind of like going to a rave on a historic, architectural landmark but you're not breaking any rules in doing so. The fortress actually acts as the art centre of the city of Novi Sad, so it makes sense to hold one of the most prominent events in music here.
What sets EXIT Festival apart is its deep-rooted commitment to social and political causes. Beyond the music, the festival maintains its initial mission of promoting peace and unity in the region. It actively engages in various social and environmental initiatives, advocating for positive change and using music as a powerful tool for bringing people together.
But back to music – it's an award winning festival, securing the Best Overseas Festival at the UK Festival Awards in 2007 and Best Major Festival at the European Festivals Awards in both 2013 and 2017. It's well worth visiting, and if you do – here are some of my tips for going to EXIT Festival!
8. Meadows in the Mountains Festival, Bulgaria
Great name, great setting. Located in Bulgaria's Rhodope Mountain, it may be a trek to get to Meadows in the Mountains but it's worth it to cross off this top European music festival.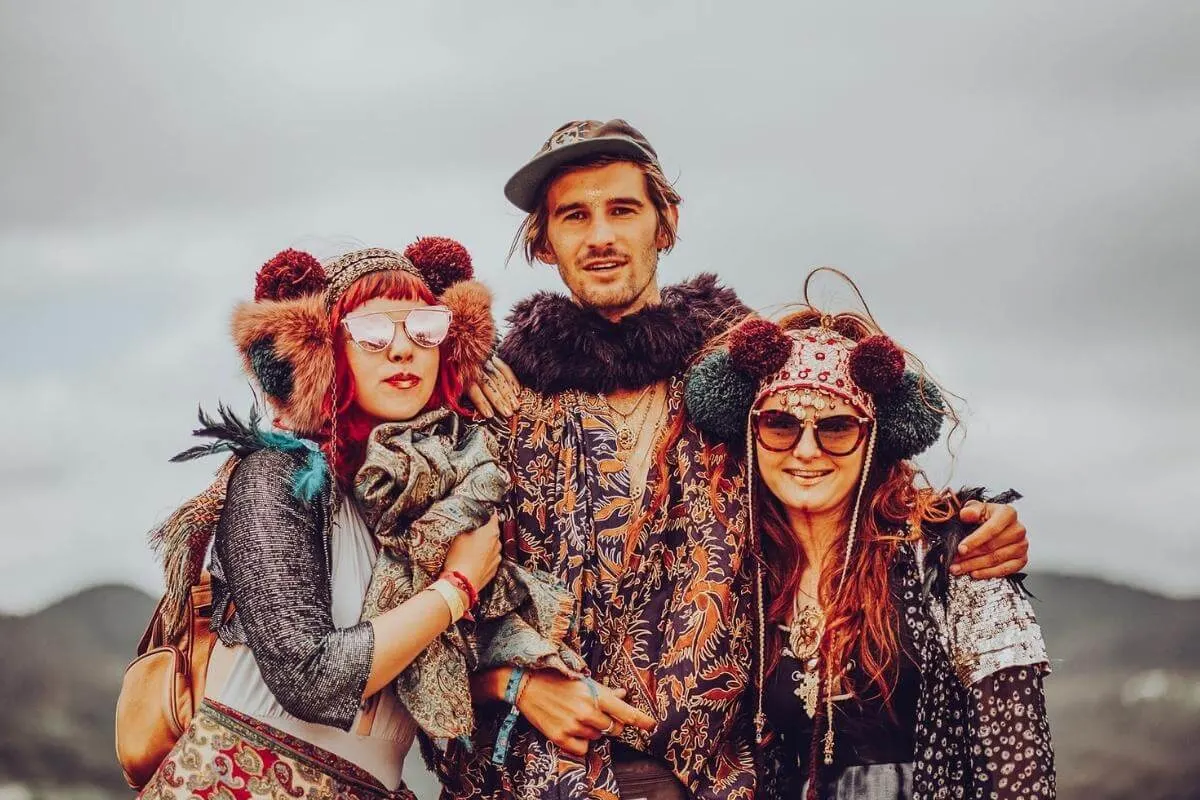 All about using the power of music to bring people together, the hedonistic fest also offers yoga classes, food trucks and dancing in a trance treehouse. Then there's the decent tunes from the likes of Club Nature, Solar and The Fish. Once the day's wrapped up, rather than retreating back to a sad sleeping bag, festival go-ers can crash in teepees, treehouses or even with locals in the town below.
9. Bilbao BBK Festival, Spain
From rock and pop to electronic and indie, Bilbao BBK Live brings a range of artists to the slopes of Mount Cobetas every year. Check out my review of Bilbao BBK, see to see why I recommend it as one of the best festivals in Europe to experience.
It's another well-recognised festival to make this list of the best music festivals in Europe, where it was nominated several times for Best Foreign Festival and Best Medium-Sized European Festival. Over the years, the festival has had some impressive names play there. If you like the sound of Guns'n'Roses, Radiohead, The Cure, Liam Gallagher and The Strokes, you'll probably enjoy the next lineups at Bilbao BBK in the years to come.
Many festival-goers also claim Bilbao BBK Live is one of the best music festivals in Europe when it comes to cleanliness too. It usually has immaculate toilets – which is saying something, and showers! You can also get great food there too. It's nice to see a festival where good food and hygiene go hand-in-hand as they should.
10. Dour Festival, Belgium
Also known as the 'Festival of Many Stages', Dour Festival has a lot of different performances from diverse music genres – hence needing lots of stages. It started off with only five bands, but became so popular it grew to welcome more than 280 acts across multiple days.
Dour Festival has got an intimate feel, even though there's actually huge crowds there. Plus it's super friendly, where you can just start talking to people easily. I love this about a festival, as it's all about celebrating music we all love together. You can find out more about what Dour Festival's like in my review.
11. MS Dockville Festival, Germany
A hipster festival with an eclectic lineup is probably the best way to sum up this Hamburg festival. It's just got a really cool vibe, which is probably helped by the whole industrial setting in Wilhelmsberg, mix of pop-up art installations and different spaces to hang out, and general arty city surroundings.
The music is mainly electronic, pop and indie bands, where it's a range of emerging acts (that are also really cool) and quite big ones, like the Klaxons, Portugal. The Man, and even Billie Eilish. It's actually a nice chance to see local acts that you know are going to be big, but haven't quite achieved international fame yet.
On top of this being one of the coolest European music festivals, it's a good one if you prefer both smaller stages and great food! I rave about their cheeseburger in my Ultimate Guide to MS Dockville Festival!
12. Pukkelpop Festival, Belgium
Taking place in Belgium's Hasselt, Pukkelpop is one of the best and biggest festivals in the European country. It charges €99 for a day pass and €205 for the full weekender ticket, but that includes your train ride from Brussels — bonus. The festival site includes a large camping area, a variety of food and drink options, and even a 'Chill Island' area where attendees can relax.
Pukkelpop usually happens mid August – one of the best August festivals around. A lot of big acts from the charts hit the stages, such as Anne Marie, Twenty One Pilots and Billy Eilish. There's also a cool pop-up record shop, secret sessions and an area dedicated to art.
If you're the type of person that gets lost at festivals, then Pukkelpop also have a useful app with an interactive map built in. If you're the type of person that arrives early raring to go, then you can enjoy the Boiler Party, which takes place at night on the eve of the festival.
13. Ultra Europe Festival, Croatia
Over three days in July, Ultra Europe rocks the Croatian city of Split with dance music. Tickets start at €199 for a three day ticket and previous line ups have included Alessi, AfroJack and Hardwell. The main party is hosted in Mladeži Park, but festival-goers can also visit the side events in Hvar, Brač and other cool locations.
Staying strong since 1999, the last Ultra drew in a record number of 160,000 attendees, or 'ultranauts' as they're called. It's one of the most idyllic festivals, set in a coastal city and island, full of beach parties and boat parties.
14. Mad Cool Festival, Spain
The title in itself qualifies this one for the list. A newbie to the Europe festival scene, Mad Cool takes place in Madrid and is only in its fourth year but has big crowds and even bigger acts.
One for the rockers, indie kids and electro lovers, you can expect the likes of Bon Iver, Empire of the Sun and Eric Prydz. Taking place over three days in the middle of July, it doesn't kick off until a little later in the day giving you plenty of time to explore the Spanish capital.
15. Earth Garden Festival, Malta
The fact this one takes place in Malta instantly bumps it up in the coolness stakes. Add to that a dash of the environmentally conscious, a celebration of diversity and its all-out community spirit and Earth Garden is an easy sell.
It takes place in Ta' Qali National Park for four days at the start of June and has five different musical areas dedicated to delivering different genres of music; everything from reggae to trance, electro to hip hop. Then there's the Healing Fields, Ethnic Market and Music Playground, all other areas where you can do activities like facial yoga, sound space healing, breathwork.
Best European music festivals
This list of the best music festivals in Europe are only some of the great festivals you can visit across the continent. It's such an interesting place to be, where you experience so many different cultures, musical tastes, traditions etc. as you go from country to country, or even city to city. This is no doubt why the European music festival scene has to be one of the best in the world.
Many of these festivals have evolved from historical traditions too. For example, Serbia's EXIT Festival began as a symbol of the youth movement for peace and freedom. And Pukkelpop in Belgium also became synonymous with celebrating youth culture since the 1980s, which is why it's known for its alternative music.
You also get the opportunity to see incredible European locations, each unique with its own character. The Sziget Festival in Hungary, for example, transforms Budapest's Óbuda Island into one of the biggest music festivals in the world, while Hideout and Ultra Europe take over Split and Croatian islands.
Quicklist of the best music festivals in Europe
Untold Festival Festival, Romania
Super Bock Super Rock Festival, Portugal
Roskilde Festival, Denmark
Hideout Festival, Croatia
Sziget Festival, Hungary
Sun and Bass Festival, Italy
EXIT Festival, Serbia
Meadows in the Mountains Festival, Bulgaria
Bilbao BBK Festival, Spain
Dour Festival, Belgium
MS Dockville Festival, Germany
Pukkelpop Festival, Belgium
Ultra Europe Festival, Croatia
Mad Cool Festival, Spain
Earth Garden Festival, Malta
What is the biggest EU music festival?
The biggest EU music festival by attendance is the Donauinselfest (Danube Island Festival) in Vienna, Austria. This free, open-air event typically takes place annually over a weekend in June, drawing in millions of visitors across multiple stages and diverse musical genres.
What is the European version of Coachella?
While there are several music festivals in Europe that rival Coachella in terms of size and popularity, Glastonbury Festival in the UK is often compared to Coachella. Glastonbury is one of the biggest and most famous music festivals in the world, and has everything from music to other arts and circus performances.
Which is the biggest festival in the world?
In terms of attendance, the Kumbh Mela pilgrimage in India is considered the largest festival in the world, drawing tens of millions of people. However, if we're referring strictly to music festivals, the Donauinselfest (Danube Island Festival) in Vienna, Austria is the largest, attracting millions of visitors each year.
---