If you're asking yourself 'where can I find the best Easter egg hunts in England and Wales in 2023?' then look no further. This post is a round up of the best bunny trails and Easter events happening to help you celebrate the start of Spring. Be aware that some may need booking in advance, so get your planning hats on now!
Find more days out in England, Wales, Scotland and Northern Ireland in my big round up of 101 UK attractions for families.
Whether you're seeking a traditional Easter egg hunt or an Easter trail, have a scroll through this post to find events, activities, and Easter egg hunts happening near you.
National Trust Easter trails near you
National Trust properties in England and Wales are holding Easter egg trails in 2023. This year the trails have a nature theme with a chocolate treat at the end.
Trails sheets cost are £3 and come with a pencil and prize.
Please note that start date and the duration of Easter trails varies from property to property. Some trails begin as early as 24 March this year.
More details for when and where the trails are happening are available on the National Trust website.
English Heritage Easter egg hunts near you in 2023
Set your mini explorers an Easter adventure quest at more than 60 English Heritage sites around the country.
There's also plenty of school holiday activities happening at English Heritage sites including traditional games, activities and races, along with storytelling sessions.
Check the English Heritage website for more details about where you can find Easter trails near you.
Want more ideas for family holidays and days out? Read my tips for smashing family travel and sign up for my newsletter.
Easter trails and egg hunts in England and Wales 2023
Now, here are some of the Easter egg hunts in England and Wales, hopefully with some happening near you!
If you think this post looks a bit light bookmark it and come back later. I'm adding new events all the time.
Easter events in Birmingham
Have a egg-citing Easter at these events:
Mr Cadbury's Parrot stage show at Cadbury's World
Mr Cadbury's Parrot is going on a swashbuckling adventure to find the golden egg in his brand new live show. 
As we join him on his quest, expect plenty of jokes that 'arrrr' sure to make you laugh, sea shanties aplenty and bucket loads of family fun. 
Find out more about what's on at Cadbury World.
Easter events in Devon
Wondering what's on in Devon over the Easter school holidays? There's events on at Crealy Adventure Park, The Big Sheep and Dartmoor Zoo among other attractions.
Check out my other blog, Devon with Kids, for all the information about things to do in Devon this Easter.
What's on in Gloucestsershire this Easter
Here are some of the Easter events happening in Gloucestershire:
Giffords Circus in Stroud
Giffords Circus is starting its 2023 tour at Fennells Farm in Stroud this Easter.
The show combine's dance, comedy, horses and live music in a beautiful white tent surrounded by vintage-style burgundy showman's wagons.
See the show at Fennells Farm from 6 to 17 April 2023.
Following Easter the circus will tour venues such as Daylesford Organic, Sudeley Castle, Blenheim Palace, Chiswick House & Gardens and Stratton Meadows in Cirencester.
Find out more and book tickets for Giffords Circus.
Easter challenge and new arrivals at Birdland
Dozens of eggs are due to be laid over the coming weeks with plenty of new arrivals expected at Birdland during the Easter holidays.
Families can also join in the Easter Challenge Quiz throughout the holidays, hunting down hidden eggs around the park and answering some fun ornithological questions.
Visitors can also go back in time to hunt for dinosaur eggs in the Jurassic Journey trail and explore prehistoric fossils in the Dino Dig.
Find out more about what's on at Birdland in Bourton-on-the-Water this Easter.
Easter in Hampshire
Here are some of the Easter events happening in Hampshire:
Egg hunt at Gilbert White's House
Visit Gilbery White's house for an Easter egg hunt with a difference this year.
It's not only birds that lay eggs. Pick up a trail for £3, find 10 eggs hidden in the garden and use clues to work out which creature laid them.
From reptiles to mini beasts, you'll be surprised by the number of egg laying creatures. Spot the odd one out and claim a chocolate egg as your prize!
The Easter egg hunt takes place from 1 to 16 April 2023. Find out more on the Gilbert White's House website.
Easter at Butser Ancient Farm
Visit this ancient Hampshire farm to honour the ancient celebration of Ēostre with your ancestors this Easter weekend. 
There will be living history and combat displays as the farm celebrates the arrival of Spring.
Activities take place from 7 to 10 April 2023. For more information visit the Butser Ancient Farm website. 
Find more things to do in Portsmouth and places to visit in Southampton.
Easter in the Isle of Wight
Here's the best of the events happening in the Isle of Wight this Easter:
Springtime at Robin Hill & Discover Falconry
Visit Robin Hill nature park as it opens its doors for the 2023 season and don't miss a visit to the Falconry Centre which opened last year. It's home to 28 birds of prey and 16 different species.
During the Easter holidays, take your seats at the outdoor arena and enjoy an exhilarating display as the knowledgeable team provide a wealth of insight into the birds and their habits.
Find out more about visiting Robin Hill this Easter.
Easter events in Kent
Here's where to head for cracking fun in Kent:
Easter egg hunt and workshops at Hever Castle
Visit the childhood home of Anne Boleyn where kids can go on an Easter quest around the ground and take part in egg-cellent craft egg decorating workshops.
The trail opens between 1 and 16 April 2023.
Find out more about what's on by visiting the Hever Castle website.
Easter events in London
Here's the best of the events happening in London this Easter:
The Peter Rabbit™ Easter Adventure in Covent Garden
The Peter Rabbit™ Easter Adventure brings a captivating mix of live performance and puppetry to the heart of London's iconic Covent Garden Piazza this Easter.
During this brand-new 50-minute performance, families will experience Peter Rabbit's adventures in person as they accompany Beatrix Potter to search for secret notes, maps, and other clues and meet Peter Rabbit, Benjamin Bunny, Mrs. Tiggy-Winkle, and a few surprise encounters along the way. 
This Easter event in London takes place from 21 March to 16 April 2023.
Find out more and buy tickets on the Peter Rabbit Easter Adventure website.
The Passion of Jesus in Trafalgar Square
The Passion will be performed in London on Good Friday, 7 April 2023.
The story commemorating the day Jesus was arrested, tried and crucified by the Romans, two days before miraculously rising from the dead on Easter Sunday, is brought to life by a cast of over a hundred, dressed in full costume, along with horses, doves and a donkey.
This the open-air production is free to attend and regularly attracts more than 20,000 people to its two performances. The Passion will be performed at 12pm and 3.15pm.
Find out more about the performance.
New Tower Bridge Cat Book Trail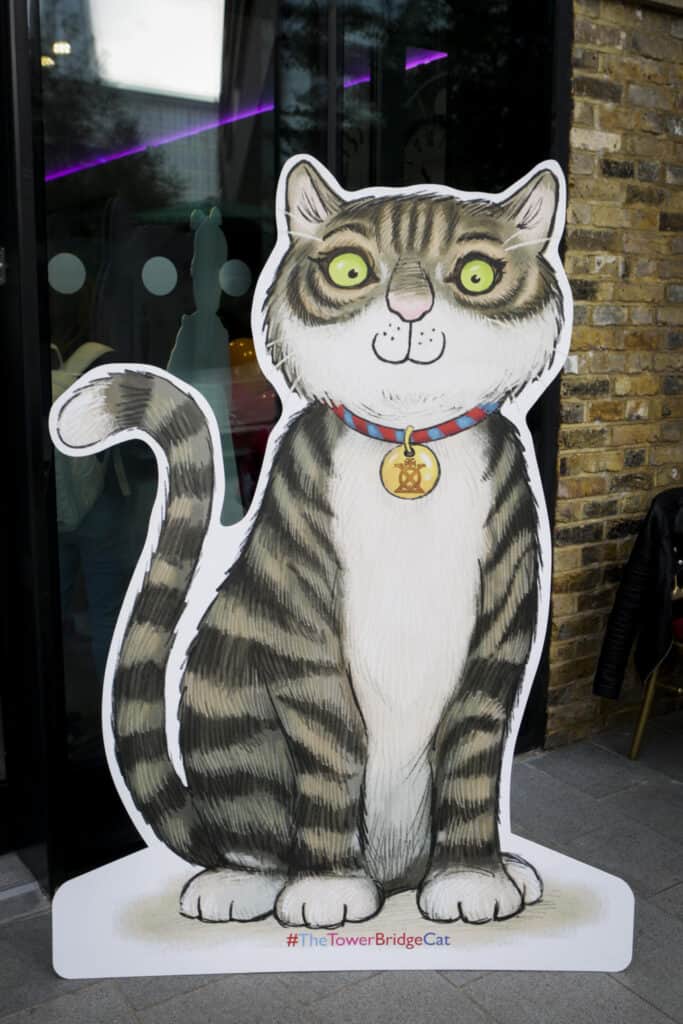 The fictional feline friend residing in London favourite's landmark, Bella the Tower Bridge Cat, returns in a new interactive trail running from 11 April throughout Easter.
The Tower Bridge Cat & the Missing Button is the third installment in the award-winning children's Tower Bridge Cat book series, written by Tee Dobinson and illustrated by Steve Cox. 
Buttons are disappearing all over London including the shiny silver one that opens and closes Tower Bridge. With the Lord Mayor's Show about to start and the Bridge stuck open, can Bella solve the mystery of the missing button before it's too late?
Follow the trail, help answer questions and get stamps in your Tower Bridge Apprentice Training Record as you go.
Book tickets, purchase the book, and learn more on the Tower Bridge website.
The Tempest at The Globe
A 90-minute production of The Tempest created especially for young people opens at Shakespeare's Globe for public performances from 18 March and runs throughout the Easter holidays until 15 April 2023.
There are also workshops running alongside the play to help young people explore it further.
Find out more and get tickets on The Globe Theatre's website.
Easter in the West Midlands
Take a look at this huge post of places to visit and things to do in the West Midlands this Easter.
Easter egg hunts and events in Somerset
Looking for Easter activities in Somerset? Take a look at this post about things to do this Easter in Bristol and North Somerset.
Easter egg hunts in Surrey
Local to Surrey? Here's what's on in Surrey this Easter:
Search of Lindt Gold Bunnies at Hampton Court Palace
Take your family back in time and join in the hunt around the gardens of Henry VIII's Hampton Court Palace for golden bunnies. Pick up the Lindt Gold Bunny Hunt trail map and follow the clues to find golden bunny statues hidden around the palace and gardens.
You'll discover some of Hampton Court's famous characters from the past along the way. Solve the challenges to win your delicious chocolate reward!
The hunt takes place from 1 to 16 April, 2023. Find out more on the Hampton Court website.
Superworm at Kew Gardens
This Easter join Superworm for a new adventure at Kew Gardens with all the heroes from the best-selling book by Julia Donaldson and Axel Scheffler.
Follow the trail and discover familiar scenes from the story, dig deep into the importance of soil, and find out all about the different garden creatures of Superworm.
Alongside the trail, see colourful spring plants bursting into life in the Gardens.
This trail is on from 1 to 16 April 2023.
Find out more on the Kew Garden website.
Egg-straordinary Dragon Trail at Painshill Park
Magical beasts have come to the landscape of Painshill to lay their eggs. Can you make your way through the park and find them all?
The dragon trail follows a one mile route for those with buggies or little legs. This event will run from 1 to 16 April 2023.
Entry is free for members and is included in general admission for those with day tickets.
Find out more and book your time slot on the Painshill Park website.
Easter in Sussex
Check out what's on in Sussex this Easter:
Shaun the Sheep trail at Leonardslee Lakes and Gardens
Shaun the Sheep has travelled all the way to Leonardslee from Mossy Bottom Farm.
Are you ready for the most exciting adventure of 'Hide and Sheep' using augmented reality to enjoy a game right Shaun while enjoying the woodlands gardens?
Leonardslee Lakes and Gardens has 200 years of history, Grade I Listed gardens and 240 acres of estate to explore. 
It's renowned internationally for its seasonal displays of floral colours, with its rhododendrons, azaleas, camellias, and magnolias. 
This event takes place between 25 March and 23 April 2023.
Find out more on the Leondardslee Lakes and Gardens website.
Medieval Festival at Arundel Castle
Step back in time to 1216 this Easter and experience the joy of history at Arundel Castle's Medieval Festival.
The festival will take place from Good Friday to Easter Sunday, 7 to 9 April 2023, recreating the gathering of King John and his loyal followers to put down a rebellion and fend off a potential invasion from France.
Set within a large, tented encampment on the lower lawns of the castle, the three-day event offers a plethora of activities to immerse visitors of all ages in the medieval world. Experience the thrill of axe throwing and archery, get creative in the craft tent, and witness combat, archery and falconry demonstrations.
Children will even have the chance to participate in battles, making it a fun and interactive experience for the whole family.
Find out more and buy tickets on the Arundel Castle website.
Easter in Warwickshire
Here's the best of the events happening in Warwickshire this Easter:
Adventure at Warwick Castle
Get lost and journey back in time in Warwick Castle's interactive Horrible Histories® Maze, explore the castle towers and ramparts, and see the UK's biggest bird of prey show, The Falconer's Quest!
Zog fans will also love the Castle's newest attraction, Zogland. 
Find out more on the Warwick Castle website.
Easter fun in Yorkshire
Here's my top picks from Easter events in Yorkshire:
Studfold Adventure Trail opens at Easter
This North Yorkshire family attraction will be enlisting its community of fairies to help young children appreciate the natural world from Easter.
The one-mile Studfold Adventure Trail at Lofthouse in Nidderdale makes the most of its woodland and meadow setting particularly in April, May and June when primroses, bluebells and buttercups produce a riot of colour.
To help fire youngsters' imaginations the adventure trail includes intricate fairy and pixie houses that are located in logs, on tree trunks and nestled between stones and which house answers to some of the 17 nature-related clues along the route.
The trail is open for Easter from 1 to 16 April 2023. Booking is essential.
For more information visit the Studfold Adventure Trail website.
If you're looking for more Easter fun in Yorkshire then we know Yorkshire Tots have a comprehensive listing of what's happening in Yorkshire this Easter. Check it out.
We can also recommend lots of things to do around Hebden Bridge and Halifax in West Yorkshire.
More Easter egg hunts in England and Wales
I know there are likely to more Easter activities and Easter egg hunts in England and Wales that I've missed off this list. If you know of others that you think should be added, send me the details!
Also keep an eye on this Easter days out post by Mummy Travels of more updates.
Looking for where to find the best Easter egg hunts in England and Wales in 2023? Why not pin this post for future reference?