Best Oban Accommodation for Families and Groups
Three Oban – Distance to rail station: 5 minute walk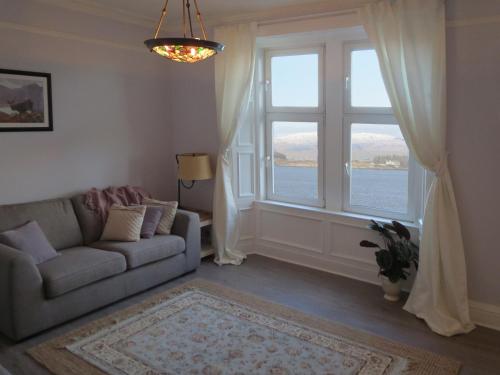 Three Oban is a gorgeous contemporary style apartment which sleeps up to eight people. If you want modern facilities with characterful, old world charm, this is the perfect apartment for your group. 
The property offers free parking and free WiFi. There are three bedrooms (one large double, one double and two single beds) plus a sofa bed in the living room. The rooms are elegantly decorated with country style furniture and metal beds. 
There is a separate, wooden floor living room with two sofas and a tv with fantastic sea views from the double height windows. The separate kitchen diner features a full oven, fridge, washing machine and microwave. Kids highchairs are available. 
Sea View – Distance to rail station: 7 minutes walk
Sea View is a luxurious self catering property that sleeps up to six people in two bedrooms. It has a garden with sea views and free WiFi.
There is one double bed, two single beds plus a sofa bed in the living area. 
It has a large open plan living room with sofas, a flat screen tv and a dining table for six.
An archway leads to a good sized kitchen equipped with a full oven, microwave, fridge and washing machine. Sweet tooth travellers might like to know that the property is adjacent to Oban chocolate Company. 
Station View – Distance to rail station: 1 minute walk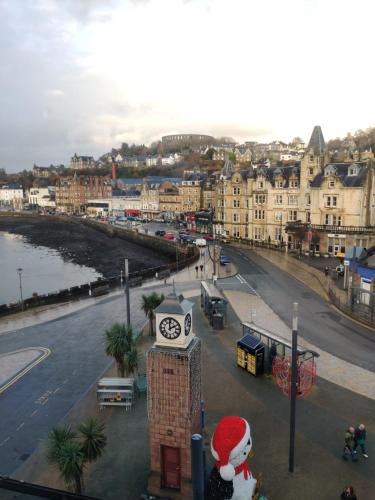 Station View is a modern, upper floor apartment with a balcony overlooking the sea. 
It has an unbeatable location adjacent to Oban rail station. For travellers visiting Oban by car, the apartment also features a free, designated parking space. 
It sleeps up to four people in two bedrooms with a double bed in each room. There is a separate living room with a sofa, a tv and a dining table. The compact kitchen is equipped with a fridge freezer, a full oven and a microwave. 
The property is on the fourth floor but can be accessed by a lift.