Your La Union Itinerary: Where to Stay, Dine, and Play in Surftown, As Shared by a Local
Planning a weekend beach getaway?
by Ina Louise Manto | January 17, 2023
We have plenty of long weekends this 2023 – this is your sign to finally make the drawing beach trip plans happen with the barkada. For a fuss-free short weekend getaway, Tiktoker MJ De Castro, who is also an Elyu resident, shared a La Union itinerary. Here's a list of her suggestions to help you plan your trip:
Where to stay
MJ suggests staying at Bighani, a quaint property that can accommodate up to 11 guests. This Japanese-Scandinavian-inspired home offers the best of both worlds: a view of Urbiztondo beach and a surrounding forest. The property has two floors; the first floor is ideal for groups while the second floor has one private room for two. MJ says the Zion Suite (second-floor room) has one of the best sunset views in La Union. You'll also find everything you'll need in a house including a semi-equipped kitchen, working tables, drying racks, a dining area, and more.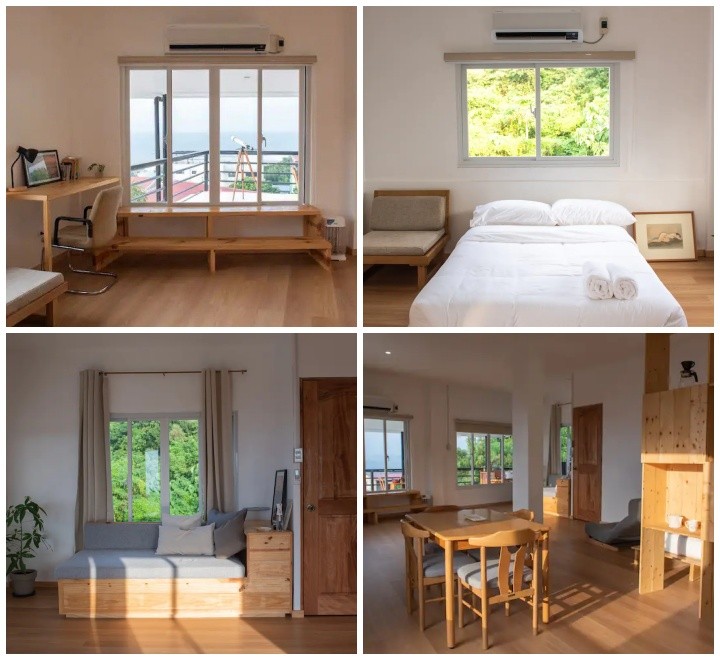 Don't forget to hang out on the spacious balcony, which overlooks the San Juan beach. It's also ideal for alfresco dining!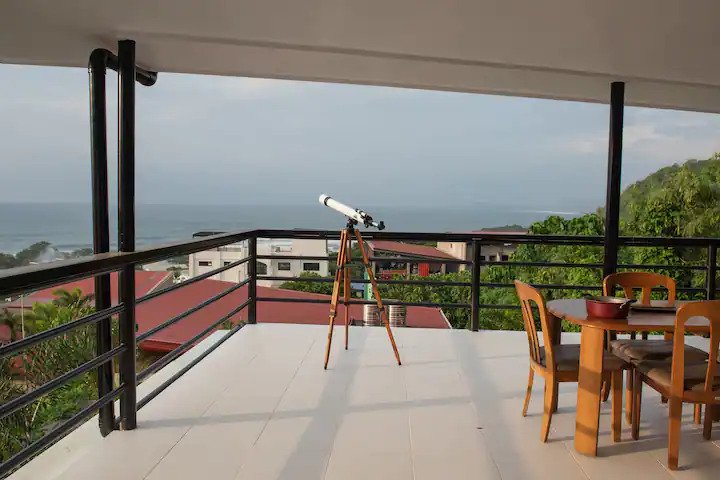 Rates start at P17,571 per night. Book here.
Looking for other great La Union stays? Check this out:
Where to Stay in La Union: Places to Book for Your Next Summer Beach Trip
Where to Stay in La Union: Places to Book for Your Next Summer Beach Trip
Ina Louise Manto | Mar 29, 2022
Where to eat
Breakfast at Clean Beach
To get your day started, have a filling breakfast at the beachfront cafe, Clean Beach. They open as early as 8 AM and serve all-day breakfast, burgers and sandwiches, salads, and snacks. MJ suggests getting Kaya Toast (P170), one of the cafe's best sellers, and pairing it with Breakfast Café Latte (P170). If you don't like sweet coffee, go for the Cold Brew instead (P150).
Open daily from 7 AM to 8 PM. See their menu here.
Lunch at Curo
For lunch, head to Curo, Curbside Villa's in-house restaurant. Here are MJ's food picks from their menu:
Spam Chips (P300) for appetizer
Mango Peach Habanero Chicken Poppers
Molten Chocolate Cake (P320) for dessert – best for sharing!
Open daily from 7 AM to 9 PM. Check out their menu here.
Dinner at Gefseis Greek Grill
According to MJ, Gefseis Greek Grill is one of the most underrated restaurants in La Union. They serve an authentic Greek menu; try any of their wraps and the Saganaki Cheese (P195).
Open daily from 9 AM to 10 PM. See their menu here.
Where to drink
Happy hour at Kabsat
If you're hanging out at the beach, get yourself a cozy spot at Kabsat and watch a colorful sunset. Happy Hour is from 3 to 6 PM and MJ suggests getting Headwind, a refreshing cocktail. Kabsat also has a Buy 1 Take 1 promo during happy hour.
Open daily from 8 AM to 11 PM on weekdays and 6 AM to 11 PM on weekends. See their menu here.
Get your pre-game drinks at Luckies or La Bottega
What's a weekend in La Union without partying? For your pre-game shots, head to Luckies or La Bottega. Luckies is your one-stop shop for wines and spirits, so you'll find a drink that will get your night started.
La Bottega on the other hand sells imported Italian food and beverages. You can also pre-order a charcuterie board here, if you plan on staying in and having a wine night.
They're open from 10 am to 6 PM on Mondays to Saturdays and 10 AM to 5 PM.
Cocktails at The Shrine of Satisfaction
While a night of drinking will typically lead you to Flotsam and Jetsam, MJ discourages going there on a weekend. "Don't spend two hours lining up for a place that closes at 11 PM," MJ said. She suggests going to The Shrine of Satisfaction instead and trying their selection of cocktails.
The Shrine of Satisfaction is open on Thursdays to Fridays from 7 PM to 11 PM.
La Kantina for more cocktails
According to MJ, people usually head to La Kantina after The Shrine of Satisfaction to get more cocktails. Prices start at P300!
Turf's Up
If you get hungry in between drinking, head to Turf's Up and order some Baked Truffle Oyster. Try their other seafood choices too!
They're open from 11 AM to 10 PM on Fridays to Mondays and closed on Tuesdays and Wednesdays.
Post-inuman grub at Tagpuan
Assuming you won't get blackout drunk after bar hopping, leave some room for Tagpuan. They have a wide selection of rice meals here; Bagnet is a must-try! Tagpuan is open until 11 PM.
Surfing
Feeling adventurous and want to try riding La Union's waves? Check out these surfing schools:
DJ Surf School offers one-on-one lessons for P500 an hour.
Esquivel Surf Camp's surfing rate is also at P500 per hour.
You may schedule and book a surf lesson through Instagram.
Post-surfing eats
Irugi Coffee
After a morning of surfing, get your dose of caffeine at Irugi Coffee. You might want to try El Union too since it's a favorite coffee spot in surf town, but MJ doesn't recommend going here on a Sunday unless you're willing to wait in long lines.
Try the Iced Mocha (P150) at Irugi and pair it with desserts from kayekeks by KK, as suggested by MJ.
Tilt Seanymph
If you want a more lowkey space for coffee, head over to the newly-opened Tilt Seanymph, which is located inside Seanymph Cafe. They're open from 8 AM to 4 PM on Wednesdays to Mondays.
Masa Bakehouse
"Your LU trip will not be complete if you don't go to Masa for some bread, pastries, and a really good brunch," MJ said. She would get Shakshouka (P210) here. Check out their menu on Facebook.
Halo-Hilo
Whether you're craving something sweet or want to cool off when it gets too hot, get a serving of surf town's best halo-halo at Halo Hilo.
Open daily from 10 AM to 7 PM, except Tuesdays.
Bebo's Bombay Burritos
If you're not in the mood for halo-halo, MJ suggests Bebo's Bombay Burritos' tangy and sweet Frozen Yogurt with Gulab Jamun (P175).
Do you have favorite spots in La Union? Share them in the comments below!
Where to Stay in La Union: Places to Book for Your Next Summer Beach Trip
Where to Stay in La Union: Places to Book for Your Next Summer Beach Trip
Ina Louise Manto | Mar 29, 2022
Looking for other places to explore? Join WindowSeat.ph's official Facebook community What's Your Trip PH for more recos!