If you live in the USA or Canada and you're reading this in winter, you've probably already dealt with a cold storm or two, some snow to shovel, icy roads, and lots of layers. It's easy to escape all that though. Pack a bathing suit and head to one of the warm countries in Latin America where that kind of weather never happens even one day per year.
If you're feeling down from the cold and gray and dreaming of the yellow sun and warmth, we've got some ideas for you in Latin America. Head to one of these warm places in Latin America that are ready to welcome you.
Mexico Option 1: Los Cabos
Mexico's favorite destination for west coast luxury travelers adds more upscale hotels to the scene every year and flight options keep increasing. Some of the beaches here are too dangerous for swimming, but they're dramatic and gorgeous to lounge on and watch the dramatic waves hit the shore. On top of that, this is Mexico's top golf destination.
Here's what the daily highs and lows were the week before I put up this post in mid-January:

All of the top resorts also have gorgeous swimming pool complexes, outdoor dining, and outdoor bars where you can bask in the warmth instead of zipping up a parka. Bring plenty of sunscreen and a hat though: your skin is probably not used to getting hit with those UV rays!
You won't be the only ones escaping the winter cold either: the first few months of the year are prime whale-watching time in the Baja Peninsula. You need to get out on a boat to see them up close, but you can often see humpbacks swimming by just sitting on your oceanfront balcony. Los Cabos is also a prime destination for sport fishing and surfing, plus there are plenty of adventure activities available in the desert region nearby.
Check out our reviews of the top luxury resorts in Los Cabos and view flight prices here.
Mexico Option 2: Cancun & Riviera Maya
For those in the eastern half of the USA and Canada, it's usually quicker to escape to the Cancun airport than anywhere else perpetually warm except Miami. That's because there are direct commercial flights and charter flights from a long list of cities. If you can't get there direct you can arrive via one stop at a hub. Nearly every airline in North America flies here, including JetBlue and Southwest.
Check prices from your airport here.
You can be on the beach a half hour after walking out the airport door if you go to Cancun. Or head south to the rest of the Riviera Maya for more low-slung resorts that aren't packed in next to each other. Or to really feel like you're getting away from it all, head north to Holbox Island. See the options for all Luxury Riviera Maya hotels here.
There are occasional periods where you might need a long-sleeve shirt here at night, like when there's a major cold front that extends all the way down into Florida and Louisiana. That's rare though, so in most cases you'll leave the snow and ice behind and you can pack for a tropical vacation. You can swim in the ocean all year here and of course the resorts in this warm vacation place all have sprawling swimming pools, often with a swim-up bar to enjoy.
It's Always Warm in Belize
There are only two kinds of weather in Belize: sunny or rainy. It's more often sunny and always warm, including in the water. Unless you go down deep into the blue hole as a scuba diver, you're unlikely to experience any change in the water temperature no matter what time of year you visit. From Ambergris Caye down to Punta Gorda, you're sure of never needing a jacket on land either.
You won't even run into the rain if you visit Belize between December and April. As with the other hot destinations to visit in winter on this list, their rains start when it's summer in the USA, their low season.
If a warm weather vacation where you can go snorkeling or diving sounds ideal, seeing tropical fish and rays while you're in water that's never cold, head to Ambergris Caye or one of the many islands scattered along the coral reef that runs along the coast of multiple countries. You can even go on a Belize kayaking trip where you spend your nights on an island you have almost to yourself. Or go Belize island hopping on a luxury yacht.
There are very few chain hotels in this whole country, just friendly independent luxury hotels and resorts. You'll find friendly service, a laid-back vibe, and free-flowing local rum. See the best Belize luxury hotels here.
Belize doesn't have as many direct flight options as some of its neighbors, but there are usually routes from at least 10 cities in the USA and Canada you can go through, so check flights from your city here. Once you're in the country, you can easily get from place to place on two domestic airlines doing short-hop flights in prop planes.
Hit the Islands of Honduras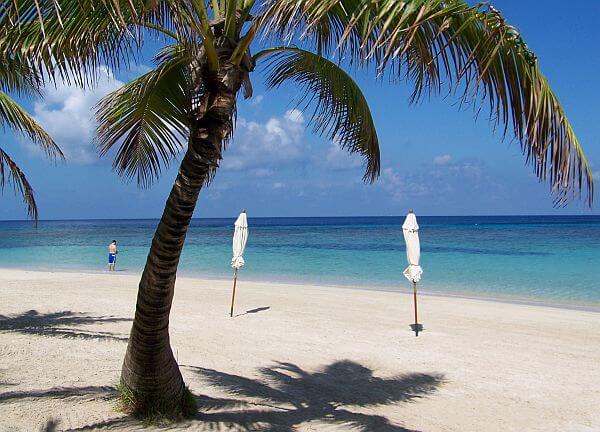 If you like the idea of flying straight to a Caribbean Island but want to have a coral reef on your doorstep, Roatan and Utila Islands of Honduras are some of the best snorkeling and diving destinations in the Americas. The world's second-longest coral reef goes right by these two islands, so it's the kind of place scuba divers dream of.
What a lot of people don't know, however, is that Roatan has some fantastic beaches as well. You've got miles and miles of sand to walk on and most of the beaches are not very crowded. There are a few all-inclusive resorts here, but they're not huge high-rises like you find in built-up Cancun or Puerto Vallarta.
In the winter months, you can usually fly direct to the island of Roatan from these cities:
Atlanta
Dallas-Fort Worth
Denver
Houston
Miami
Minneapolis
Toronto (YYZ)
So as with Belize, you can leave your chilly house at breakfast and be on the beach by the afternoon, sipping a cocktail with your toes in the sand. See the options here.
A Tropical Winter in Costa Rica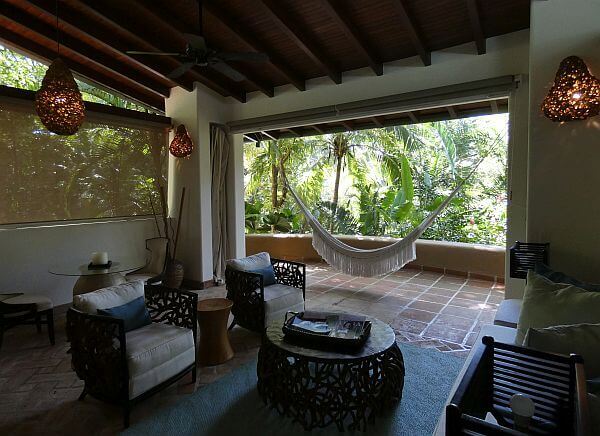 The highlands of Costa Rica are not very high, so this country has a warm and tropical climate all year long. No matter where you go in the country, you'll be in a warm destination. It's so reliably warm here that your suite's living room might be open-air, like the one above at Flor Blanca in Playa Santa Teresa.
When it's summer in North America, there's a good chance you'll get rained on during what they call "green season." If you head south during winter, however, you'll experience temperatures in the 80s F from Guanacaste down to the Osa Peninsula.
You can definitely work up a sweat in January here too since there are plenty of jungle hikes and adventure activities to explore. You can go surfing on the Nosara Peninsula, white-water rafting on some of Central America's most exciting rivers, or ziplining through the jungle in multiple locations. If you'd rather just chill out and be pampered, check out one of the luxury spas of Costa Rica, most of them using natural ingredients from the region.
See more on luxury travel in Costa Rica here. Costa Rica has plenty of flight options going into two different airports, so you can often find a good deal in either section of the plane. See all the options on Skyscanner.
Panama to Escape the Cold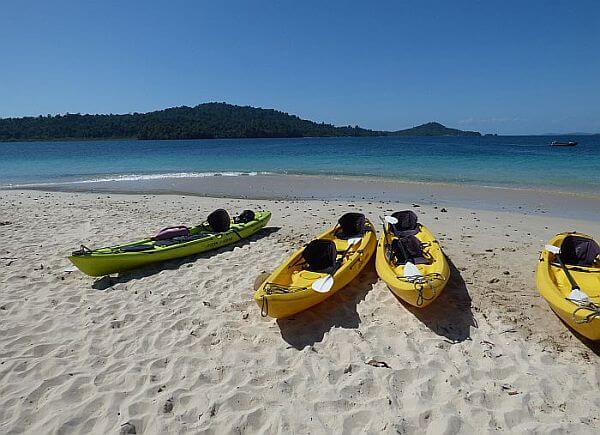 Do you want to really warm up? Unless you head to the highlands of Boquete or the highest mountains, there's a good chance you'll work up a sweat in Panama without doing much. This is a great destination for beaches and birds, wild islands and wildlife.
Panama is a neighbor to Costa Rica and shares many of the same attributes in terms of adventure activities, jungles, and beaches. You get a good bit more for your money here though and Panama City is a lot more fun to spend a few days in than the other capital city. New luxury hotels are opening up regularly in the capital and there are some great resorts scattered around in other locations.
See where to stay in Panama here. Copa Airlines is based in Panama and they allow a stopover if you're headed somewhere else. So it's good to combine Panama with a trip to always warm Colombia below. Check the sample fares here.
No Cold in Colombia
Colombia is just below Panama, where Central America turns into South America as you get closer to the equator. This is one of the best warm countries to escape to: the only way you're going to get chilly is if you head a mile or more up in elevation.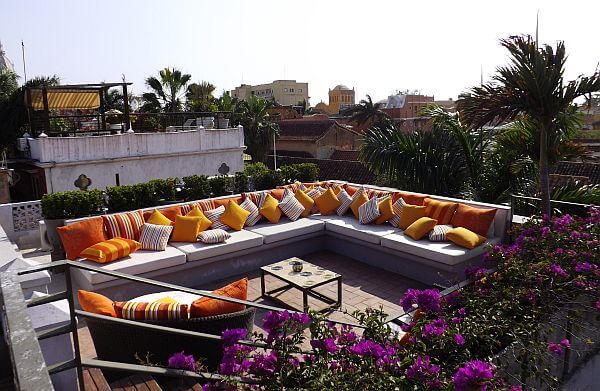 Cartagena is right at sea level and is almost always hot and humid. Among the warm cities to escape to for a week or less, it's one of the best choices available because it is often the best South American flight deal you can find from many U.S. airports, sometimes coming in lower than the Caribbean islands.
When you arrive you won't find a routine resort city though: this is a UNESCO World Heritage site with a huge Spanish colonial fortress and walled city. There are plenty of great restaurants, fun places to shop, outdoor cafes, and nearby islands to explore. So you can easily do more than sit on a lounge chair on the beach. We have reviews of the best Cartagena luxury hotels on the beach, in the walled city, or on the outskirts by a golf course.
Medellin is higher up, one of those "eternal spring" climates where it's pleasant all year long if you're looking for a warm place to visit but not sticky heat. As I write this in January it's in the high 70s F almost every day, in the high 50s at night. There are lots of flight options to here and frequent connections via Bogota on Avianca. We found flights to Cartagena for under $600 round trip in late January from  Toronto, Chicago, Atlanta, and San Francisco and for under $500 from NYC and D.C.
The Amazon Jungle Region: Peru and Ecuador
If you want to cruise the Amazon in a luxury riverboat or visit a jungle lodge in Peru or Ecuador, you are definitely not going to face any wintry weather. Ever. The average daily high is between 87F and 90F every month in Iquitos, Peru for instance.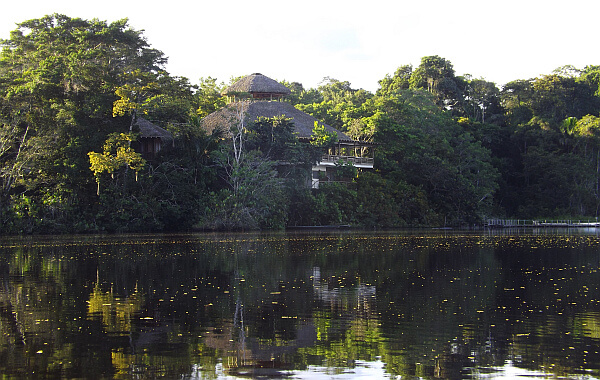 Many tourists visit here after going to other parts of Peru, but if you want to fly straight there it'll normally run at least $800 in economy or $3,000 in business class from New York City via Lima on LATAM.
It can be less to visit the jungle lodges of Ecuador because flights to Quito are usually reasonable and then there's a short domestic flight to the jumping off point where you board a boat to go upriver. You're close to sea level here and near the equator, so it's warm all year in this Amazon basin area.
The jungle lodges and river cruises of South America are a great choice is beaches aren't your thing. There are plenty of adventure activities, but they're not too daunting: it's more about wildlife observation than extreme adventure.
These are just a few ideas on warm countries to escape to in Latin America. You could also head to Guatemala (especially Tikal and that region), Nicaragua (especially San Juan del Sur and the Corn Islands), or the jungles of Guyana that we haven't been to yet. Put away the gloves and head south!