Viking named its newest ocean ship, the Viking Neptune, with a celebration on Sunday in Los Angeles, according to a press release.
As part of the event, the ship's ceremonial godmother, Nicole Stott, retired NASA astronaut, aquanaut and artist, offered a blessing of good fortune and safe sailing for the ship.
The Viking Neptune arrived in Los Angeles early in the morning on January 8 and departed for Honolulu following the naming ceremony. The ship is currently sailing the 2022-2023 Viking World Cruise, an epic voyage from Fort Lauderdale to London that spans 138-days, 28 countries and 57 ports, with overnight stays in 11 cities.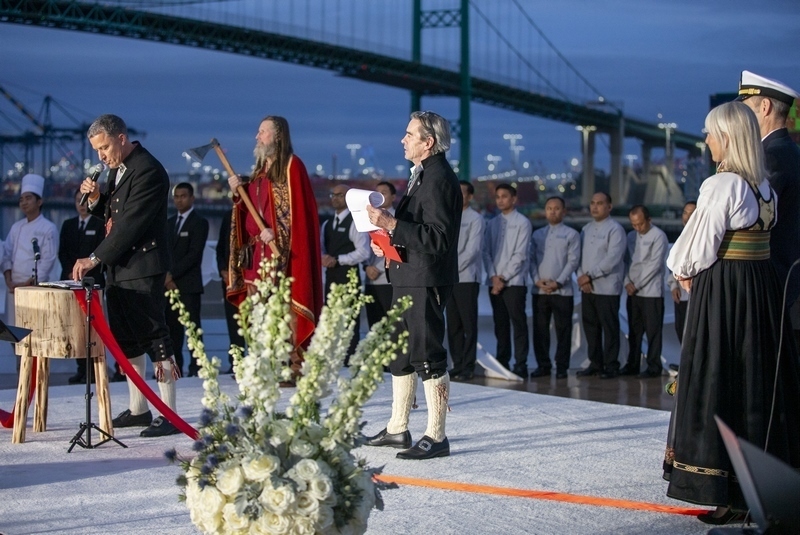 The company said that the naming of the Viking Neptune also comes at a time of record sales for Viking, with the launch of Viking's new 25th Anniversary Sale on January 1 resulting in the highest number of bookings in one week in the company's history.
"Today is a proud day for the entire Viking family as we name our newest ocean ship in Los Angeles, the home of Viking's U.S. office for more than 20 years," said Torstein Hagen, Chairman of Viking. "The Viking Neptune is a ship named for both the furthest planet in our solar system and the god of the sea—and our newest Viking godmother, Nicole Stott, as a NASA astronaut and aquanaut, also has connections to space and the sea. We are grateful for her many contributions to the scientific community and are proud to have her as part of the Viking family."
"It is an honor and privilege to be the godmother of the new Viking Neptune. As someone who has been blessed to explore space, the ocean, and some of the otherworldly places on our planet, I understand the importance of broadening one's horizons through travel. I am very excited for all those who journey around the world on this elegant vessel," said Nicole Stott.
In keeping with the naming tradition, during the ceremony Nicole used a historic Viking broad axe to cut a ribbon that allowed a bottle of Norwegian aquavit to break on the ship's hull. Prior to the ribbon cutting, the axe was presented to Nicole by Sissel Kyrkjebø, one of the world's leading crossover sopranos and godmother of the Viking Jupiter®, who used it when naming her ship in January 2020. Event guests also enjoyed performances from Sissel and Norwegian violinist Tor Jaran Apold.