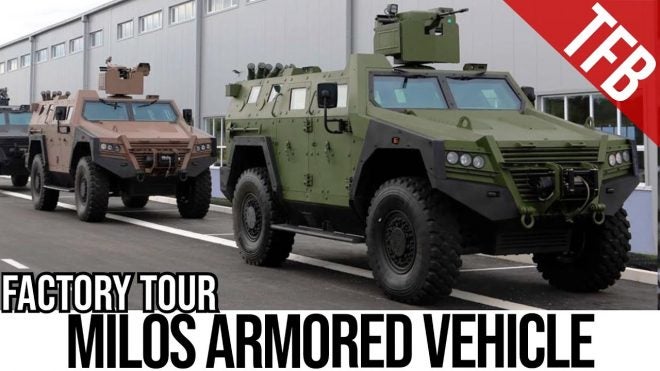 In this episode of TFBTV, James is at the Serbian state-owned factory Yugoimport SDPR to tour the state-of-the-art Milos armored vehicle (multipurpose )with one of the engineers on the Miloš design team, as well as the deputy manager of the factory. The Miloš is built out with a number of American components including a Cummins diesel engine and Allison automatic transmission and has quite a few tricks up its sleeve. Of course, this is The Firearm Blog TV, so we focus heavily on the armaments of the Miloš including the Zastava manufactured, remote-controlled 12.7mm, thermal-equipped, laser-range-finding heavy machine gun on the roof, or the manually operated, American-made minigun option. We take a look at the Miloš today on TFBTV.
««« APPAREL IN THIS VIDEO »»»
Apparel: All TFBTV apparel is sponsored by 5.11 Tactical and you can get it at www.511tactical.com
««« GUN AND GEAR GIVEAWAYS »»»
We give away guns and gear EVERY month to our supporters. Consider supporting us. Gun and gear giveaways are not affiliated with, associated with, or in any way endorsed by YouTube and TFBTV is solely responsible for the giveaways mentioned in this video and this description. No purchase required for gear worth over $250. Full rules and terms are found at http://tfbtv.gun.team/
««« FOLLOW US ON SOCIAL MEDIA »»»
https://www.facebook.com/TheFirearmBlogTV/
https://www.instagram.com/TFBTV/
https://www.reddit.com/r/tfbtv/
««« SPONSORS »»»
Please Support Them! They help make our videos possible.
– Ventura Munitions – www.venturamunitions.com
– Blue Alpha Gear – www.bluealphagear.com
– Top Gun Supply – www.topgunsupply.com
««« TFB CHAT ROOM »»»
Want to join the TFBTV chat room? Use our Discord Invite: discord.gg/tfbtv
#TFBTV