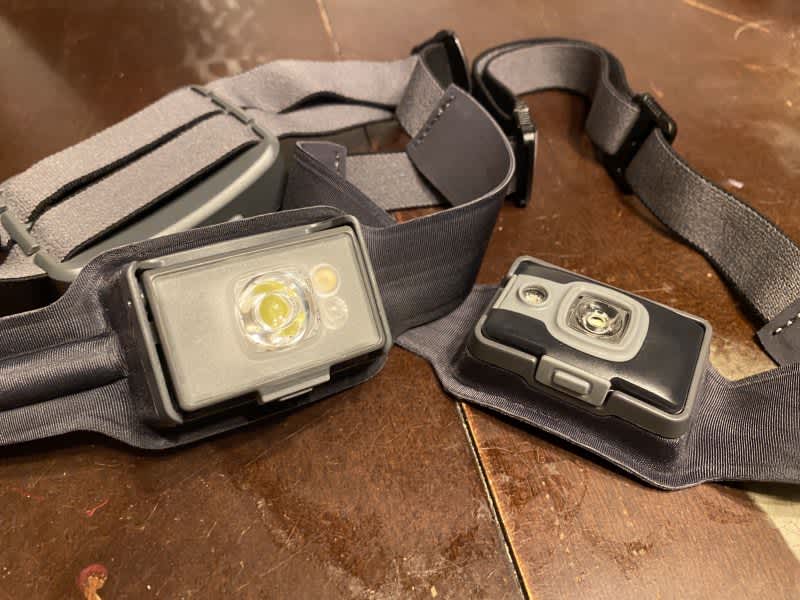 BioLite is coming out with some exciting things recently and I have the scoop on them right here on OutdoorHub!
This review is all about their new headlamps that are truly built for outdoor adventure. They're nothing like I've ever seen before, and we're pretty obsessed with headlamps around here.
I have two of their new rechargeable headlamps to talk about so let's dive into the first one.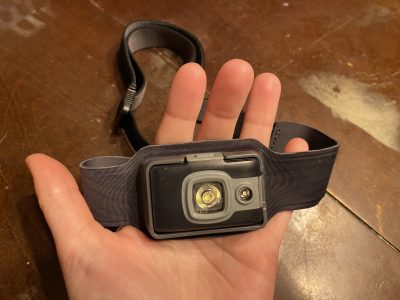 This headlamp features a sleek design that molds with your forward. Typical headlamps feel like an accessory on your forehead, but this headlamp feels like it's part of your forehead because of how it shapes to the curves of your forehead. It's a really nice touch that I'm surprised hasn't been done before (or it has and I just haven't seen it yet!)
It's very comfortable and lightweight weighing only 50g (0.11lbs).
It has an IPX4 rating, which means it'll fine in the rain for short periods, but don't submerge it in water.
Probably the best part of both of these headlamps is the rechargeable aspect, I love anything that can recharge. It comes with a recharging cable a 700 mAh Li-ion battery inside.
At 325 lumens, you won't have any trouble lighting up anything your heart desires. But it also has various lighting modes:
White strobe
White spot + dimming
Red flood + dimming
Red strobe
It can last 40 hours on a low light setting and 3 hours on high. Those are incredible numbers. I didn't notice it getting hot at all while I was wearing it. Some lights tend to get hot when they're on too long or on a certain high setting too long, but I didn't notice that at all with this.
It has moisture wicking fabric which is pretty smart considering there are times I've worked up a sweat in the hot and humid evenings in the south while wearing a headlamp. It's so comfortable, too.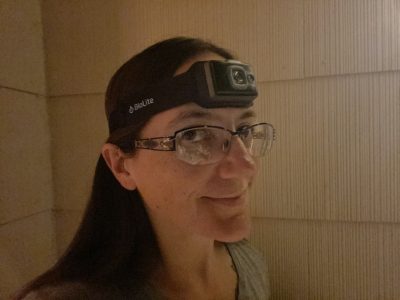 One of the greatest features on this is that it can lock! Basically, hold it for 8 seconds and it'll lock. Then hold it for 8 seconds and it'll unlock. This is an extremely handy feature because I don't know about you, but I've seen my headlamps on inside my backpack before, just wasting away the battery lighting the inside of my backpack.
For $39.95, the BioLite 325 Headlamp is a must have, in my opinion.
Let's talk about their next newest headlamp: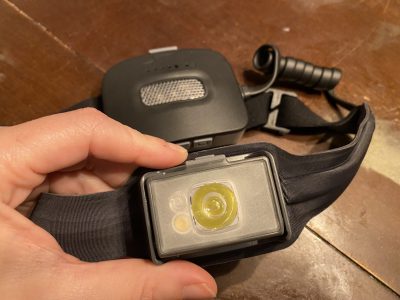 I'm going to be honest with you here, when I first took this beast out of the box, I was skeptical whether I was going to like it or not. It seems really big and really cumbersome.
But, of course, I'm not going to judge a book by its cover.
I took it out, charged it up and took it out on its maiden voyage.
The max output on this headlamp is 800 lumens. Because of this, it has its own battery pack attached to the back of the strap, so the battery pack sits against the back of your head.
I really like that the battery pack has indicator lights to show when it's charged and when it's running low.
This forms nicely to your forehead just like the 325 and is quite comfortable in that aspect.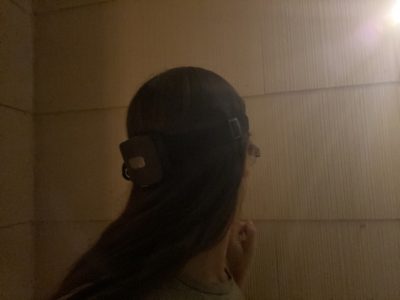 I really thought the battery on the back was going to be super annoying, but it's not as annoying as I thought it would be. It does take some getting used to, though. One nice thing is, it doesn't weigh down the overall headlamp so I'm not constantly adjusting it. This is a very unusual bit to have on a headlamp so try to get used to it first before saying whether you like it or hate.
Personally, when I wear a pony tail, the battery sits nicely on top of my pony tail so I don't even notice it. When I didn't have a pony tail in, I noticed it a little, but really, it kind of felt like I had a pony tail in or something. It's noticeable, but not to the point where it's distracting or anything. It also doesn't weigh down the headlamp in anyway.
At the brightest setting of 800 lumens, it can only last in 30 second bursts. I do feel like that's a bit of a letdown. I would have hoped, especially with the extra battery, that it could have lasted at least 30 minutes on the highest setting. But then I suppose I'm not sure what I'd be lighting up with 800 lumens for 30 minutes.
On high (500 lumens) it can last about 2 hours on constant runtime.
On medium (250 lumens) it can last about 4 hours on constant runtime.
On low (5 lumens) it can last about 150 hours on constant runtime.
Lighting modes include:
Red flood
White spot
White flood
Spot + flood
White strobe
30 second burst
Rear red strobe (yes, the battery on the back can also be a light!)
Rear red flood
It's pretty neat that the battery on the back can also be a light, but I haven't found a practical use for that feature just yet, but it is neat!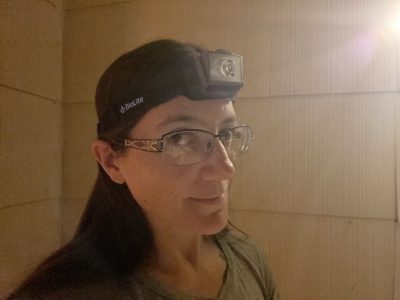 The internal battery is a 3000 mAh Li-ion USB rechargeable battery.
It weighs 5.3 oz (0.33lbs), has a lock just like the 325 and IPX4 water rating just like the 325.
We have to think practically about what we're using headlamps for and for how long we'll need any type of light for. For us, personally, we primarily use them if we need to cook in the dark or if we need to get up to use the bathroom in the middle of the night.
Either way, we're not using the headlamps for longer than 4 hours tops, usually, and that's usually not even on the highest setting.
If you're looking for something beefier, the BioLite Headlamp 800 Pro is the one for you at $99.95.
Which headlamp will you be getting for your outdoor adventures?