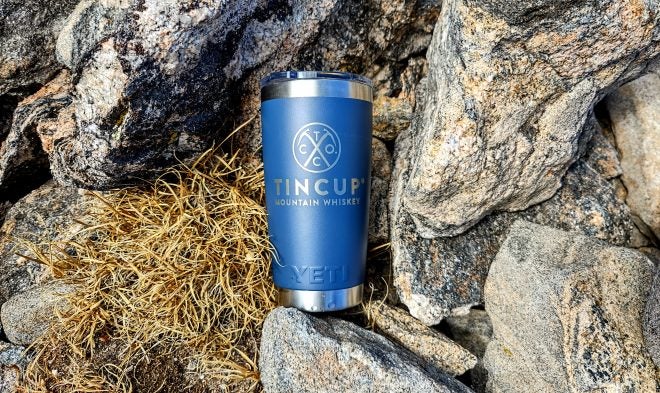 If you joined us in our inaugural edition of Spirited Arms we tackled one of the most beloved yet contested stories surrounding liquor and firearms: the origin of the term a shot of whiskey. As we will do for every Spirited Arms, we capped off that article with a recipe containing a favorite of mine in Tincup Whiskey. So, this week we are going to delve deeper into who Tincup Whiskey is as a brand and find out their origin story as well. Join us weekly here on Spirited Arms as we navigate all things firearms and liquor related in the past, present, and potentially the future.
---
Welcome to our recurring series of Spirited Arms. Here, we want to share the intricate, interwoven history of firearms and alcohol. From periods of our country's rebellion being mere colonies to becoming our own country, the wild and unchartered west, gangsters moving illegal spirits during prohibition, and even the fascination that remains today among gun owners and those who appreciate a well-crafted drink. Hopefully along the way you can garner a greater appreciation for the libations of the past and the liquor of today. Simultaneously, we hope you can teach us things as well through sharing your own expertise and thoughts in the Comments. Understanding our past can lead us to an even greater enjoyment today surrounding the drinks and firearms we share among friends. We hope you enjoy what we have to share!
---
Tincup Whiskey – The Founder and Owner
My personal story of encountering Tincup Whiskey – and becoming so enamored that I am inclined to share with all of you – came about by the way of our Sitka rep. He essentially told us at AllOutdoor one day: "Hey! You gotta try this stuff. If you like whiskey, you're gonna love it!" So, we tried it and we did love it.
We had the great fortune and opportunity to do a whiskey tasting with the founder of Tincup Whiskey – Jess Graber – in Colorado recently and he was a hoot. A soft-spoken, respectable, kind man with lots of anecdotes to fill a room with laughter. When it came to speaking about his whiskey company, his pride and joy, there were inflections of seriousness and pride in his voice. When asked probably countless times "Why whiskey?" he had a clever and comical response that I loved:
John Wayne never said: "Hit me wit sum of that mango-infused vodka, and make it a double!"

That is why we have Colorado whiskey.
I grew up on John Wayne westerns wishing I was a cowboy slingin' a big iron on my hip. It makes sense. Whether you are packing an elk out of the backcountry, finished pulling grain off the back 40 for the day, or climbed a mountain (real or figurative), whiskey will parch your thirst better than anything else.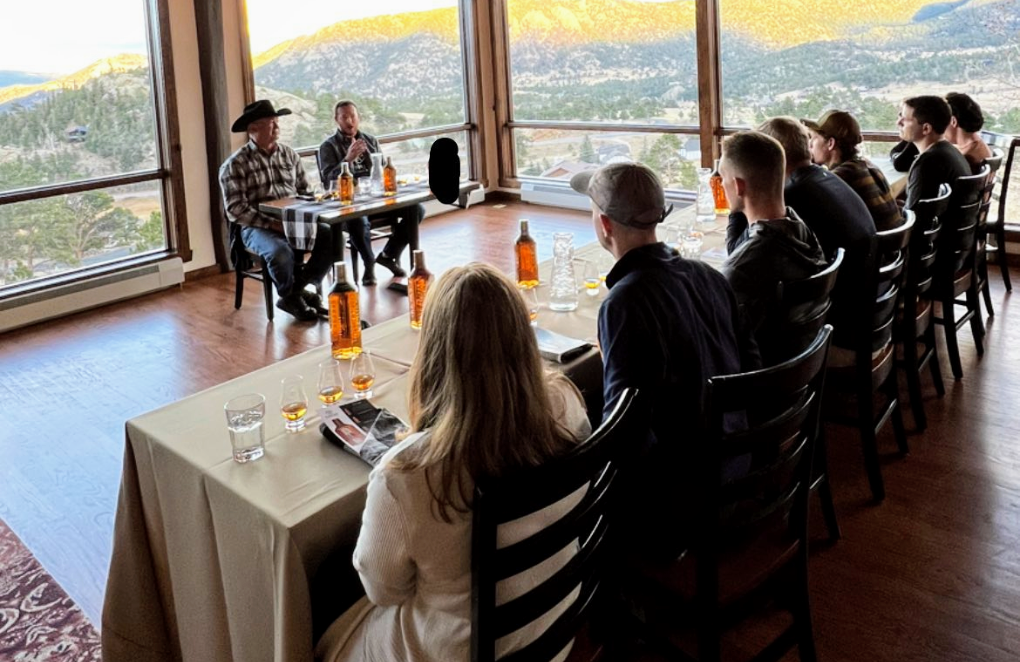 Tincup Whiskey – The Bottle and that Little Ol' Tin Cup
The name tin cup from Tincup Whiskey has a few back stories to its name. For one, the Tincup name comes from the mining town of Tincup, Colorado. Moreover, miners brought whiskey into the mining shafts that they worked in. Often their bottles of liquor would leak out the top so they wanted to seal them better. In order to do that, they would take scrap tin, melt it over the top of the bottle, and once it cooled it would shrink to perfectly fit the cap so the liquor bottle no longer leaked. Additionally, they now had a rudimentary drinking cup.
The other unique trait about Tincup Whiskey is the design of their bottle. Essentially the branding. The hexagonal bottle stands out on liquor store shelves and there is embossing on the glass as well. This idea of embossing the glass came from an old lost bottle of liquor found in the Colorado mountains that was blue in hue (potentially from manganese being in the glass). Back in the day it was actually more popular to emboss bottles for branding because then a paper label wasn't needed that could fall off. This also stopped competing liquor brands from stealing each other's bottles and simply slapping their paper label on them. The founder, Jess Graber, also stated an edged bottle like his "won't roll away from your sleeping bag at night" which is 100% true and drew a lot of laughs from media at our whiskey tasting.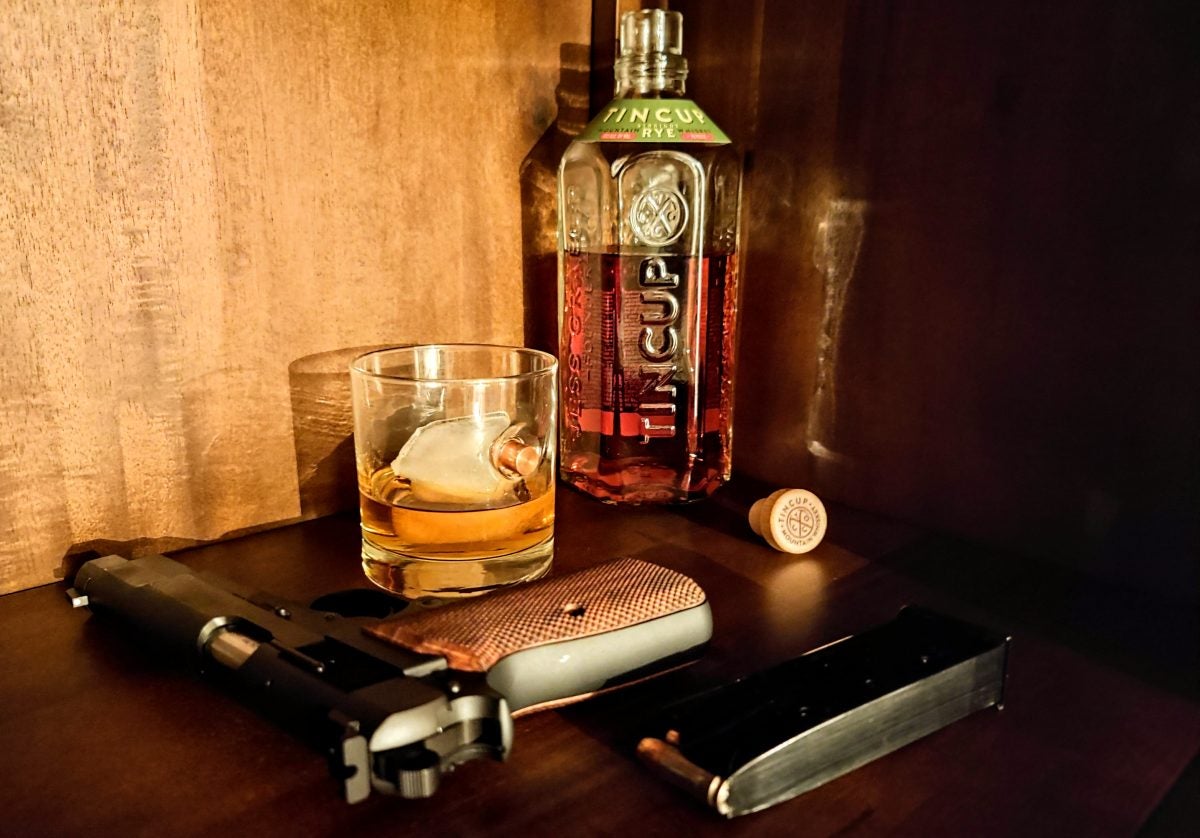 Tincup Whiskey has a new offering under their cowboy hat that is going to be coming out some time in December. We are excited to share that news with you, but until then we will walk you through who Tincup is as a brand and why we – at AllOutdoor – have been won over by them. As always, let us know all of your thoughts about this inaugural Spirited Arms in the Comments below! We always appreciate the feedback.
---
Spirited Arms – Drink of the Week: Whiskey on Ice
2 Ounces of your Favorite Whiskey
1 – "Neat" Glass (Glass Tumbler will suffice as well)
1 – Large Cube or Sphere of Ice
Whiskey on ice might not be the most clever drink to show off your bartending skills in front of friends, but it is eternally classic. If you have a good vintage of whiskey among friends, a good whiskey neat or whiskey on ice cannot be beat.
Specific whiskey "neat" glasses exist that have gentle, precise curves designed into them to squeeze lighter ethanol molecules out of its opening and keep the heavier, delicious smelling molecules within. For tasting different vintages of whiskeys or while looking to have a greater depth of enjoyment and flavor for yourself, it is highly recommended to use a "neat" glass. If you are unfamiliar with a "neat" glass or do not have one, no worries. Simply use a common glass tumbler, pour 2 ounces of your favorite whiskey in at room temperature, and serve with ice. For us, we enjoyed some TINCUP Rye whiskey as a part of our whiskey on ice.