There's nothing more uplifting in the cold winter months than illuminations. That's why I think Christmas light trails are one of the most magical festive experiences you can give your family. In this post I've gathered some of the best trails happening at places around the country in 2022.
Don't delay in booking your tickets for these Christmas events happening in 2022. They're bound to get booked up fast.
Here's more Christmas days out happening around the UK.
To help you find the Christmas light trails near you, I have ordered areas alphabetically. Use the drop down menu to find an event close to you.
Christmas illuminations in Cambridgeshire 2022
Christmas at Wimpole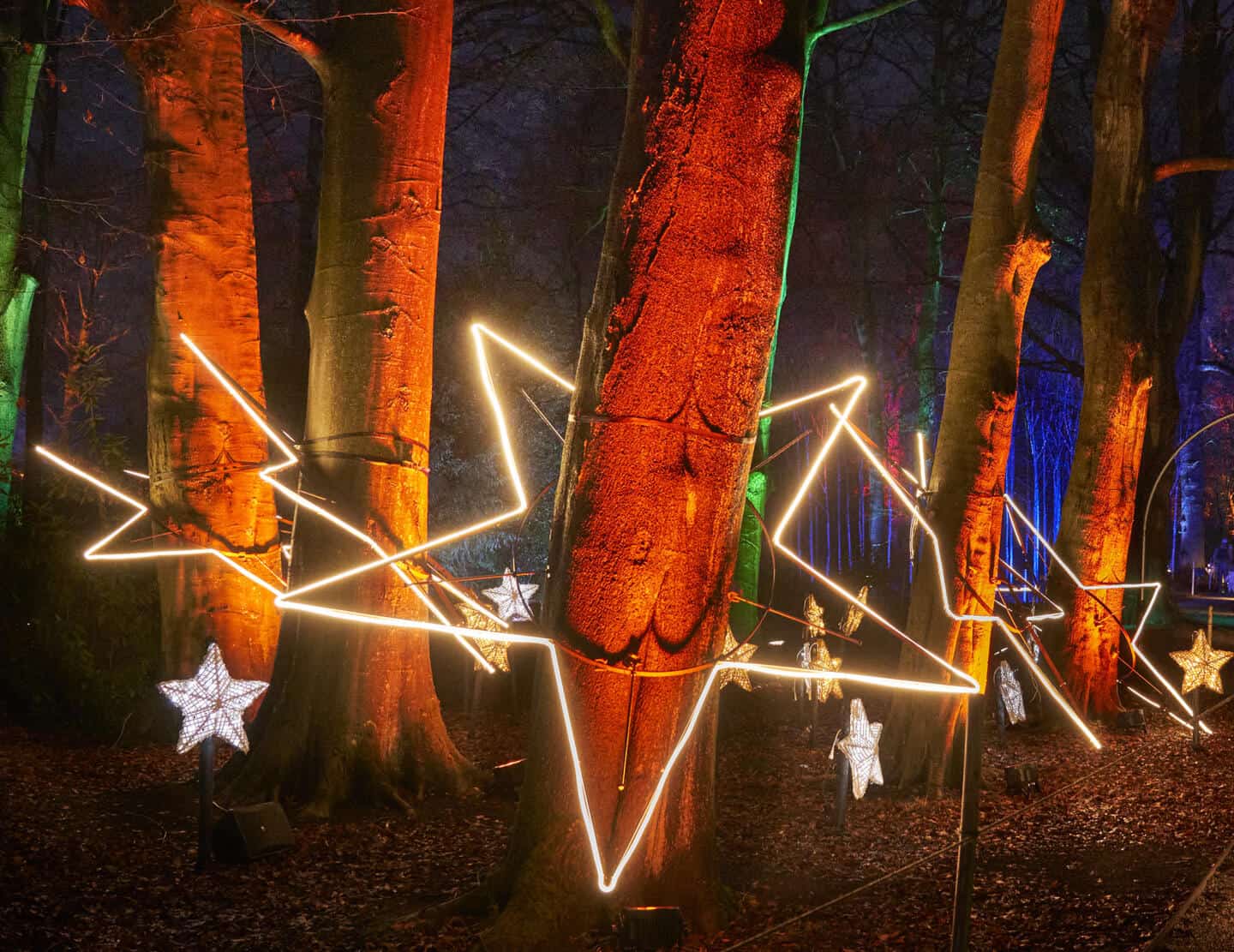 Visit Wimple National Trust estate in Royston and see it like never before with a trail of magical lights illuminating the gardens.
There's a new route for 2022. Curated installations include new green laser garden, romantic Heart Arches, Snow Flake walk and a favourite from last year, the Christmas Cathedral. 
Christmas at Wimpole, Royston, 25 November 2022 to 1 January 2023.
Christmas light trails in Cheshire in 2022
Lights at Bolesworth
Bolesworth's grounds will again be transformed into a festive wonderland, festooned in seasonal sparkle and yuletide cheer for a month of unforgettable winter magic.
In 2022 there's an all-new route, a spectacular light show incorporating Bolesworth Castle itself and a unique water display on the lake. The display is made up of 40,000 lights and follows a 1.2 mile accessible route.
If you need any more reason to book early in 2022, people who buy tickets before 31 October can enjoy a child's Santa Christmas Experience for free!
There's also look forward to a fairground and Christmas market.
Christmas at Bolesworth, Tattenhall, 2 to 24 December 2022.
Christmas at Delamere Forest
The Christmas light trail returns to Delamere Forest for a second year with chandelier dance floors, firework trees and 42 metre prism tunnel of neon lights.
More than a million lights make up the display.
Delamere Forest, Northwich, 25 November to 31 December 2022.
Christmas at Dunham Massey
Tickets are on sale now for this popular illuminated trail which is returning for a sixth year to this historic National Trust property.
In 2022 there's a new route, new installations and fairground rides.
Tickets sell out fast each year, therefore early booking is advised.
Dunham Massey, Altrincham, 18 November 2022 to 2 January 2023.
Lightopia at Heaton Park
Lightopia returns to Heaton Park in Manchester in 2022 and promises to be better than ever with new installations.
Embark on a journey around the new Fantasy themed magical light trail on a new route through the parklands, showcasing bright immersive installations, interactive lanterns, colourful lasers, and water shows.
Lightopia, Greater Manchester, 22 November 2022 to 2 January 2023.
Light trail in Cornwall 2022
Night Gardens at the Lost Gardens of Heligan
Enter the Heligan Night Gardens and enjoy an enchanting lantern experience set amidst the atmospheric Lost Gardens, on selected dates between  November 18th until 2nd January.
Explore the Gardens as they are beautifully lit by a variety of traditional paraffin lanterns and discover a breath-taking display of flora and fauna lanterns, illuminated within Heligan's much-loved and iconic locations.
Journey through the magical garden trail, exploring woodlands and gardens beautifully lit with installations and lanterns. Discover breath-taking displays of fauna and flora, to celebrate the characters of the garden community, all illuminated within Heligan's much-loved and iconic locations.  
Heligan Night Gardens, St Austell, selected dates from 18 November 2022 to 2 January 2023.
Christmas lights in County Down 2022
Christmas at Hillsborough Castle and Gardens
A stunning new illuminated Christmas trail will bring festive sparkle to Belfast for the first time this year.
The magical after-dark trail at Hillsborough Castle and Gardens, features spectacular lighting and enchanting visitors with classical festive tunes, and will transform the estate's beautifully landscaped grounds.
This year the light trail also goes up to the castle.
Hillsborough Castle and Gardens, Hillsborough, 1 December 2022 to 1 January 2023.
Illuminations in Devon 2022
Glow at RHS Rosemoor
Immerse yourself in light and sound at RHS Garden Rosemoor, discovering exciting new lighting displays along the way.
This year the route will be the longest light trail yet. See the garden, including the lake and woodland, lit with festive colour and sparkle.
There will be hot drinks and festive treats available to buy along the trail.
Glow at RHS Rosemoor, Great Torrington, Devon, selected dates from 17 November to 30 December 2022.
Christmas at Powderham Castle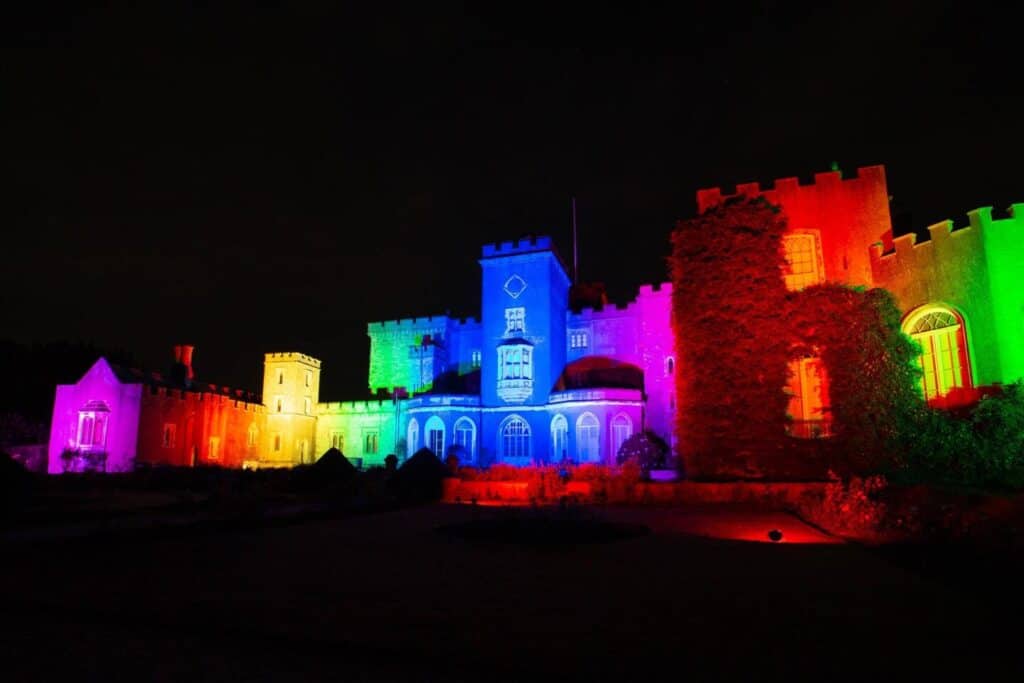 Powderham Castle's light walk returns this Christmas along with indoor festive displays.
More details will be released closer to the time.
Christmas at the Castle, Powderham Castle, near Exeter, 1 to 31 December 2022.
Illuminations and market at Connaught Gardens, Sidmouth
Visit Connaught Gardens in the coastal town of Sidmouth this December for an illuminating Christmas experience. 
There will be an illuminated trail through the gardens high on the clifftops and an undercover Christmas food and craft village. Here you'll be tempted by delicious food, mouth-watering drinks and an array of crafty Christmas gift ideas from high quality local makers.
The illuminated gardens are a ticketed event, so book early to make sure you don't miss out. The Food & Craft Village is non-ticketed so anyone can visit and appreciate the festive atmosphere.
Connaught at Christmas, Sidmouth, 9 – 18 December 2022.
2022 Christmas light trails in Dorset
Christmas lights in Bournemouth
Bournemouth Christmas Tree Festival is back! This seaside town in Dorset will be transformed into an open-air alpine village.
Experience the magical spectacle of glittering trees and illuminations, and explore the Alpine market and skate in the enchanting Victorian lower gardens.
Read about our weekend visiting Bournemouth for the Christmas Tree Wonderland in 2019 and take a look at our video for a taste of what you can expect in 2022 – get it in your calendar now:
Bournemouth Christmas Tree Wonderland, 18 November 2022 to 2 January 2023.
Christmas at Kingston Lacey
Visit this elegant National Trust property near Wimborne Minster to see the gardens transformed into a display of colour and sound.
For a moment of reflection pause at mesmerising flickering flames in the fire garden, gaze at the specially chosen illuminations and don't forget to glimpse Father Christmas along the way.
Kingston Lacey, Wimborne Minster, 2 to 4 and 7 to 24 December 2022.
Christmas light trail in Edinburgh
Christmas at the Botanics
Now established as a firm family tradition in Edinburgh, the trail for 2022 will showcase a botanical world festooned with seasonal cheer.
Returning favourites include Christmas Cathedral and Fire Garden but there is a new route and new light works and installations to ensure and the experience is truly unique. Look out for Inverleith House cast in a new light.
Royal Botanic Garden Edinburgh, 17 November to 30 December 2022.
Christmas light trails in Gloucestershire in 2022
Enchanted Christmas at Westonbirt Arboretum
The Enchanted Westonbirt illuminated trail is one of the most magical Christmas activities happening in 2022.
Father Christmas' elves have made their way to the arboretum to decorate the trees in twinkly lights for Christmas. But they're running slightly behind schedule… Will the trail be ready on time to welcome the main man himself?
With new light displays to discover and mischievous elves to meet, this is Enchanted Christmas as you've never seen it before!
Westonbirt Arboretum, Gloucestershire, 25 November to 21 December 2022.
Christmas light trails in Kent
Illuminations at Bedgebury
This family-friendly one-mile magical festive trail in the heart of the High Weald AONB countryside will once again be awash with colour. 
This year see the trees as you've never seen them before. International artists have designed a range of installations to portray the pinetum in a majestic light, beneath unique canopies drenched in seasonal colour and inspired by the landscape.
Bedgebury National Pinetum & Forest, Kent, 18 November 2022 to 2 January 2023.
Christmas lights at Leeds Castle
This is a brand new UK light trail and will transport visitors to a winter wonderland in this unique landscape, leading up to the stunning moated castle.
Among iconic and award-winning light installations there will be three remarkable new works from creators T-i-l-t, including oversized lampshade clusters and chandeliers.
Walk under giant baubles and beneath beautifully illuminated trees to a soundtrack that will transport you to 'Christmas' in an instant. 
Christmas at Leeds Castle, Maidstone, Kent, 25 November 2022 to 1 January 2023.
Christmas in Lincolnshire in 2021
Christmas light trails at Belton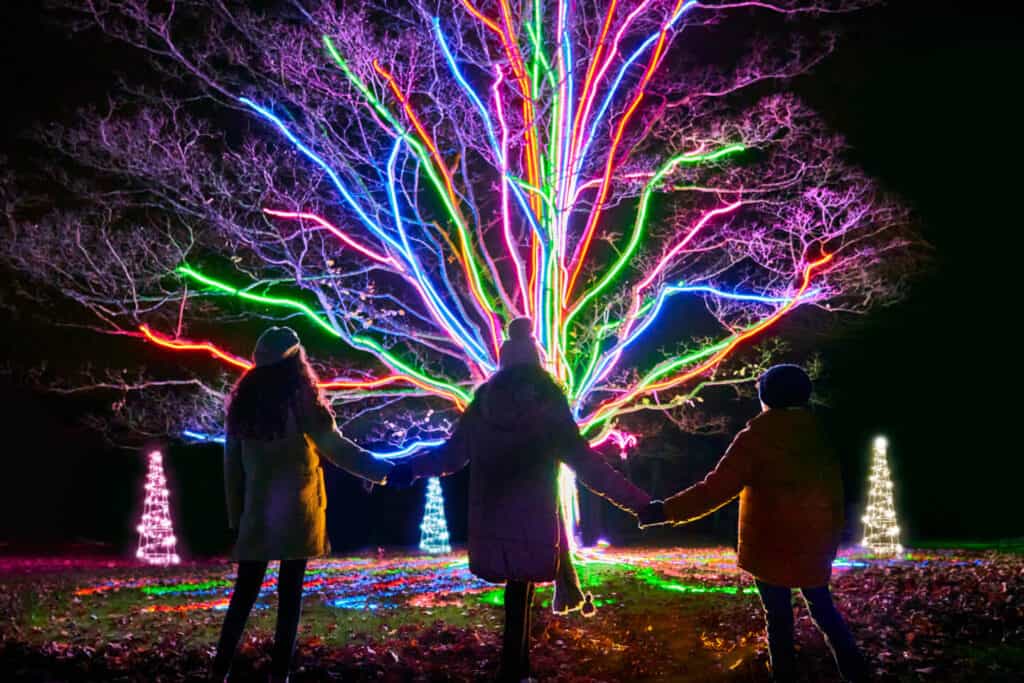 This year sees a new route for the magical Christmas light trail at Belton National Trust near Grantham.
The lights are choreographed to a soundtrack of much-loved seasonal music, transforming Belton's majestic gardens into a winter wonderland.
There are picture perfect colour-changing spheres, a sea of lights, a sparkling rose garden and stars leading to larger-than-life mistletoe – all of which provide plenty of selfie moments around the 2km trail. 
Belton House, Grantham, 24 November 2022 to 2 January 2023.
Light trails in London this Christmas
Christmas at Kew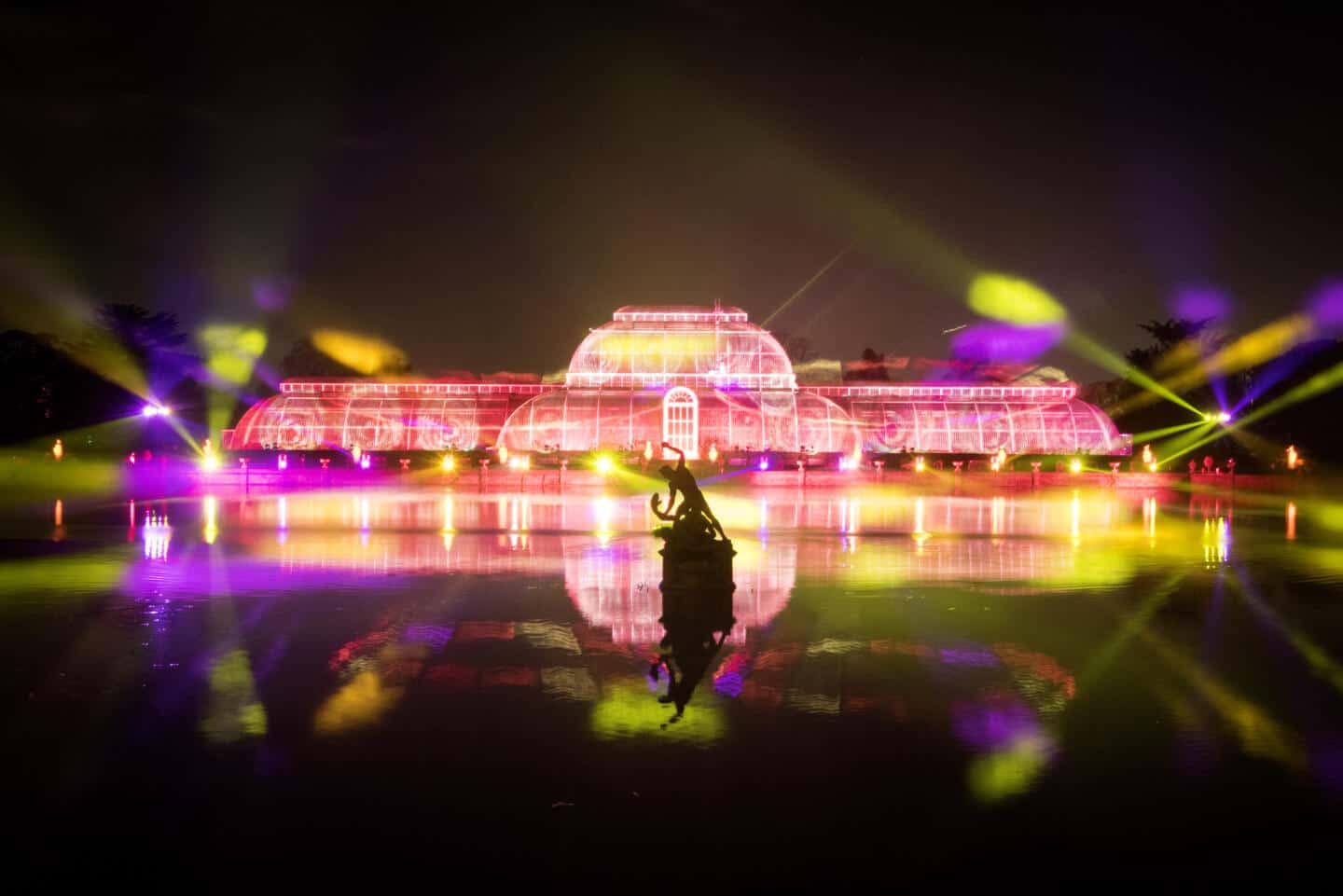 Christmas at Kew, a much-loved highlight of London's festive calendar, returns for its tenth year from November.
This year's light trail features a host of new installations, illuminating Kew Gardens' UNESCO World Heritage landscape with vibrant bursts of colour and over a million twinkling lights.
Immerse yourselves in sparkling tunnels of light, dancing waterside reflections, glitter balls and trees drenched in jewel-like colour on your way to the panoramic Palm House light display.
Royal Botanic Gardens, Kew, 16 November 2022 to 8 January 2023.
Lightopia London at Crystal Palace
See the Palace of Light at Crystal Palace Park, as Lightopia brings this incredible landmark back to life in stunning illumination. 
The history of the park will be brought to life through interactive displays and incredible displays along a fantastic Christmas light walk which makes up central London's largest illuminated trail.
Lightopia London, Crystal Palace, 17 November 2022 to 2 January 2023.
Christmas light trail at Hatfield Park
Just 20 minutes on the train from Kings Cross station, this historic National Trust property will, host a new light trail this year.
In 42 acres of beautiful gardens and parkland you'll find a winter wonderland of magical light.
Christmas at Hatfield, 25 November to 31 December 2022.
Christmas light trails in Newcastle 2022
Christmas at Gibside
The Christmas trail is back for a second year at Gibside near Gateshead.
This year's installations include artists work such as The Pealit Tree, Sea of Light and Snowflake Walk with sparkly giant gold, silver blue and pink snowflakes.
Independent street food vendors bring a delicious twist to tasty treats on offer.
Gibside, Gateshead, from 1 December 2022 to 1 January 2023.
Lights in Nottinghamshire in 2022
Christmas at Wollaton Hall
Wollaton Hall's park will be transformed into an enchanting light spectacle with a trail of discovery, specially designed to fit into the natural landscape of the Hall and Gardens.
Visitors of all ages will be captivated by this brand new, visually stunning multi sensory experience of light, fire and sound. A seasonal classic with a contemporary twist.
Wollaton Hall, Nottingham, from 2 December 2022 to 1 January 2023.
Christmas trails in Oxfordshire in 2022
Christmas at Blenheim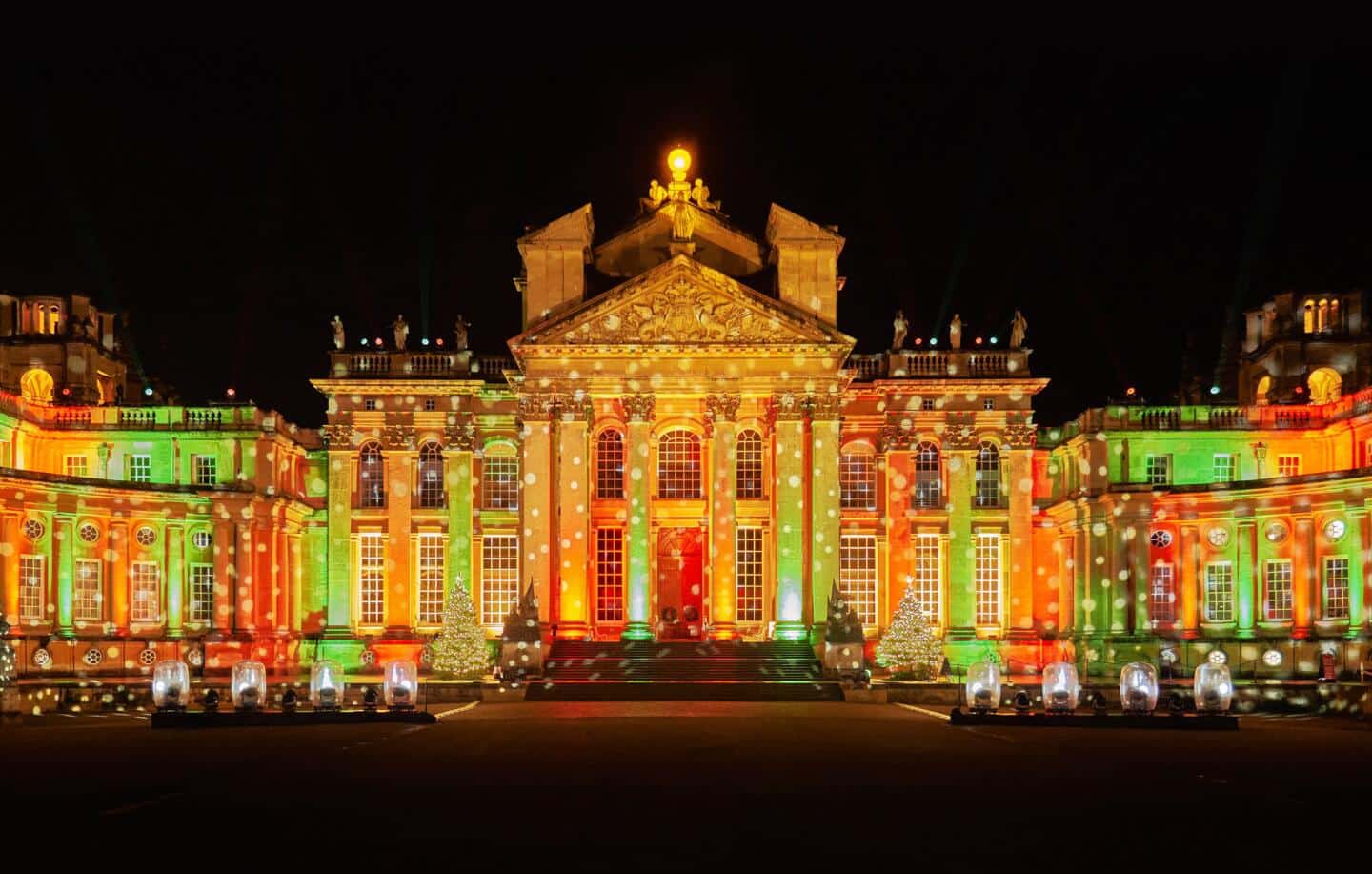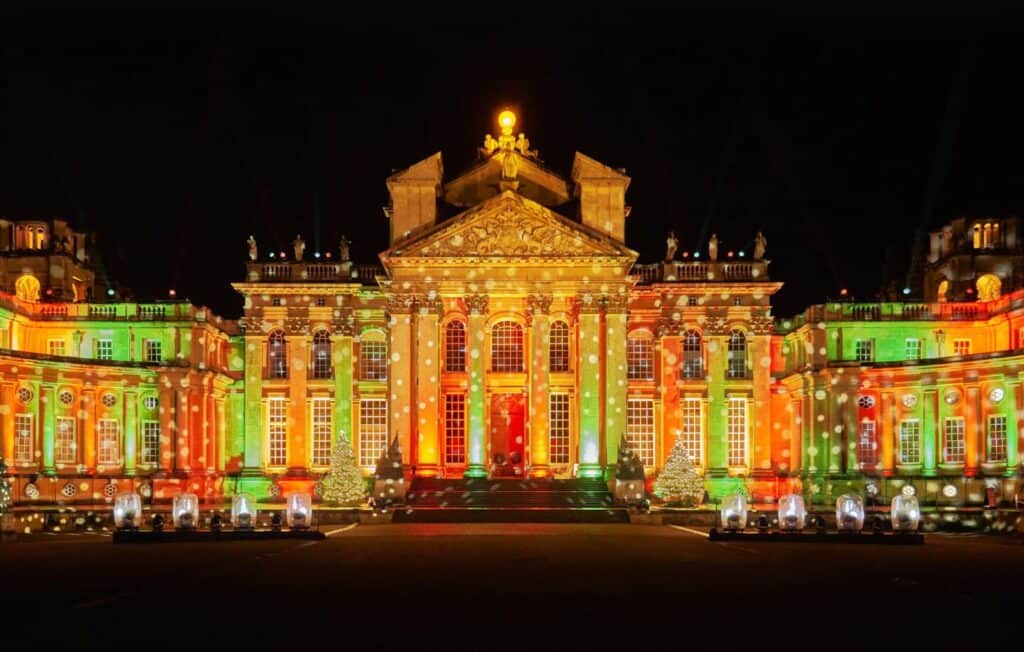 The Palace's gardens will be illuminated by a million lights, while inside you'll find rooms transformed into The Kingdom of The Snow Queen.
Outdoors you'll also find Blenheim's famed Christmas market.
Blenheim Palace, Oxfordshire, 18 November 2022 to 2 January 2023.
Christmas light trail in Staffordshire
Lightopia Festival at Alton Towers
Lightopia Festival is returning to Alton Towers this Christmas with brand new installations and interactive experiences.
Walk through the seasons and see a brand new installation for 2022, 'The Dragon'.
Lightopia at Alton Towers, Staffordshire, 25 November 2022 to 2 January 2023.
Illuminations in Sussex
Light trail at Cowdray Park
Follow this enchanting outdoor, festive light trail that begins in the Cowdray woods and ends by the castle ruins.
Along the way step back into the 16th century where you will find joyful, sparkling, illuminations with evocative soundscapes, and scrumptious, tasty treats from local producers. There's also a festive Christmas funfair and you can meet Father Christmas on selected dates. 
Cowdray Park, Midhurst, 1 to 31 December 2022.
Christmas lights in Wiltshire 2022
Longleat Land of Light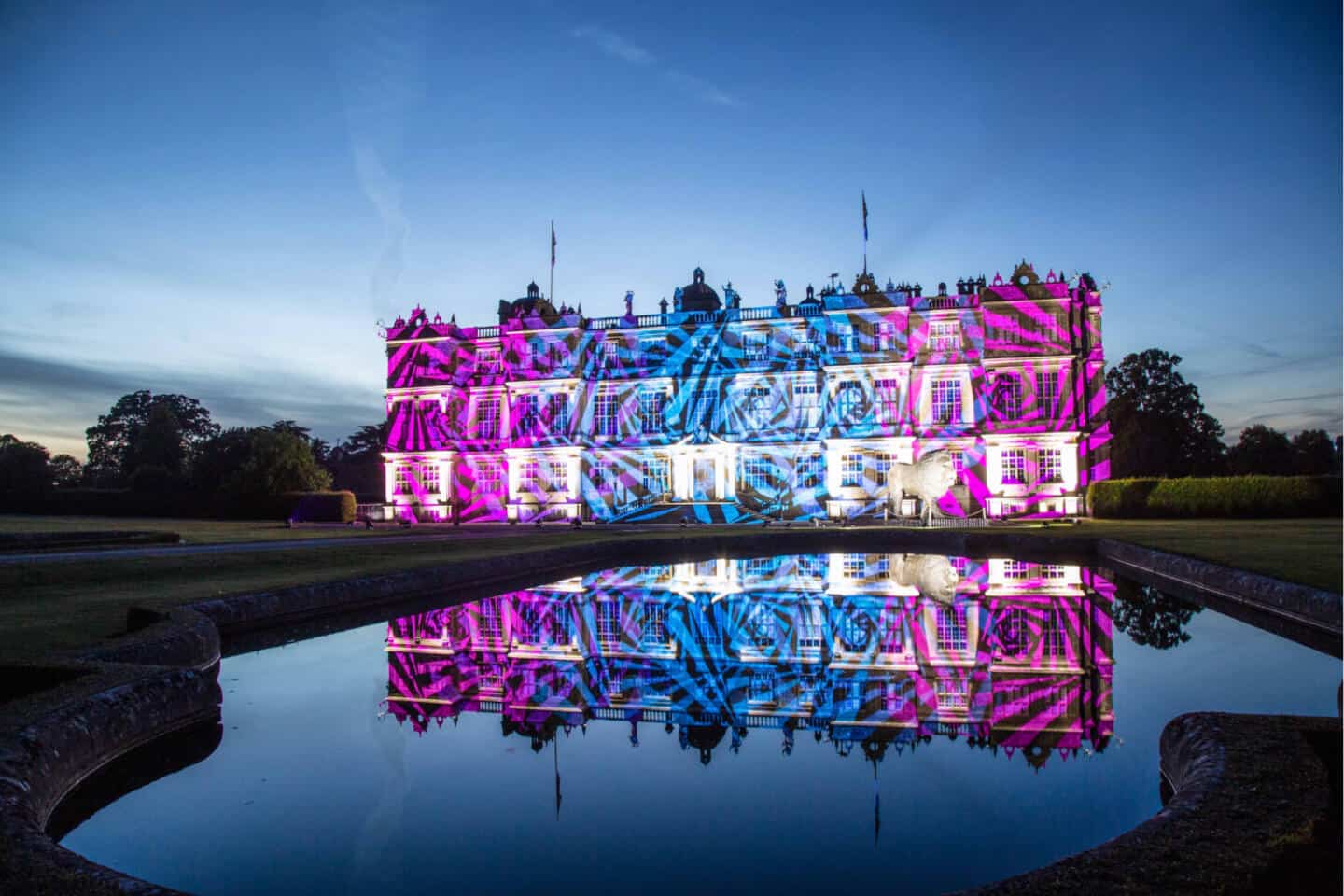 The UK's original, biggest and most exciting lantern festival, is returning to Longleat this November.
In 2022, The Festival of Light promises to be even more extraordinary than ever as you step into The Wondrous Worlds of Roald Dahl.
Embark on a magical journey and meet all of your favourite characters from the Roald Dahl stories. 
The Festival of Light, Longleat, from 5 November 2022 to 8 January 2023.
Christmas at Stourhead
Watch reflections of the festive lights dance across the lake at Stourhead this winter.
The 2022 trail features the Christmas Cathedral in which more than a thousand pea lights will be woven into the forest landscape.
There will be music and street food to accompany you walk around the gardens while they are illuminated with lasers and light installations.
Stourhead, Mere, 25 November 2022 to 1 January 2023.
Christmas light trails in Yorkshire
Enchanted Forest of lights at Stockeld Park
See Stockeld's Enchanted Forest come to life after dusk as it is transformed into a dazzling, twinkling wonderland in one of the country's light Christmas light events.
There will be dazzling light effects, a captivating soundscape and animated installations through almost a mile of beautiful, ancient woodland.
Christmas Adventure, Stockeld Park, 19 November 2022 to 3 January 2023.
Christmas at Roundhay Park
A brand-new Christmas trail featuring larger than life illuminations and much-loved seasonal music, will light up Roundhay Park in Leeds, one of the biggest city parks in Europe.
Enjoy illuminated pieces that include oversized Lilies, enchanting snowdrop walk, colourful Neon Tree and mesmerising fire garden.
Christmas lights at Roundhay Park, Leeds, 8 December 2022 to 1 January 2023.
More Christmas family days out near you 2022
If you're looking for winter wonderlands, grottos and other festive experiences to enjoy with your family, take a look at my round up of 2022 Christmas family days out across the UK.
And if a bit of retail therapy is more your thing, take a look at my guide to the UK Christmas Markets that have been confirmed in 2022.
Find more days out in England, Wales, Scotland and Northern Ireland in my big round up of 101 UK attractions for families.