If you're planning a trip to the Middle East have you considered Kuwait as a destination? It's not an obvious choice when there's big hitters like Dubai, Abu Dhabi and Istanbul in the region. But it's worth considering as part of your itinerary. Want to find out why? Here's a guide about the best things to do in Kuwait for families along with tips for visiting from the UK.
*Advertorial feature*
Why is Kuwait worth visiting?
So, what's the attraction of Kuwait over more commonly visited destinations in the Middle East?
The invasion by Iraq in the 1990s undoubtably played its part in stalling the development of Kuwait's tourist industry compared to other Gulf countries. But that's very much in the favour of anyone who wants to explore a less commercial part of the Arab Peninsular.
Today Kuwait is a safe, friendly and vibrant place to visit, and it will give you a more authentic experience than some of its glitzier neighbours. 
I'll share more on the attractions, experiences and things to do in Kuwait, particularly for families, later on.
Getting to Kuwait from the UK
If you're still in the early planning phase, here's some handy information to help you prepare to visit Kuwait:
Visas for visiting Kuwait
If you're travelling to Kuwait from the UK you'll need the right paperwork. Luckily, now you will only need a passport and to buy a visa for Kuwait online, and you're ready to go.
Your passport must be valid for at least six months from your arrival date in Kuwait. Your visa is valid for up to 90 days.
Flights to Kuwait
The direct flight time from London Heathrow to Kuwait City Airport is about six hours making this a mid-haul flight. You'll catch an overnight flight on the way to the Middle East and a day time flight back.
It's a good idea to book an airport hotel before your return flight as departure times for the UK are early and you'll need to check in two to three hours before.
The airlines to check for direct flights are Kuwait Airlines and British Airways.
With all the practicalities for your trip arranged you can now concentrate on what to do in Kuwait. 
Best things to do in Kuwait
Whether you want to experience Kuwait's history and culture or find family attractions that will give you respite from the heat, here's some top places to add to your itinerary:
Kuwait's iconic tourist attractions
Here's the Kuwait attractions that will give you a taste of the country's traditions and culture:
Kuwait Towers
The towers dominate the skyline and offer visitors a 360 degree view of Kuwait City and the Arabian Gulf. It's a great place to start your visit and pick out other landmarks.
Want to dine with a view? There's restaurants on the observation deck of the Main Tower.
You can also just admire the vista from the viewing sphere at the top, which is at a height of 123m.
Find out more about Kuwait Towers.
Kuwait Grand Mosque
The Grand Mosque of Kuwait is the country's largest mosque and the eighth largest in the world. It can accommodate up to 11,000 people for prayers and has its own five storey car park.
The mosque's design combines Islamic architectural style and Persian structural design. Free tours are available in English.
Find out more bout visiting the Grand Mosque.
Souq Al-Mubarakiya
If you want to experience the sights and smells of a traditional market in Kuwait the Souq Al-Mubarakiya is said to be the best. 
With roots dating back more than 200 years it is certainly one of the oldest and has shops selling everything from spices to clothing and antiques.
Mirror House
For a unique experience in Kuwait go on a tour of the private home of Kuwaiti artists Khalifa and Lidia Qattan. 
They have transformed the residence into a work of art with mirror mosaics covering the walls, ceilings and floors. The patterns on each surface have a different meaning.
Tours are by appointment only.
Find out more about visiting the Mirror House.
Green Island
Did you know that Kuwait was the first country on the Persian Gulf to build an artificial island?
Now quite a modest example compared to the likes of Palm Jumeirah in Dubai, Kuwait's trend setting Green Island measures 785,000 sqm.
It comes with a fun pool, beach, trampolines, kids playground, bumper cars and swing ride. You can also hire bikes or take a land train ride around the island.
Find out more about visiting Green Island.
Free things to do in Kuwait
Travel can be expensive but exploring wonderful destinations need not be. Here are the activities you can do for free in Kuwait:
Al Shaheed Park and museums
On the edge of Kuwait City you'll find Al Shaheed Park – the largest urban park in the country. This open space has botanical gardens, fountains, lakes, sculptures and children's play areas.
It's home to Habitat Museum which showcases Kuwait's flora and fauna with a hands on laboratory, a roof top garden, a kids play space and an aviary where you can see migrating birds.
You'll also find Memorial 'Thekra' Museum in the park. This documents the evolution of Kuwaiti society and the conflicts that have shaped the country over history.
Visiting the park and museums is free.
Find out more about visiting Al Shaheed Park.
Musical Fountains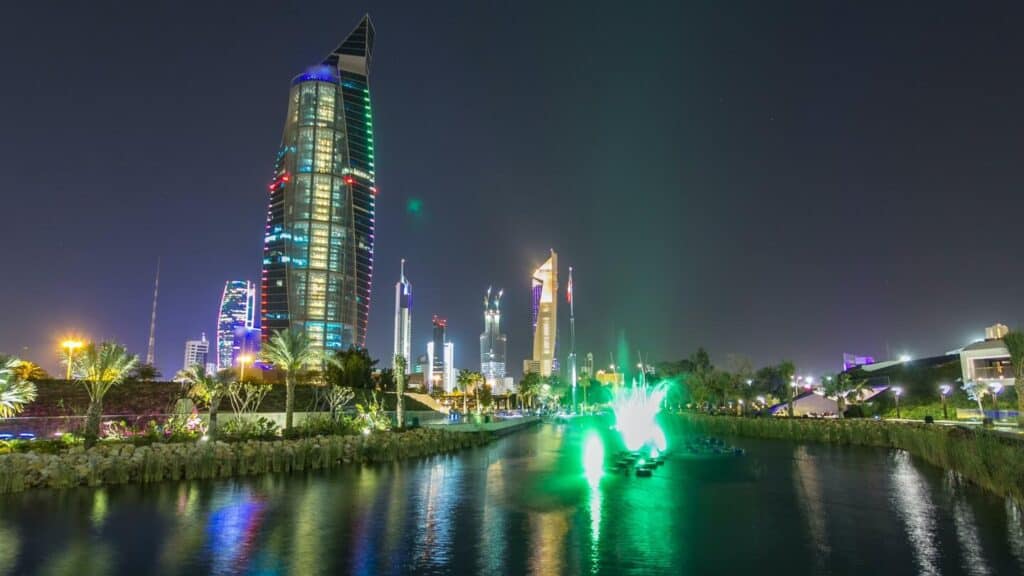 Beside Sheikh Jaber Al-Ahmed Cultural Centre you'll find fountains that dance to music each evening.
The joyful display starts every 30 minutes and lasts for about five minutes.
Walk along the Corniche
This coastal walkway between the Kuwait Towers and the Dhow Harbour is a scenic route for a walk. The Corniche is 3km long so this is not an activity for the hottest of days. 
Along the way you'll pass Souq Sharq and the fresh fish market. Near the souq you'll find a playground. 
Things to do in Kuwait in the summer
Between June to August temperatures in Kuwait average at a scorching 47°C. If you need somewhere to escape the heat here's some ideas for things to do indoors in Kuwait City:
Kuwaiti Maritime Museum
If you want to find out about some of Kuwait's trading roots long before oil the Maritime Museum is the place to head.
As well as ancient, traditional and ornate boats there are artefacts from Kuwait's seafaring past including its pearl trade.
Most of the exhibition is indoors but you will have to step outside to see some of the historic ships.
Find out more about the Maritime Museum.
The Avenues Mall
The largest mall in Kuwait isn't just somewhere to shop – it also has lots of places where you can entertain kids while being refreshed by the air conditioning.
Here's a few places children will enjoy in The Avenues Mall:
Find out about more family attractions at The Avenues Mall.
The Scientific Centre
This centre encourages visitors to explore innovation through the sciences. And the good news for families is it's pitched perfectly for kids.
The centre is home to the Mijbil Almutawa Aquarium with Kuwait's largest marine tank, an IMAX Theatre and the interactive Discovery Place where children can get hands-on with science experiments. 
Find out more about The Scientific Centre.
Family theatre at Sheikh Jaber Al-Ahmed Cultural Centre
Kuwait's cultural centre is a hub for the arts and is an the ideal place to visit on a summer day.
As well as live music and theatre, you'll find family-friendly shows on the events schedule.
Take a look at what's on at the Sheikh Jaber Al-Ahmed Cultural Centre.
Dos and don'ts in Kuwait
After inspiring you with all the activities to do in Kuwait it's important to share a few extra tips.
It's essential to be aware of the laws and cultural expectations of countries you visit in the Middle East. Some things that are considered normal or just risqué in the UK are illegal there.
Here's some things you can and can't do in Kuwait:
Do dress modestly – ladies should cover shoulders and knees in public, and avoid tight fitting clothing. 
Do cover body piercings and tattoos that might be deemed offensive for modesty or religious reasons.
Do carry your passport with you at all times – this is a legal requirement.
Don't get too romanic with your partner in public. Kissing, cuddling and even holding hands is frowned upon.
Don't bring drugs, alcohol, pork products or pornography into Kuwait.
Don't get drunk in public or drink any alcohol before driving.
There's more guidance on Kuwait laws and customs on Gov.uk including important information for LGBT+ families.
Want more ideas for family holidays and days out? Read my tips for smashing family travel and sign up for my newsletter.
Disclosure: this post is an advertorial feature.