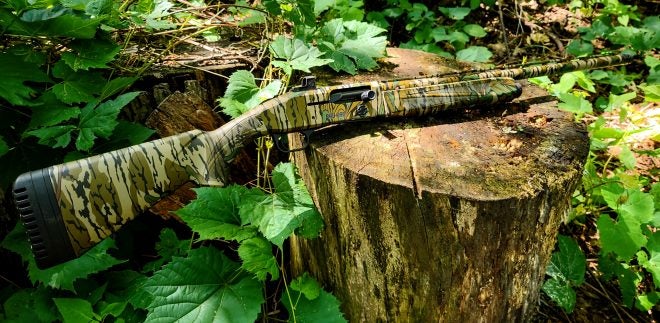 When it comes to turkey hunting we need all of the help we can get as hunters. No matter what species of turkey you might be hunting around the country they are all extremely intelligent, elusive, and wily birds. So, when it comes to selecting a shotgun to go turkey hunting you will want it loaded with all the best features possible to tip the scale in your favor of punching your tag on a big Tom instead of going home and eating some "tag soup" (from an unfilled hunting license). That is where Mossberg seized the opportunity to craft one of the most feature-rich turkey shotguns on the market that is a factory, catalogued model; not custom shop. Although, once you get one in your hands it might feel that way. So, today we are going to review our experience with the Mossberg 940 Pro Turkey 12 Gauge to see how it performed through a Minnesota spring turkey season. Let's dive in!
Mossberg Coverage on AllOutdoor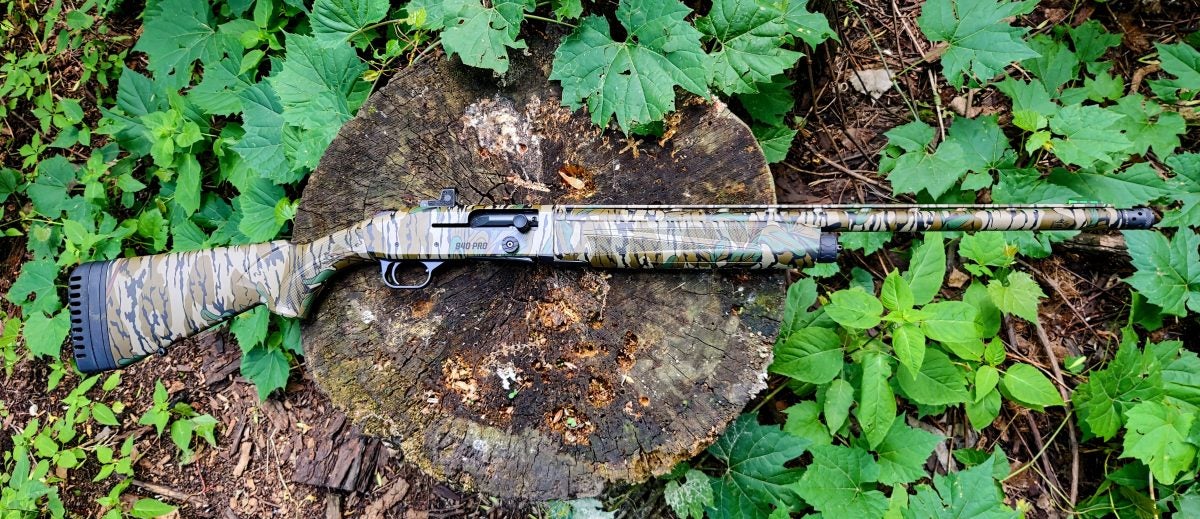 Specifications – Mossberg 940 Pro Turkey 12 Gauge
The Mossberg 940 Pro Turkey 12 Gauge from its exterior has a lot of great attributes that would draw in any turkey hunter. From the Mossy Oak Greenleaf camouflage to the oversized bolt handle for easy manipulation, it is a shotgun that has had a lot of deliberate thought poured over it. The full listing of its unique specifications can be read below as presented by Mossberg:
Gauge: 12 (3″ Chamber)
Barrel: 24″ Vent Rib w/ Mossy Oak – Greenleaf Finish
Choke: X-Factor XX-Full Turkey Tube
Capacity: 4+1
Overall Length: 44.75″
Length-of-Pull (LOP): 13″ – 14.25″ Adjustable Length-of-Pull (LOP) – Cast, Drop
Sights: HIVIZ CompSight Fiber Optic | Optic-Ready
Stock: Synthetic (Mossy Oak – Greenleaf Finish)
Weight: 7.5 Lb

Right now, Mossberg is offering the 940 Pro Turkey in two different barrel length offerings of 18.5″ and 24″ at an MSRP of $1,154 for either one. Also, Mossberg stands behind all of their firearms – always. They are always willing to assist you in the rare event an issue should arise and you need service performed.
Optic-Ready
Clean-Running Gas-Vent System
Quick-Empty Magazine Release
Adjustable Length of Pull
Drilled and Tapped Receiver
Adjustable for Drop at Comb/Cast
Self-Draining Stock
HIVIZ CompSight Fiber Optic Sight
Barrel Clamp with M-LOK Mounting Slots

"940 Pro Turkey shotguns come optic-ready, with receiver cuts that accept low-profile direct mounting of Shield RMSc-pattern micro dot sights, for improved eye alignment and target acquisition (a cover plate is included for when optic is not in use). Inside, you will find a durable gas system that allows for up to 1500 rounds between cleanings, and a host of corrosion-resistant internal parts/finishing (nickel boron-coated gas piston, magazine tube, hammer and sear); plus an enlarged/beveled loading port, elongated elevator, and anodized follower for smooth operation. Outside, a self-draining adjustable stock allows for 1.25″ of LOP flexibility, the stock and streamlined forend feature Mossberg signature texturing for a secure grip, and a HiViz® CompSight® front fiber optic sight helps keep you on target."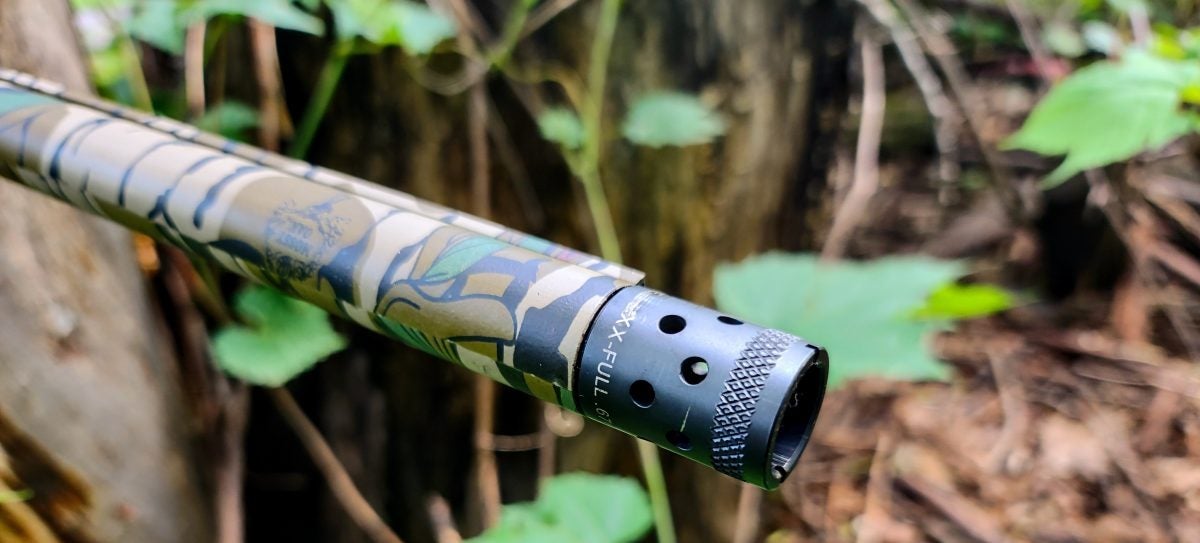 First Look – Mossberg 940 Pro Turkey 12 Gauge
So, what were our first impressions of the Mossberg 940 Pro Turkey 12 Gauge once we got it in our hands for this review?… If you have are familiar with Mossberg's semi-auto shotguns – both the older Model 930 and newer Model 940 variations – this will feel right at home in your hands. The noticeable difference is everything is a bit more crisp and smooth. The fit, finish, and feel could be indicative of all Model 940 shotguns from Mossberg or maybe just the 940 Pro Turkey. I haven't had an opportunity to play with any of the 940 Tactical shotguns yet so I am unsure. Regardless, it handles, points, and feels great.
I appreciated a lot of the "oversized" features on this shotgun as well like the bolt handle, trigger guard, safety, and bolt release. If you are wearing gloves – or its silly cold out and your hands are numb – you start to lose those fine motor skills to run simple tasks on your gun. So, I greatly appreciate the oversized features on this gun for hunting.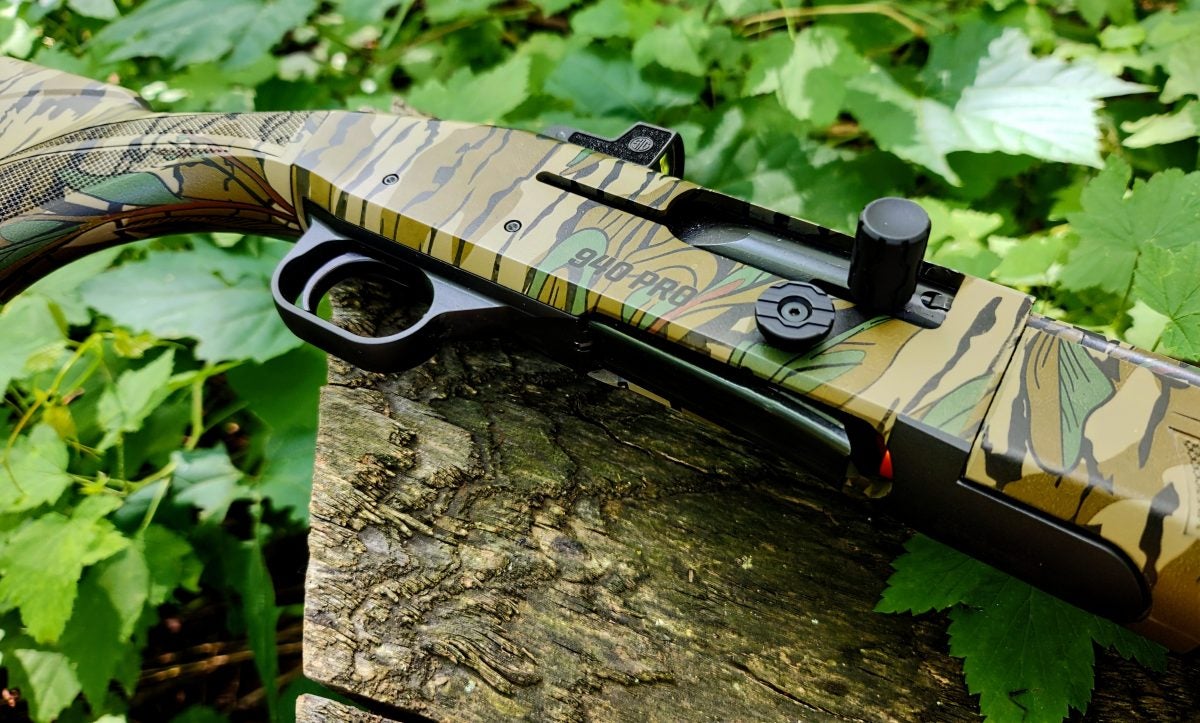 Optics Ready/Install – Mossberg 940 Pro Turkey 12 Gauge
I have been hunting turkeys in Minnesota for as long as I can remember; likely back to when I was 8 or 9 years old and my father trusted me to come along with him in a hunting blind. Most of those years turkeys were harvested with a simple bead iron sight, but a red dot back then – and even now – would have made life a heck of a lot easier. During those low-light hours of dusk and dawn when turkeys can be most active you need a sight you can actually see. A red dot is terrific during those waning light hours while a metal bead sight is incredibly difficult to pull up.
The Mossberg 940 Pro Turkey has a removeable optics plate on the rear of the receiver that directly accepts Shield RMSc-pattern micro red dot sights. While I do not own/have a Shield RMSc, I do own a SIG Sauer ROMEOZero which is the same pattern. So, I added that easily to the top of the receiver for a better sighting option for myself while hunting.
Field Use – Mossberg 940 Pro Turkey 12 Gauge
When it came to being out in the field I, again, appreciated the Mossberg 940 Pro Turkey a lot. For this review, we specifically requested the 24″ barrel offering and I found that to be a great compromise of having a shorter barrel than your traditional 28″ and it still being accurate and wieldy. I patterned this shotgun before heading out in the field with the provided X-Factor XX-Full Turkey Choke and it created very tight shot patterns out to 40 yards (some people like to shoot further, but for me that is a very safe, accurate, and humane shot to take on a turkey).
I did see quite a few turkeys this spring including some adventurous whitetail deer fawns who pranced so much through my turkey decoy spread that it actually pushed turkeys away from me. So, while we couldn't get turkey within range to bag and brag about, the Mossberg 940 Pro Turkey did everything we asked of it.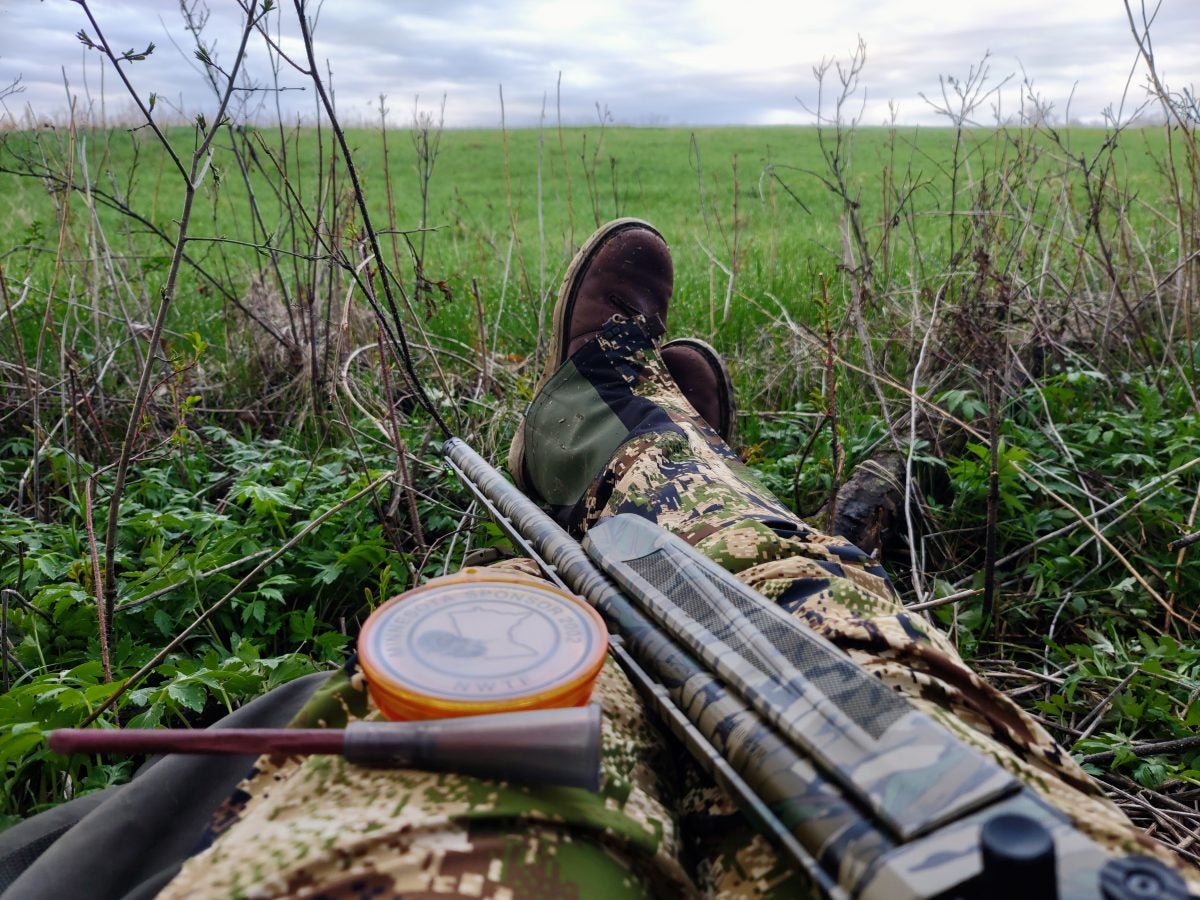 Final Thoughts – Mossberg 940 Pro Turkey 12 Gauge
So, what are our final thoughts in the Mossberg 940 Pro Turkey 12 Gauge after a spring season of turkey hunting in Minnesota?… We were thoroughly impressed with the design, function, and aesthetic of the 940 Pro Turkey. If you don't already own a trusty, reliable shotgun for turkey hunting this would be a great addition to have. The only real criticism or critique that we have is to make the optics ready pattern something more common and larger like a Leupold Delta Point Pro (DPP) or a Trijicon RMR. Those are more robust red dots for hunting with larger glass windows for the dot. Otherwise, at an MSRP of $1,154 we definitely see the value in this shotgun.
In closing, I want to say thank you to Mossberg for allowing AllOutdoor and myself the opportunity to try out their Mossberg 940 Pro Turkey 12 Gauge. That is greatly appreciated. Also, we would like to know what all of you guys and gals think? Do you believe that the Mossberg 940 Pro Turkey 12 Gauge is something worth spending your money? Would you take it hunting with you? As always, let us know all of your thoughts in the Comments below! We always appreciate your feedback.