As much as many of us would love to travel to different parts of the world, we're often constrained by our time and budget to a few destinations a year at most. But what if you could see a multitude of famous landmarks all at the same time while soaking up a unique travel experience?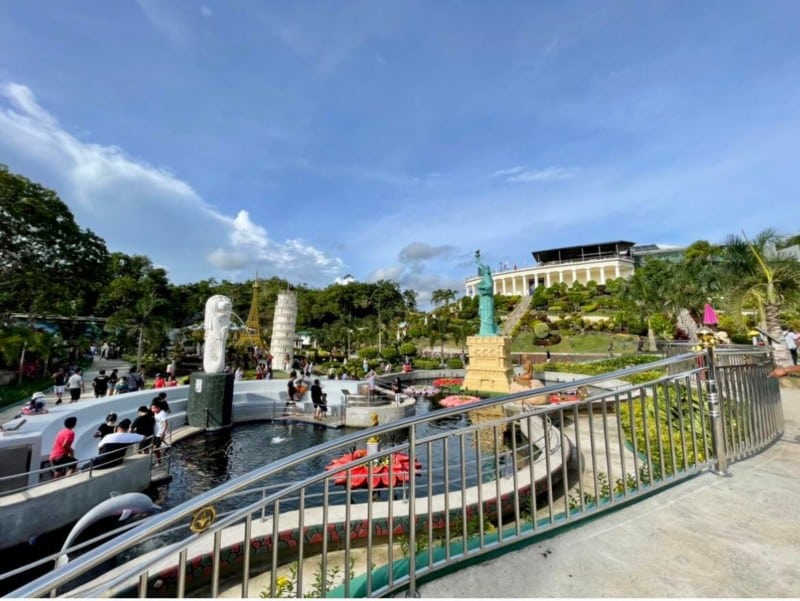 The Mirror of the World in Sikatuna, Bohol, opened in late 2018 to tourists, showing them an interesting glimpse of international travel's most popular sights in just one location. With its proximity to Bohol's beautiful sandy beaches, it's become a must-see in the area. Keep reading to learn more about this attraction and if you should add it to your Bohol itinerary!
What To See And Expect At The Mirror Of The World
The Mirror of the World and Botanical Garden is in Barangay Libjo, Sikatuna, Bohol and owned by Jan Yngvar Kolstø and Ann Dulogan Kolstø. Their hope in creating this incredible park and garden is to share their experiences of traveling the world to other visitors.
Upon entry to this destination, you'll be greeted by colorful orchids, lush palm trees, and other native flora. The garden paths are neat and well-maintained, with plenty of chairs for resting and simply enjoying the crisp, clean air.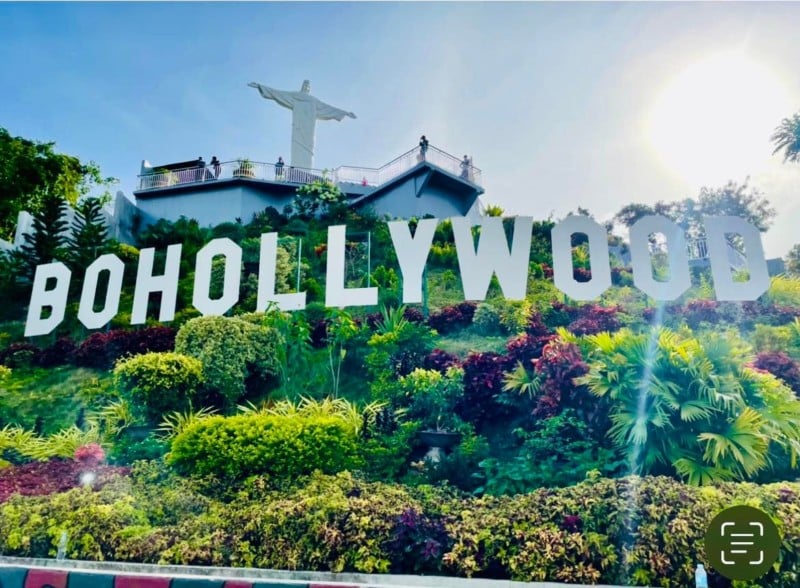 Currently, The Mirror is in different phases of construction, with new landmarks unveiled to the public after each completed phase. Phase 1 was ready for visitors in 2018, and this area features landmarks such as the Golden Gate Bridge, the Eiffel Tower, the Statue of Liberty, the Merlion, and Christ the Redeemer. The later phases promise other marvels, such as Dutch windmills, the Petronas Twin Towers, Big Ben, Mount Rushmore, and the Colosseum.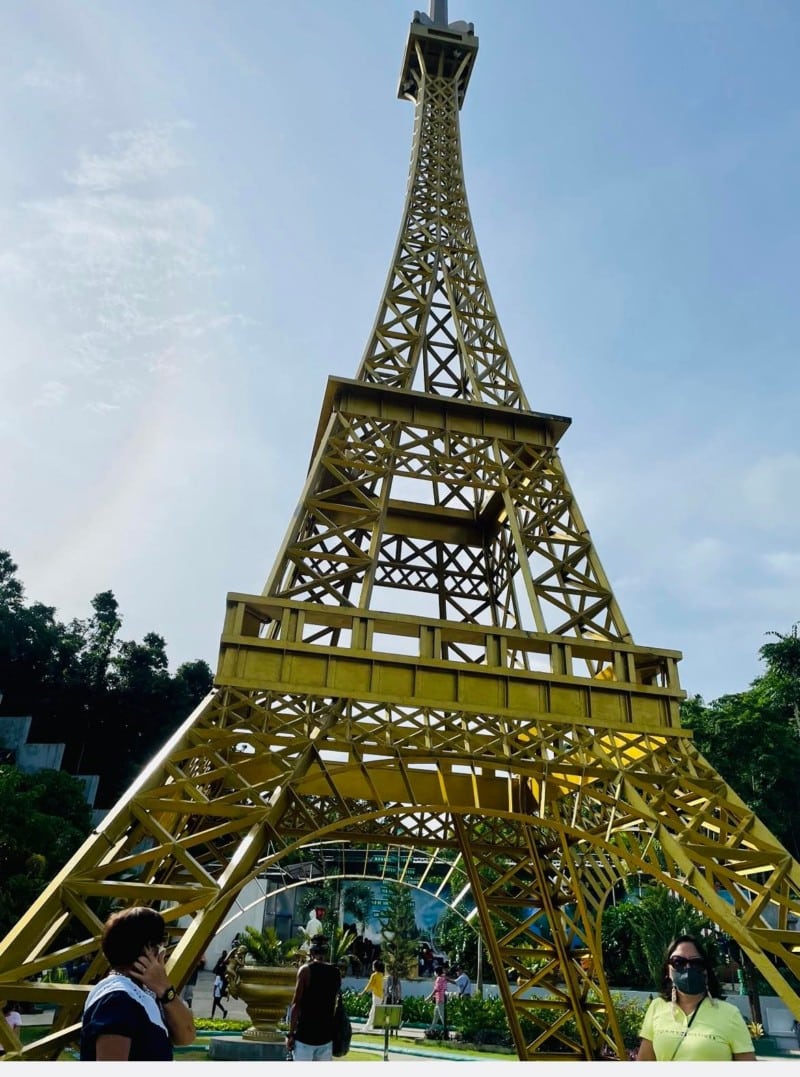 Travel The World While Visiting Only One Destination!
Apart from seeing the different completed landmarks and strolling through the gardens, The Mirror also holds special events and has live music to entertain guests. The owners highly recommend that visitors schedule their visit at night so they can see the different landmarks light up, or in the early morning when the breezes are cool for a daytime walk.
A big bonus of this place is that it's pet-friendly, so you can bring your beloved dogs along with you as long as you comply with the park's rules. After walking around, you can then enjoy delicious and affordable refreshments at Café Acropolis. No need to renew a passport to enjoy all these amazing sights!
The Mirror of the World is open from 8 a.m. to p.m., with options for day and night passes so you can pick your ideal time for a walk in the tropical weather. Don't forget to bring your camera so you can take IG-worthy snaps with your family and friends at your favorite landmarks. This cool new attraction is definitely worth adding to your Bohol trip's bucket list, so check out listings for an affordable Bohol tour package that'll add this location to your vacation plan.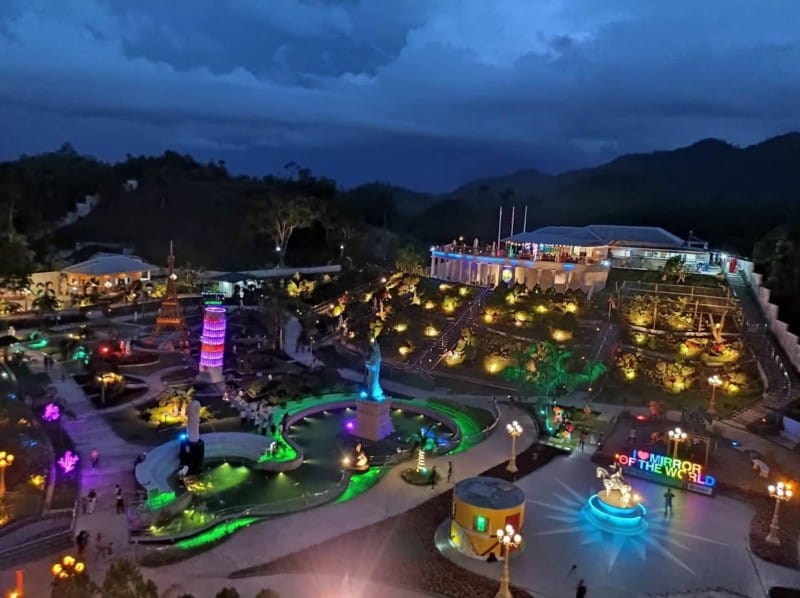 Updated Rates (August 2022):
Day Use (7AM – 5PM)

Adult: Php 150/pax
Senior Citizen: ?100 per head
Child (below 3ft): ?50/pax

Night Use (6PM – 9PM)

Adult: Php 170 per head
Senior Citizen: Php 130/pax
Child (below 3ft): Php50/pax
How to Get There:
BY COMMUTE:
Dao Integrated Bus terminal in Tagbilaran City is your first stop. Ride a bus or jeepney going to Sikatuna from there, and from there, ride a motorcycle (habal-habal) going to Libjo. Inform the driver you're headed for Mirror of The World Park.
Private Car/ Rent A Van:
With Waze or Google Maps, you can easily find the Mirror Of The World in Sikatuna Park.